Coffee lovers will appreciate the engineering that went towards producing the De'Longhi maestro espresso machine. Right from the start, this espresso machine aims at transforming your coffee drinking experience by combining the right grind technology with precise digital dosing guides so that you only end up with the best-tasting brew. Your favorite coffee mug shall never be under-dosed or overdosed with the maestro in charge. A smart tamping station is also included, and it works with other sensors to provide the perfect pressure and heat for brewing coffee.
De'Longhi maestro espresso machines are designed to incorporate five temperature settings and an active temperature control technology, so you never have to end up with lip-burning hot or cold coffee. Let's take a look at some of the features that make the De'Longhi maestro espresso machine a must-have:
Smart Tamping Station
This espresso machine features a smart tamping station that compresses the grinds to form an evenly distributed puck, allowing the hot water to extract the coffee flavor properly. The innovative tamping process ensures that all the right flavors are soaked up from the roast beans for proper coffee extraction. With this, you get to enjoy fantastic coffee flavors without ending up with loose or extremely strong doses. The process is automatically controlled by the sensors reducing the overall mess you will likely end up with after each brew.
Sensor Grinding Technology
The dedicated sensor grinding technology embedded in the De'Longhi maestro espresso machine provides added control on how fine you want your coffee beans to be ground. This, in turn, influences the flavor of the final brew. This espresso machine has eight grinding settings for handling various coffee bean varieties and providing precise digital dosing for each brew.
Dynamic Pre-Infusion
With the dynamic pre-infusion process, this espresso machine can adjust the density of the coffee dose by evenly wetting the grounds until they reach an optimal extraction level. To achieve this, the machine lets hot water into the coffee puck at around 2 bars of pressure which significantly improves the concentration and flavor in the final brew. The function also saves you time that you could have otherwise spent waiting for the right infusion level for each brew.
Customizable temperature Control
The brew temperature in this espresso machine has five infusion profiles to ensure proper flavor infusion. These cover various temperature ranges, which comes in handy when dealing with various bean types. De'Longhi maestro also has an active temperature control with two independent heating systems, each dedicated to brewing either coffee and the other steamed milk. These work in unison to brew a delicious milky foam cup of coffee.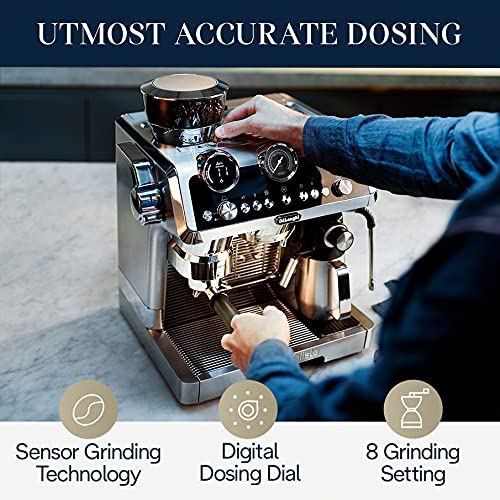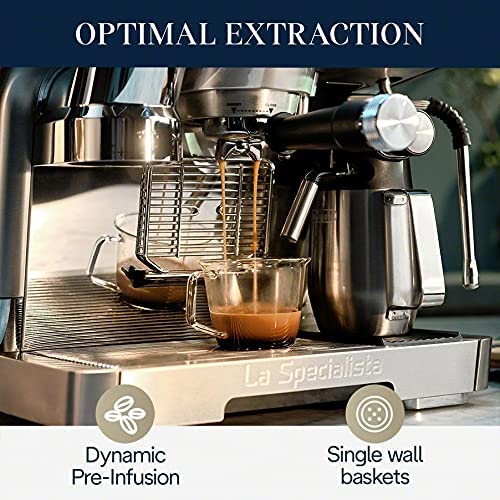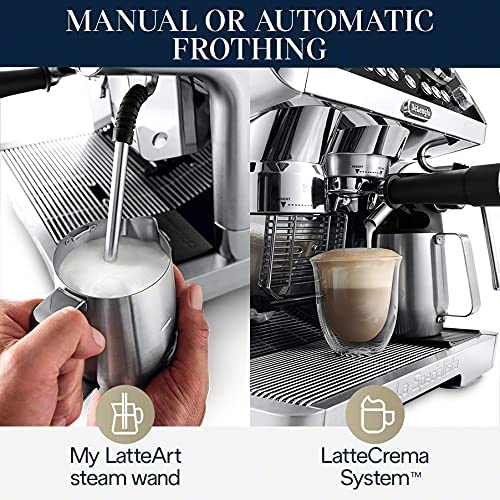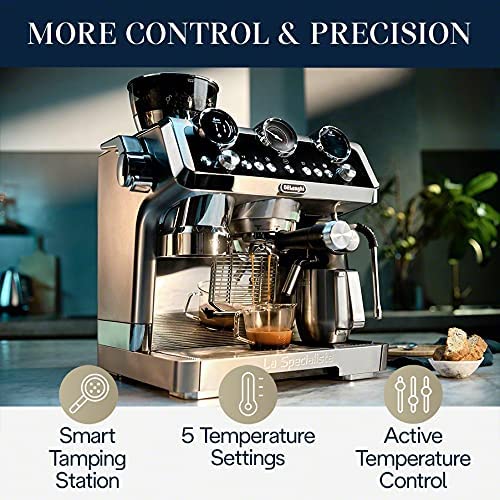 The espresso machine comes with a powerful steam wand to steam milk and an additional button to automatically froth the milk.
The espresso machine has an innovative design that's also easy to use.
Pre-fusion future to ensure proper flavor infusion
You cannot froth milk and extract espresso simultaneously as this is a single boiler machine
De'Longhi maestro espresso machine aims to impress whether you are brewing your favorite cappuccino, latte, or flat white. Your coffee brewing experience will always be seamless and delightful with its digital functionality. Give your coffee ritual a complete make-over with the De'Longhi maestro espresso machine.