With a $500 budget, you should get a really good semi-automatic espresso machine. You might want to consider the KitchenAid Metal Semi-automatic espresso machine, which comes with lots of impressive features, just like those found in high-end commercial espresso machines.
This KitchenAid espresso machine is a great option for beginners and moderately skilled enthusiasts looking for consistent and rich shots. KitchenAid also includes a steam wand to steam textured milk. Read the rest of this post to know more features of the KitchenAid Metal Semi-Automatic Espresso Machine.
Dual Smart Temperature sensors
It is mainly the commercial espresso machine that comes with this feature, but you can now find an espresso machine with smart temperature sensors. The KitchenAid espresso machine boasts dual smart temperature sensors.
Thermocoil technology
This technology utilizes a metal coil with heating elements and a water pipe. As the water travel passes on the surface of the metal coil, it picks up heat and comes out at the desired temperature. The contact with the thermocoil takes a short time, but the temperatures it picks are high enough to produce steam. Yet, the Thermocoil used in this machine doesn't suffer breakage problems.
58mm portafilter
Another excellent feature of the KitchenAid Metal Semi espresso machine is the standard 58mm portafilter that's large enough to wet the coffee grounds and maintain the heat for maximum flavor extraction. Having two spouts allows you to brew two cups of espresso at the same time.
The machine comes with a single wall filter, but this means you need to be precise with tamp pressure, dose and grind size.
Dosage Selector
Espresso lovers will go to great lengths in a bid to refine their art of making the perfect espresso. They will experiment with the flavors and beans to explore the art of espresso. KitchenAid understands this because they include a dosage selector to allow users to customize the taste and flavor of their espresso. You can also program the machine to make your preferred shot size.
Steam wand
Do you want milk frothed automatically by the frothier and added directly to your espresso? Well, you can use this machine to make delicious cappuccinos and lattés using the steam wand that produces a silky foam. What's more, the espresso machine does all this at the touch of a button.
Cup warmer
The top of the machine has a cup warmer top to preheat your cup while brewing the perfect espresso. It's a great feature for keeping your espresso hot because it heats the cup with boiling water. If the porcelain is hotter, the espresso will stay warm for longer.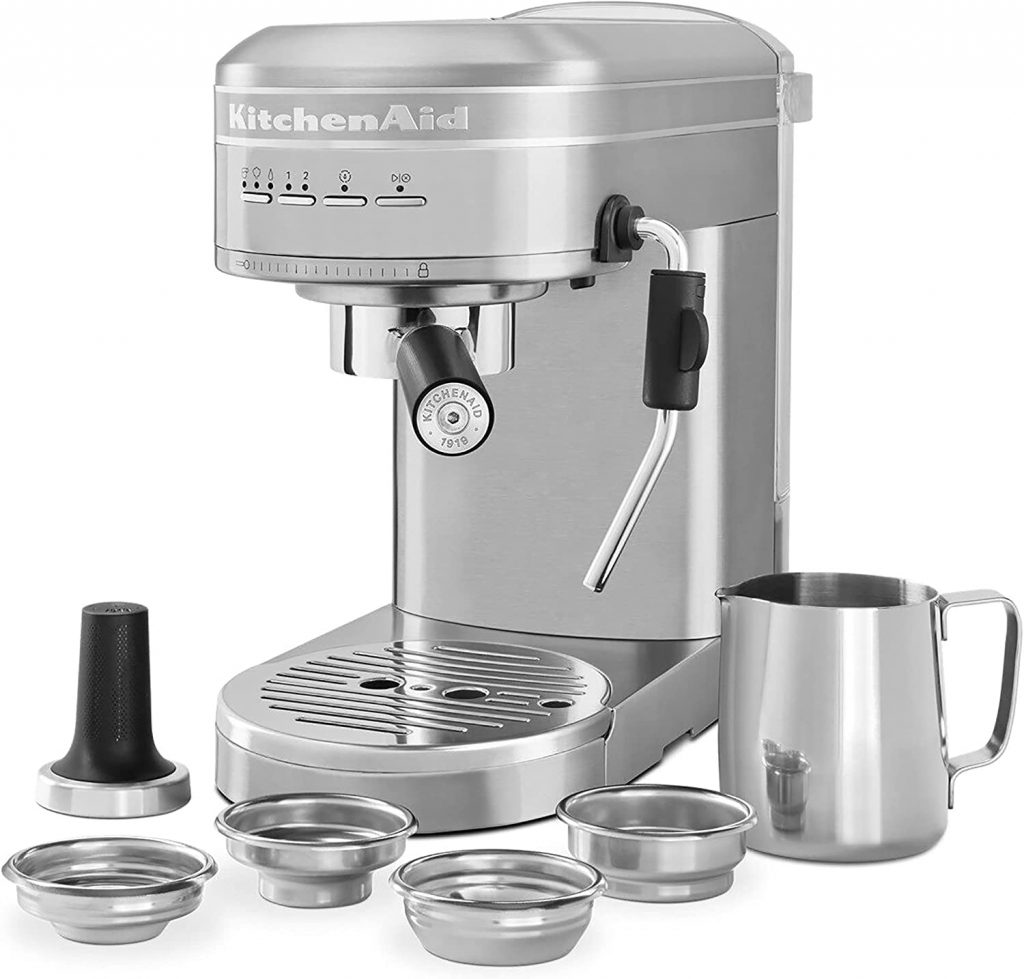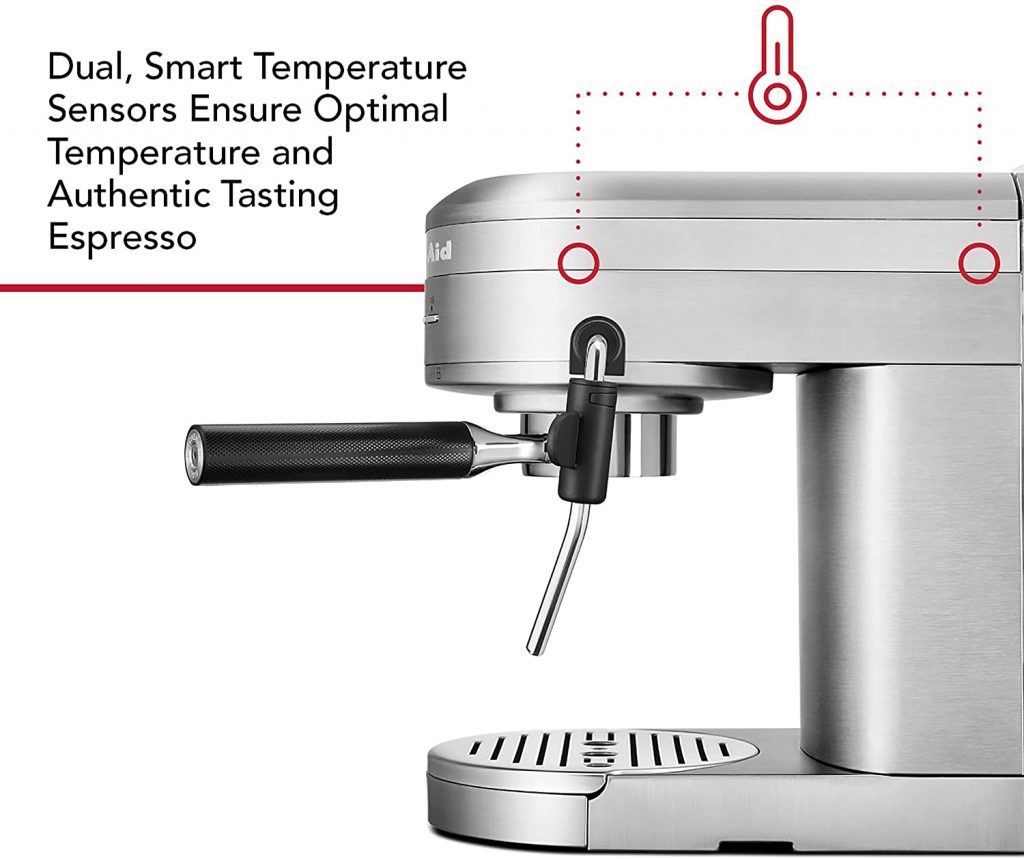 Easy to handle and control for beginners
It makes great-tasting espresso
Has milk frothing capabilities
It has a durable build and more effective extraction
The KitchenAid Semi espresso machine comes with milk frothing capability for lovers of cappuccino, latte, and more. It's easy to use with an easy-to-navigate display, so you don't need to learn much. The dosage selector is a great feature for espresso lovers who love to experiment and a cup warmer to keep the drink hotter for longer. If you would spend extra to get quality, this is an ideal option for you.