Immersion blenders are so versatile. You can use them for small jobs like whipping cream and preparing a dressing and big jobs like pureeing soup directly in the pot without transferring it from a blender. The KitchenAid KHBV53ER allows you to do all that, plus it's comfortable to hold and operate. This affordable hand blender weighs about 2.5 pounds, so you should easily pull it out.
Another selling point is the compact design allowing for easier storage in your kitchen drawer or counter for those without much space. The design is super easy to clean with a removable blending arm that is dishwasher safe. Read on as we give an in-depth review of the KitchenAid KHBV53ER corded blender.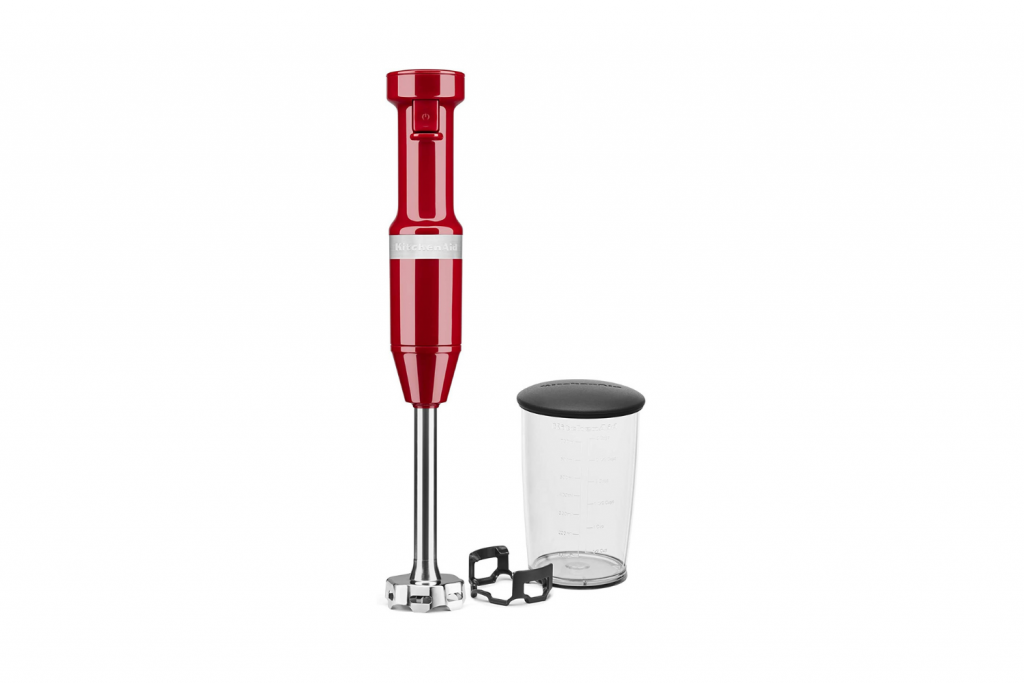 Innovative design
What makes this hand blender so efficient is the long blending arm that's ideal for making big pots of soup. Also, the 4-point blade design is effective for any ingredients for smoothies, soups, milkshakes, hummus, and much more. The blade blades have a guard that's wide with large vents, which helps to do a better job of circulating the food around for faster blending. It's also easier to clean them as the guard offers easier accessibility due to the wide guards.
Non-slip rubber handles
This immersion blender is very easy to use with one hand due to the grip you get with the rubber handle. Use your finger to press the on, off, or speed buttons at any time you like. The KitchenAid hand blender has a small handle, so it should not feel bulky for most hand sizes. The fingers should fall naturally on the buttons when you handle them correctly.
3-Cup Jar
If you just need a simple hand blender for individual blending jobs, this machine offers a 3-cup jar with a lid. This allows you to blend and store the leftover dressing or smoothie directly in the fridge. The lid makes it possible to carry or pack the drink when going out.
Thick power cord
One of the KitchenAid corded hand blender's favorite features is the thick power cord that doesn't get tangled, especially when working around a busy kitchen. Furthermore, the major advantage of having corded hand blenders over cordless is that you have constant power to carry out all your recipes from the start. Cordless ones are more portable, but they may run out of power midway during preparation.
Powerful enough to blend tough ingredients
The 4-point blades are efficient
Easy to hold and operate
Convenient 3-cup jar
Tangle-free power code
Lacks additional accessories
Looking for the best hand blender under $50? The KitchenAid KHBV53ER corded hand blender is a worthy pick. The low-cost blender comes with a range of colors to help you spice your kitchen up. You can adjust speed according to the recipe, and the motor is powerful enough to blend hard ingredients. Even a beginner will find this blender easy to operate and get the job done.