Ninja Foodi has a longstanding approval on Amazon, and their latest Ninja Foodi OL501 pressure cooker continues to live up to the high expectations. With its large capacity, you can quickly pressure cook or steam crisp your favorite meals under one smart lid. You can set any of the fourteen cooking functions from the three cooking modes to control the crisp steam technology.
This pressure cooker can prepare meals up to 705 faster compared to traditional cooking methods. The Ol501 uses up to 75% less fat to cook crispy meals for a healthier diet without compromising the taste.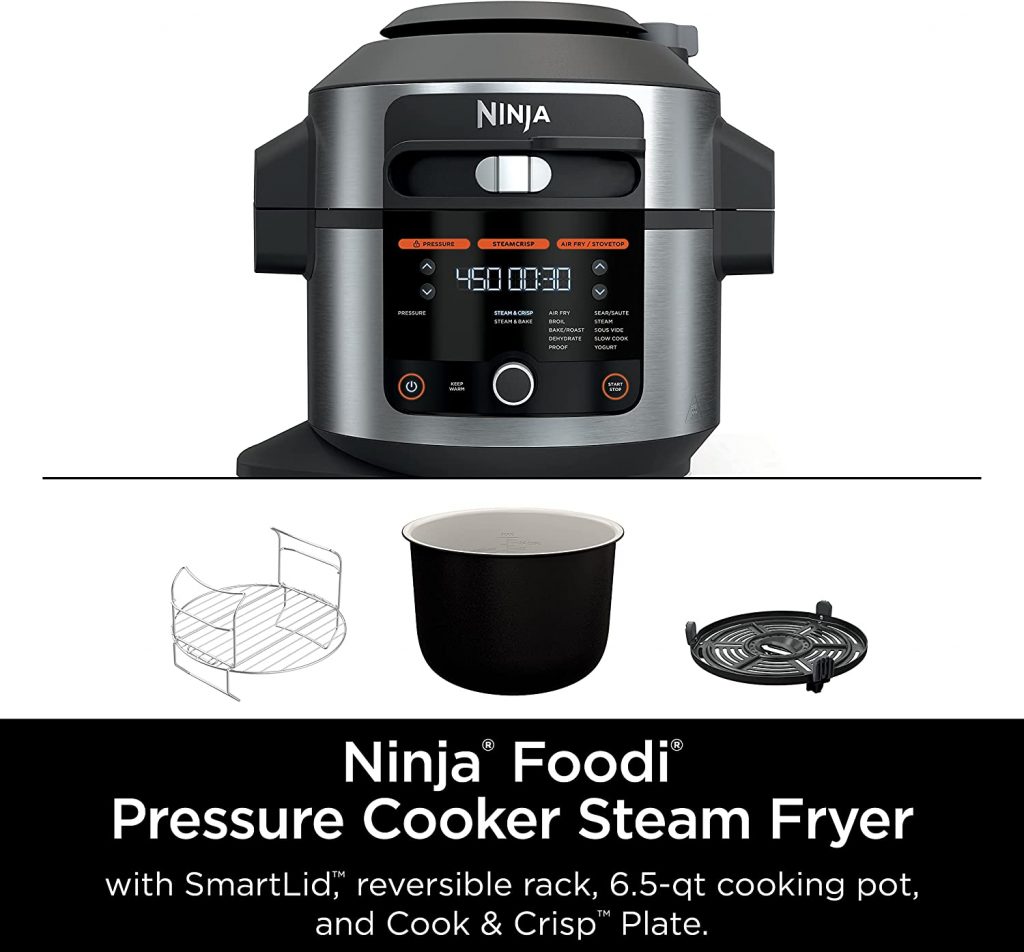 Here are some of the features of the Ninja Foodi OL501 pressure cooker:
14-In-1 Functionality
When it comes to versatility, the Ninja OL501 packs fourteen custom cooking programs for you to experiment with. These include pressure cooking, steaming, baking, and crisping. You can also switch to the air fry option to dehydrate, steam, and saute your favorite meals. You can also prepare yogurt, slow cook, sous vide, and use the keep warm function that keeps meals at ready to serve temperature.
Faster and Healthier Cooking
The Ninja OL501 pressure cooker is designed to provide optimal heating and drastically cut down on how long it takes to prepare meals. This unit is 70% faster than traditional slow cooking methods and up to 40% faster when it comes to one-touch meals. It also takes25% less time to bake artisan bread and cakes. These meals can be prepared using up to 75% less fat than traditional deep frying methods.
Reversible Rack
This pressure cooker has a reversible stainless steel rack that you can use to broil and steam your meals. Simply reverse the rack to create more internal space to increase the space for one-touch meals or two-layer meals.
Steam Crisp Technology
The Ninja OL501 pressure cooker is equipped with crisp steam technology that gives the meals a crispy crust on the outside without drying out the interior. Simply switch the pressure cooker to dry mode and crisp, juicy cuts while trapping in the flavors.
Smart Lid Slider
The smart lid slider provides quick and intuitive controls to unlock the three cooking modes and select any of the fourteen cooking functions. The single slider controls everything from rapid cyclonic air to superheated steam for a frictionless operation.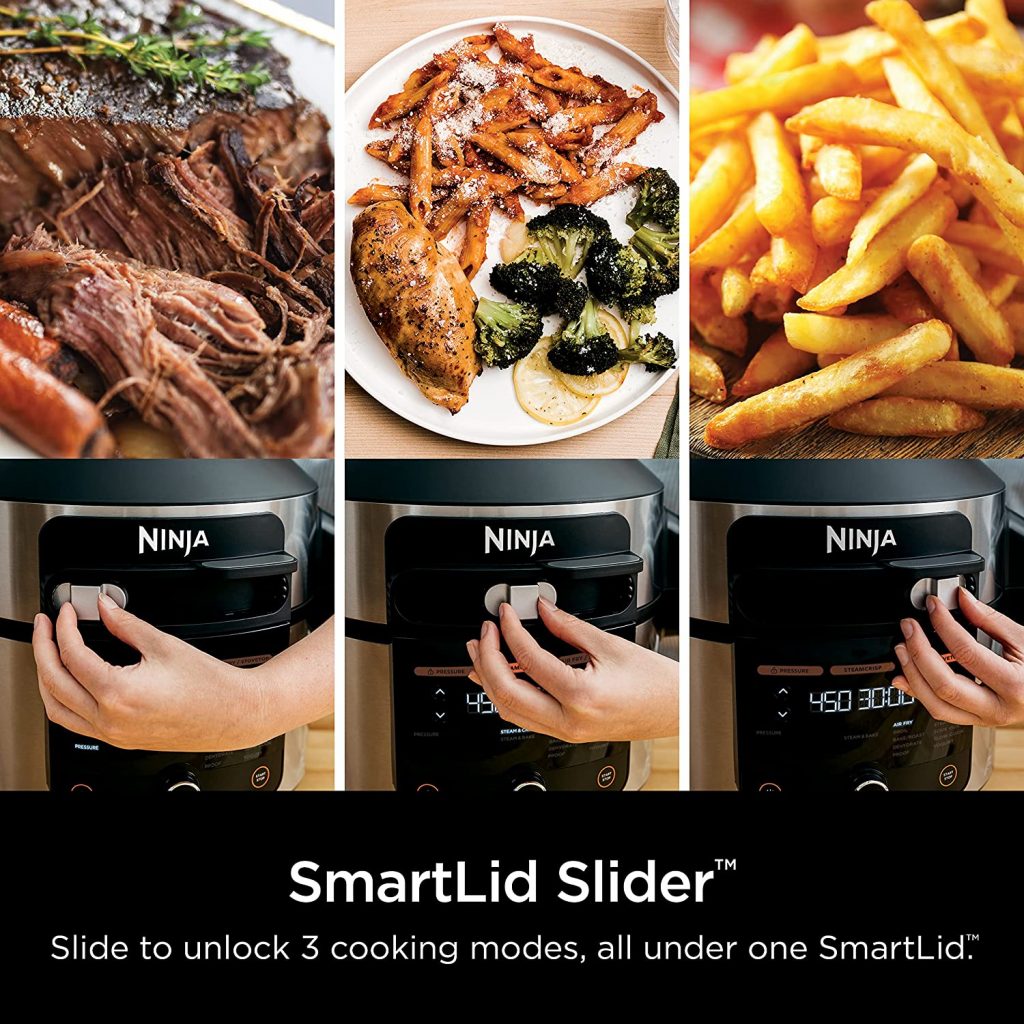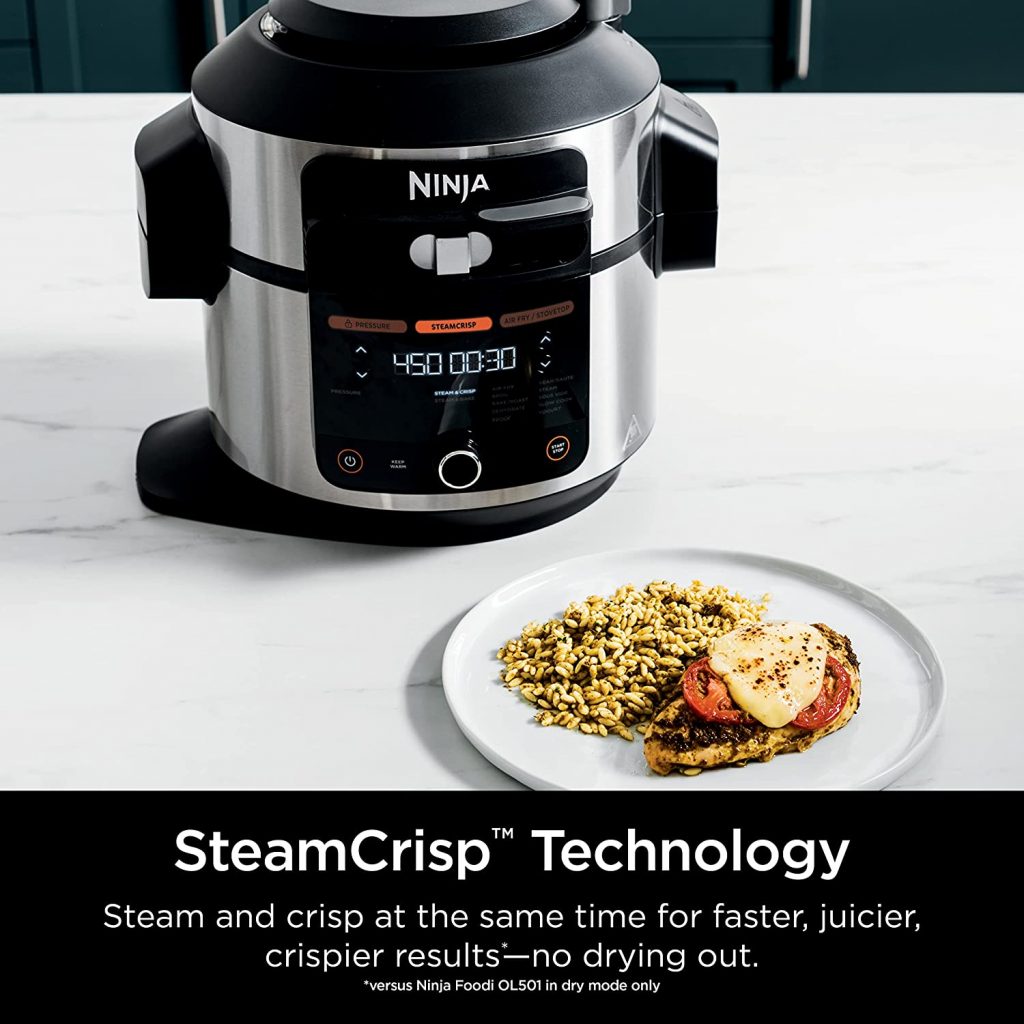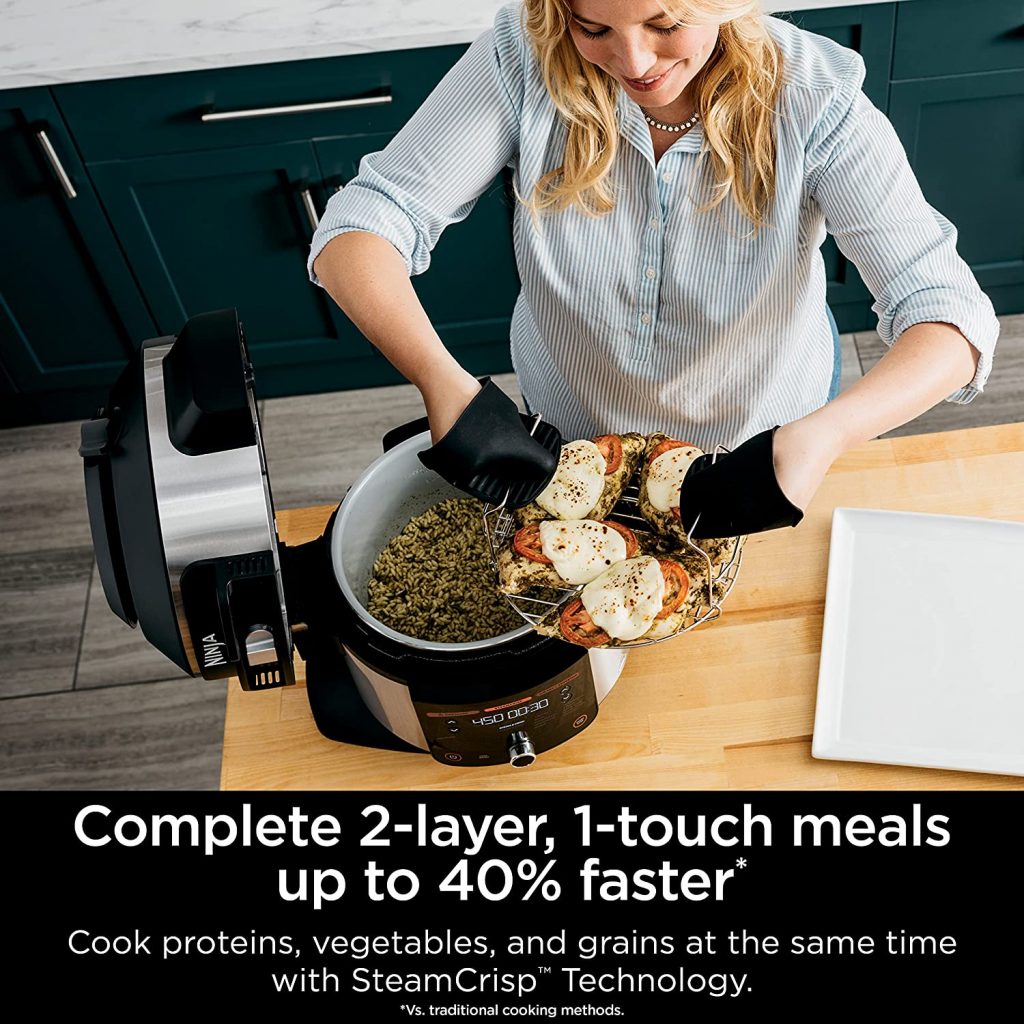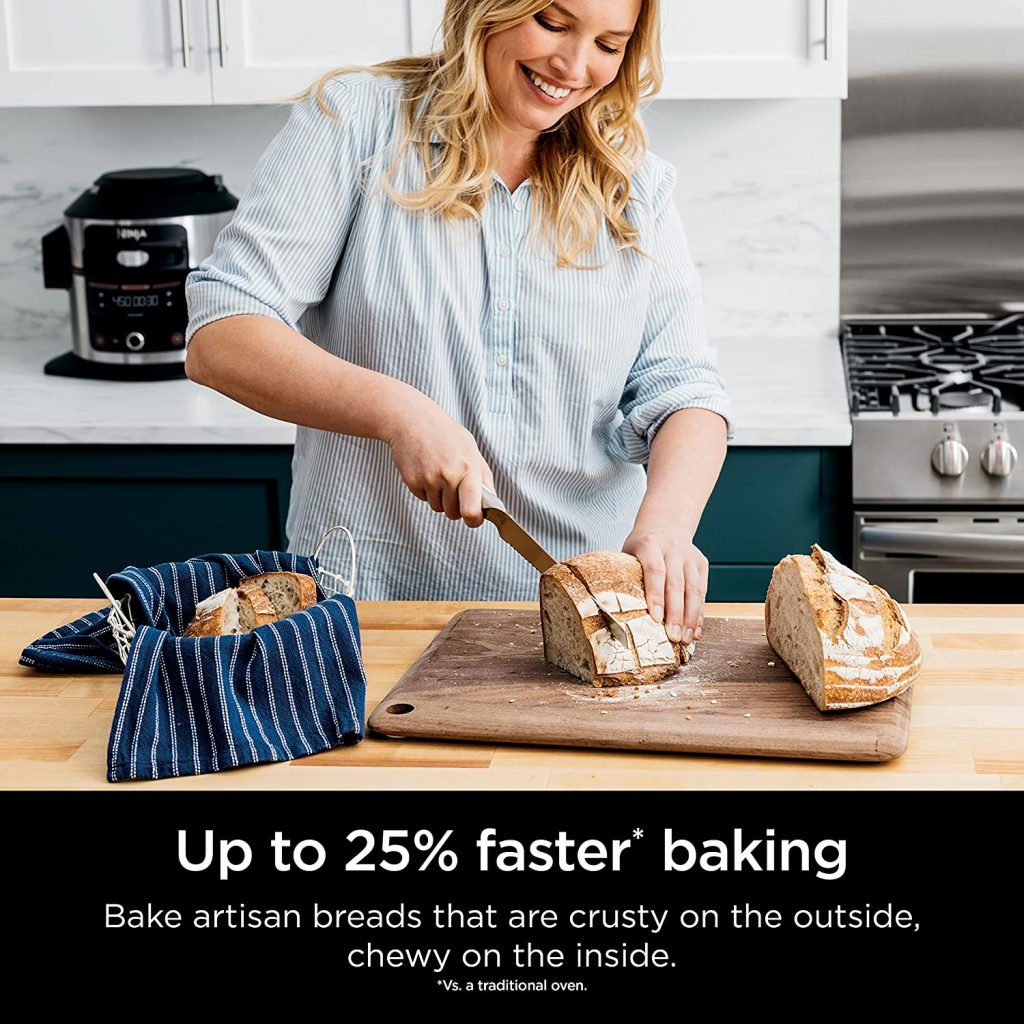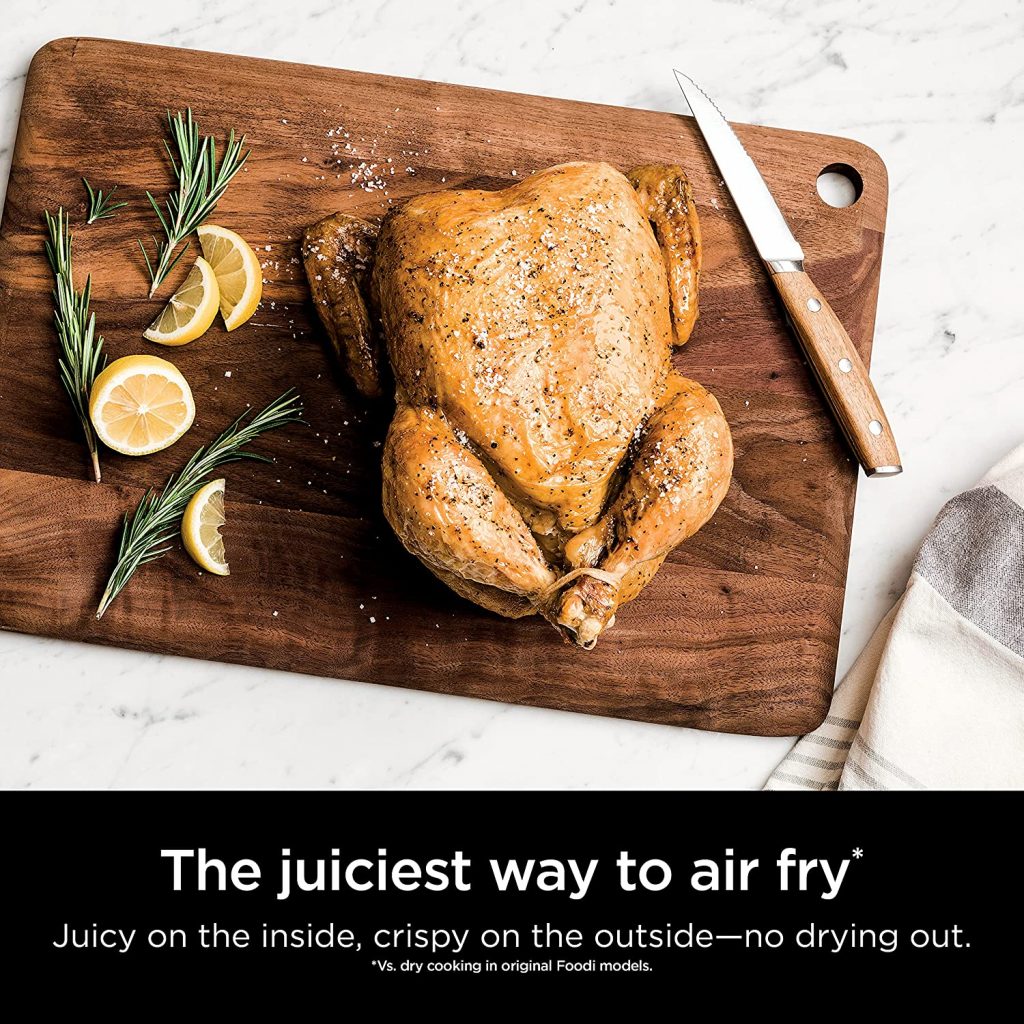 The pressure cooker uses the smart lid to pressure cook and crisp meals under one lid.
The pressure cooker air fries the food with moisture-infused air to evenly brown the ingredients while preventing drying out.
Relatively affordable
Some customers complained about the lack of Wi-Fi connectivity to unlock smart functionality.
The Ninja Foodi OL501 pressure cooker offers the juiciest way to air fry and steam crisp your favorite meals. By combing the two modes, the pressure cooker can cook two-layer meals and bake cakes at a faster rate. This unit also comes with accessories such as a crisp plate, a reversible rack, and a cookbook with over 45 chef-inspired recipes. Transform your cooking habits with the Ninja Foodi OL501 pressure cooker.