If you are a sucker for baking, you will agree that having the right utensils is everything. It's one thing to have all the ingredients, but it's a high-quality appliance that you need to mix these ingredients. The Aicok stand mixer has everything you need to make tasty loaves and might be the perfect kitchen helper for you.
It comes with a large 5-quart bowl, a powerful motor, tilt head, double dough hooks, and six-speed options to choose from. The pricing is affordable for the value you get, but is it the best stand mixer for you? Read this Aicok 5-quart stand mixer review as we break down the features to help you decide for yourself.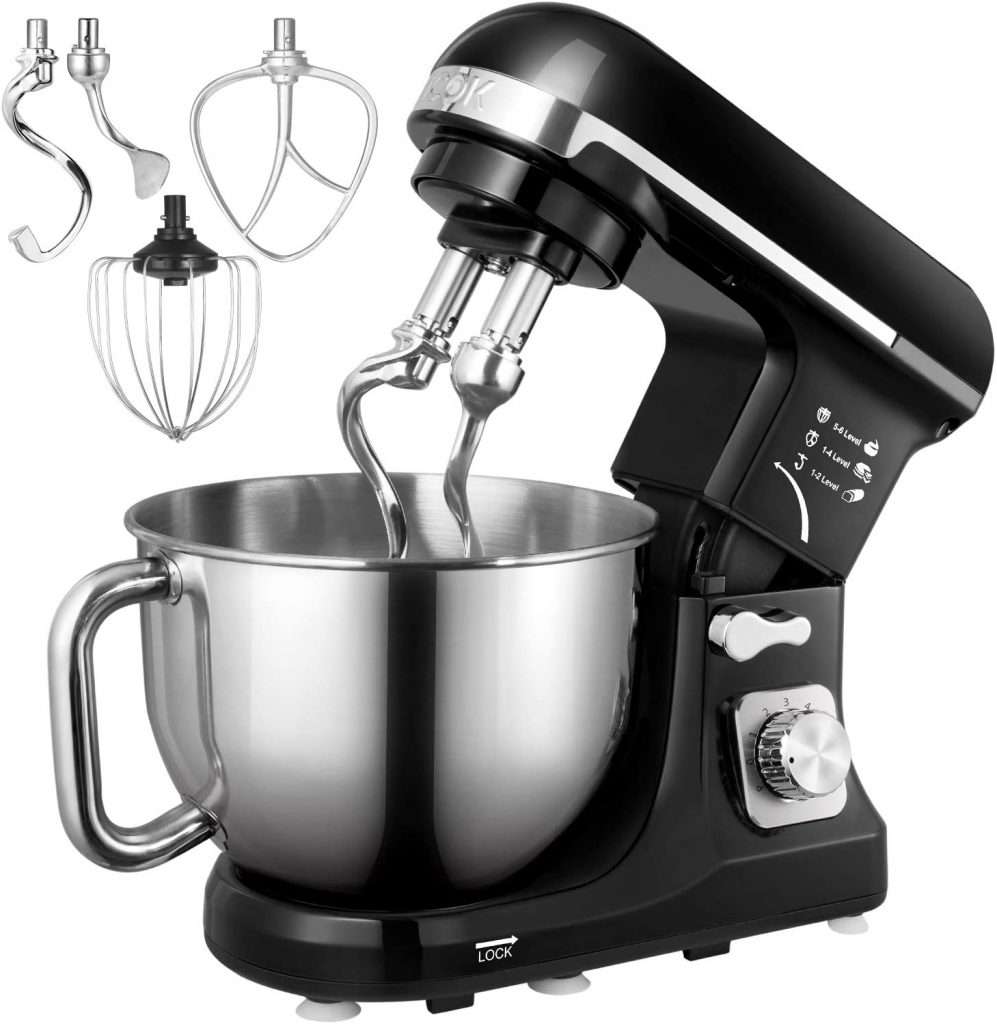 Tilt-Back Head
Ease of use is an important aspect of any kitchen appliance. This stand mixer features a tilt-head design that allows for easy installation and detaching of the bowls and accessories. Also, the tilt head allows for more contact with the food for better results. Most lightweight stand mixers tend to bounce around when mixing, but not the Aicok food mixer that comes with an anti-skid silicone foot to stick.
Suction cups
So you now turn on the mixer, and bowls won't stop shaking, and the next thing you know is dough is splattered everywhere. It turns out that the bowl did not fit securely within the mixer. Having suction cups helps to hold the bowl in place to messes as the ingredients remain inside the bowl. Besides, having a steady bowl allows for better mixing of ingredients form a soft dough.
1-piece pouring shield
The Aicok stand mixer is undoubtedly designed for the clean cook. The plastic shield is designed to prevent spills and spatters when adding ingredients.
500-watt motor
What makes this machine so good at what it does is the 500W motor that offers tremendous power to meet virtually any mixing tasks. Thanks to its 6-speeds settings, it's easy to control the pace depending on your ingredients.
Double Dough Hooks
Having the double hooks makes it easier to knead heavier yeast dough than a single hook. This is due to the 3600 action it offers to ensure complete bowl coverage. In other words, it kneads much better than kneading by hand would and saves you time.
Excellent Warranty
It's hard to be sure about stand mixers these days because the motor may quickly burn up. This could be caused by faulty wiring or just low-quality build. Luckily, Aicok stands behind this product by providing a 2-year warranty that allows you to try the machine yourself. In case you discover errors in quality, you just contact the brand, and they'll take it from there.
Offers an impressive 5-quart capacity
Uses dual hooks for efficient mixing
The pouring shield minimizes splatter
Has several attachments
Only available in color black
Aicok is a well-known brand in kitchen appliances for providing users with innovative tools. The stand mixer is sleek yet powerful, and you can be sure to complete all kneading quickly. It packs lots of power for a typical household, and the price tag is excellent for the value you get.
Get this decent stand mixer for your kitchen.