Le Creuset is a pioneer in cast iron cookware crafted by French artisans since 1925 and only from the best quality materials. Their latest toughened nonstick PRO cookware set is no exemption. This 13-piece set includes three fry pans, two saucepans equipped with lids, a saute pan, a braiser, and a stockpot. 
Le Creuset cookware set features a triple-reinforced nonstick surface four times stronger than the industry standard. Furthermore, it offers superior searing and browning capabilities with exceptional flavor.  The pans feature stay-cool ergonomic handles that are compatible with all cooktops and are oven-safe up to 500°F.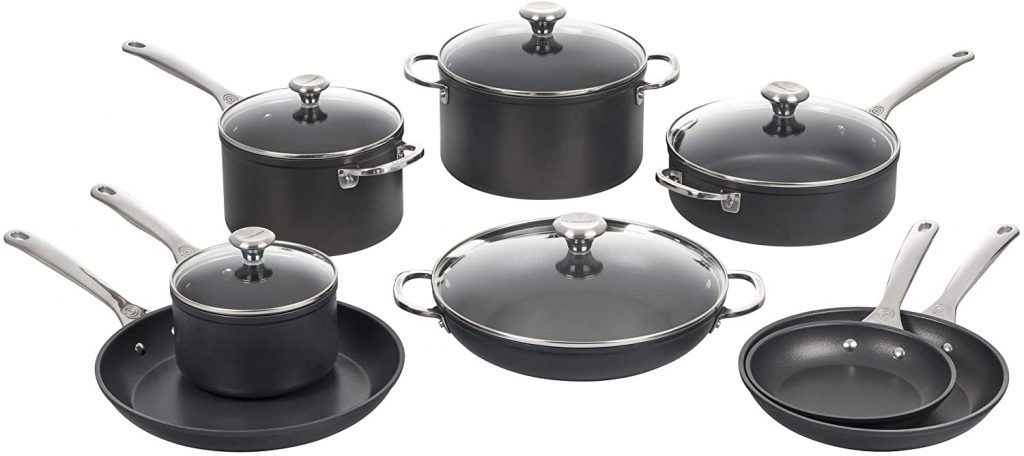 Read on to discover some of the fantastic futures that make the Le Creuset cookware set so popular.
Triple-reinforced surface
The cookware set features a triple-reinforced nonstick coating that makes it easy to clean the kitchenware after use. The nonstick coating is also manufactured under strict FDA guidelines ensuring that it is PFOA-free while still providing up to four times the strength of standard nonstick coats.
Ergonomic handles
Le Creuset relies on stay-cool ergonomic handles that are sturdy enough to withstand years of use. These handles are specially designed for quick, comfortable movements. The ergonomic design relied upon to design the stay-cool handles are easy and comfortable to use. Their hollow interior prevents heat conduction keeping them cool even on stovetops. The stay-cool handles are dishwasher and oven safe as they are plastic-free.
Dishwasher and oven safe
The entire cookware set is dishwasher safe eliminating the need to scrub them clean manually. Besides, the items are also cooktop and oven safe up to 500°F, although the tempered glass lids have a lower temperature limit of 425 °F. Magnetic stainless steel base disks prevent corrosion while making the pots and pans induction ready. 
Textured interior
The cookware relies on a stainless steel base to evenly distribute heat to the fully encapsulated aluminum core for consistent results. The hard-anodized core also conducts heat quickly, transferring it to the food for faster meal preps.  The textured interior coating provides exceptional searing capabilities regardless of how much oil you used and browns food to perfection.
The pans are exceptionally versatile and are designed for ease of use in everyday meals
The crepe pan features a stainless steel base disk that's corrosion-resistant and magnetic for induction cooking
The ergonomic handles are hollow to stay cool even when on the stovetop
The set is dishwasher safe
Special care must be taken when using the tempered glass lids in ovens due to the lower heat limit.
Le Creuset cookware is the answer to your stove and oven cooking needs with the added benefit of cooking your favorite meals to perfection. The entire set contains a textured interior that's nonstick and easily wipes clean, and provides wonderfully flavorful meals that are browned and seared to perfection. This cookware set offers the best value for money and is a useful addition to any kitchen.
We highly recommend.