The Breville brand is a known manufacturer of pressure cookers, juicers, blenders, and food processors. The Breville BOV860BSS Smart Oven is one of the newest releases from the brand boasting more features than other ovens. But what even sets the oven apart is the quality of build, the size, and the many functions you get.
The oven is ideal for air frying, roasting, baking, broiling, and more with the crucial Element IQ feature that ensures even heat distribution. Moreover, the design is compact and sleek, with a lot of room inside to prepare enough food for your loved ones. Read more to find out its key features, pros and cons, and whether this machine will be your next favorite purchase.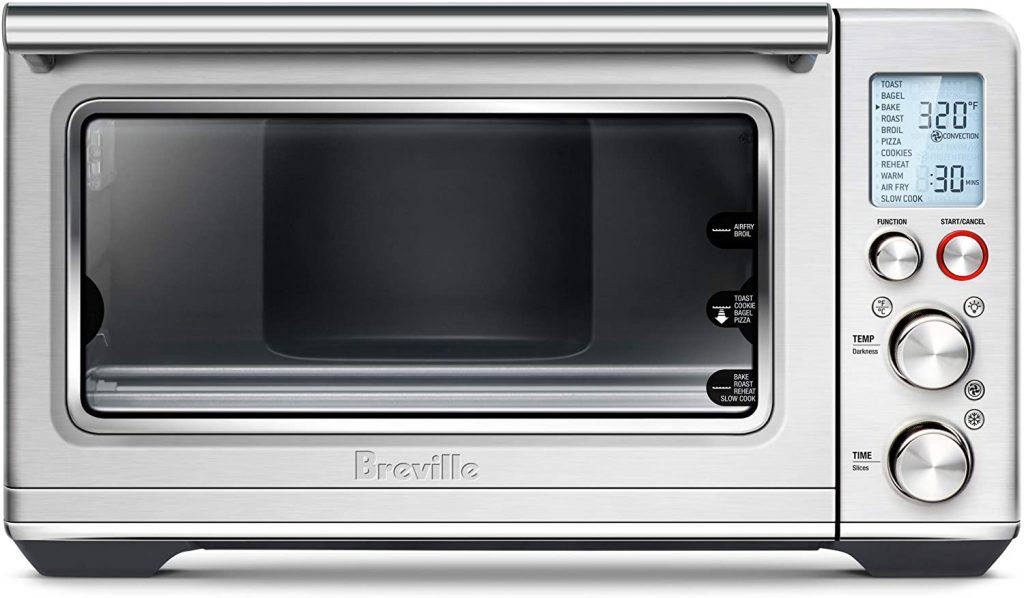 Convection Setting
The Breville oven gives you more control and flexibility over your recipes by providing a 2-speed convection fan. The feature adjusts heat distribution throughout the cooking cycle to ensure perfect cooking results in less time. There are two functions for convection fans, the super and regular. You can test them with air frying, roasting, and baking to see what works for you. Ensure you adjust the time when using this technology is it speeds up the cooking process.
Dedicated air fryer
If you are a minimalist and prefer to have an appliance that can perform more than one task, then this Breville appliance offers a dedicated air fryer setting and an air fry basket. The air fry function lets you create a wide range of deep-fried dishes with less or no oil. This is ideal for health-conscious individuals with specific dietary needs but still wants to enjoy particular food like French fries, hash browns, fried zucchini, and much more. Most customers are impressed by how the machine makes foods much crispier.
Element IQ
As with other Breville appliances, the BOV860BSS comes with the IQ heating technology used to enhance the cooking functions by offering independent heating elements that ensure better results. Users can place these elements in areas they prefer most to ensure even heat to certain trays or rack areas. As a result, the unit delivers stable cooking, about 90% of the time.
Easy to use
Apart from the excellent features, the Breville also comes with a large LCD that shows you the features to use. The buttons are large with easy to read dials for the various presets, temperature, and timer. The handle is equally large and conveniently located for easy opening and closing.
Offers a variety of cooking options
It's extremely easy to use
Has a classy look
Some cooking functions are loud
The Breville BOV860BSS Smart Oven Air Fryer is among the most versatile toaster ovens around, with 11 presets programs to choose from. The machine is smaller than regular ovens, but you are provided with the functionality of an oven, air fryer, dehydrator, and much more all in one. Using the machine is a breeze as all controls are clearly indicated, and the unit is reasonably intuitive.