If you enjoy taking your coffee in the mornings and evenings, you need a quality brewing machine. Out of all coffee brewers out there, the BUNN MCU is among the best. This is because the product has excellent ratings from customers due to its outstanding performance and affordable price. It also has many other impressive qualities – it is easy to use and clean. 
Note, the BUNN MCU is not the most stylish-looking kitchen appliance. However, it has multiple uses since you can use it to brew nearly any beverage, including K-cup pods, ground coffee tea bags or pods, and cocoa, and many more. The best thing about all this is that it only takes a few minutes.
Read the features below to find out if BUNN MCU is an excellent option for you. 
Innovative internal water tank 
If you enjoy a hot beverage, BUNN MCU has got your back. It has an internal stainless steel water tank designed to hold water at an optimal temperature longer to enhance flavor extraction. Most users love this machine, saying it makes "the most amazing cup of coffee."
Highly versatile
BUNN MCU is compatible with ground coffee, loose tea, and K-cup packs, and so much more. This is because it has interchangeable drawers, such as the cup and pod drawers, that allow you to brew other beverages. As such, you can enjoy a variety of drinks in various amounts using this brewer. 
Pulse Technology 
This technology allows you to prepare the coffee for much longer. Using the pulse button, you can extend the brew time to make coffee with a richer taste and flavor. In other words, BUNN MCU adds something more to your drink if you love a strong coffee. With Pulse technology, you can brew other beverages, such as stronger tea.
Jet action spray head
BUNN MCU has a unique commercial-style spray head that allows you to soak your pods. It then sprays them with water to extract optimal flavor. This ensures that you make a quality beverage you can enjoy.
Removable drip tray 
BUNN MCU has a removable drip tray that allows you to place the cup of your choice, such as a travel mug. The drip also allows you to wash the product without any problem.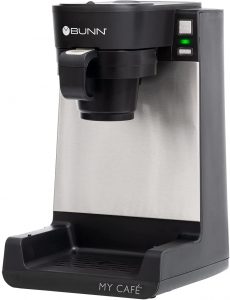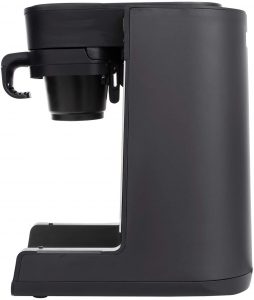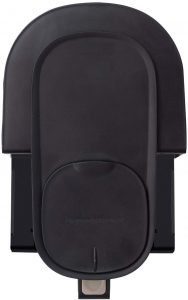 No paper filters needed 
Takes less space can be used to make different beverages
Flexible when it comes to adjusting the coffee flavor 
It comes with a two-year warranty
It has a durable
A few users said that filling the water tank has to be filled continuously, which can be tedious. 
Being able to brew your coffee at home is one of the best feelings ever. With the BUNN MCU brewing system, you can have multiple possibilities, from preparing richer coffee to strong tea.
The two-year warranty that comes with BUNN MCU is a sign that the manufacturer trusts this product. Coming from such as reputable brand, it's worth considering.