Having a food processor saves you a lot of tiring and boring cooking preparations. From dicing onions, shredding carrots, mincing parsley, slicing tomatoes, grinding cheese to kneading dough, food processors can be quite handy. These versatile appliances will take as short as a few seconds to perform various tasks, cutting down on the kitchen prep time.
But there a dozen of food processing models in the market, all claiming to offer the best experience. But the KitchenAid 13-Cup Food Processor outsmarts them all.
Featuring a sturdy and modern design, this food processor is exactly what you need. The 13-cup capacity allows you to prepare as much as you wish for your cooking needs. The two very sharp blades, one adjustable slicing disk, and another shredding disk render this processor one of the fastest and most effective food processors in the market today.
Are you interested in the KitchenAid KFP1318OB 13-Cup Food Processor? Read on for a comprehensive review.
Multiple appliances
This processor is packed with many gadgets, all aimed at enhancing your cooking experience. A new processor includes a heavy-duty processor base, a 13-cup work bowl, 4-cup mini bowls, an external adjustable slicing disk, a reversible shredding disk, and a multipurpose processor disk, a mini processor blade, a dough blade, and an ample storage space.
3-in-1 Ultra-Wide Mouth Feed Tube
This is one particular feature that makes this food processor unique and highly efficient. The three feed tubes featuring three different widths allow you to process a wide variety of foods all at a go. This saves you significant prep time and effort.
Ultra-Tight Seal
The ultra-tight lid system around the edge is designed with a leak-resistant ring that locks everything inside the bowl. This prevents leaking and spilling during processing, allowing you to prepare your food without creating a mess.
Adjustable slicing disk
Unlike many other food processing models, this particular model allows you to adjust the thickness using a simple external lever. Most other food processors had a one size fit all slicing disk that cut everything to the same size. But with this model, you can choose how hard, small, thick, or thin you want your foods sliced.
Three Speed Options
Featuring three-speed options, namely high, low, and pulse, this processor allows you to regulate how fast or slow you want your food processed. Some delicate foods and fruits like strawberries and kiwis will not need the same slicing power and speed as potatoes and cucumbers. These three speeds enable you to control the results of your products.
Storage Space
This food processor also comes with a storage space that is large enough to accommodate all parts. This way, you don't need to have all the food processor accessories scattered in every corner and drawers of your kitchen. So, when you want to use your gadget, you know exactly where to find it. Additionally, having everything tucked away inside a case helps to preserve quality and extend its usability.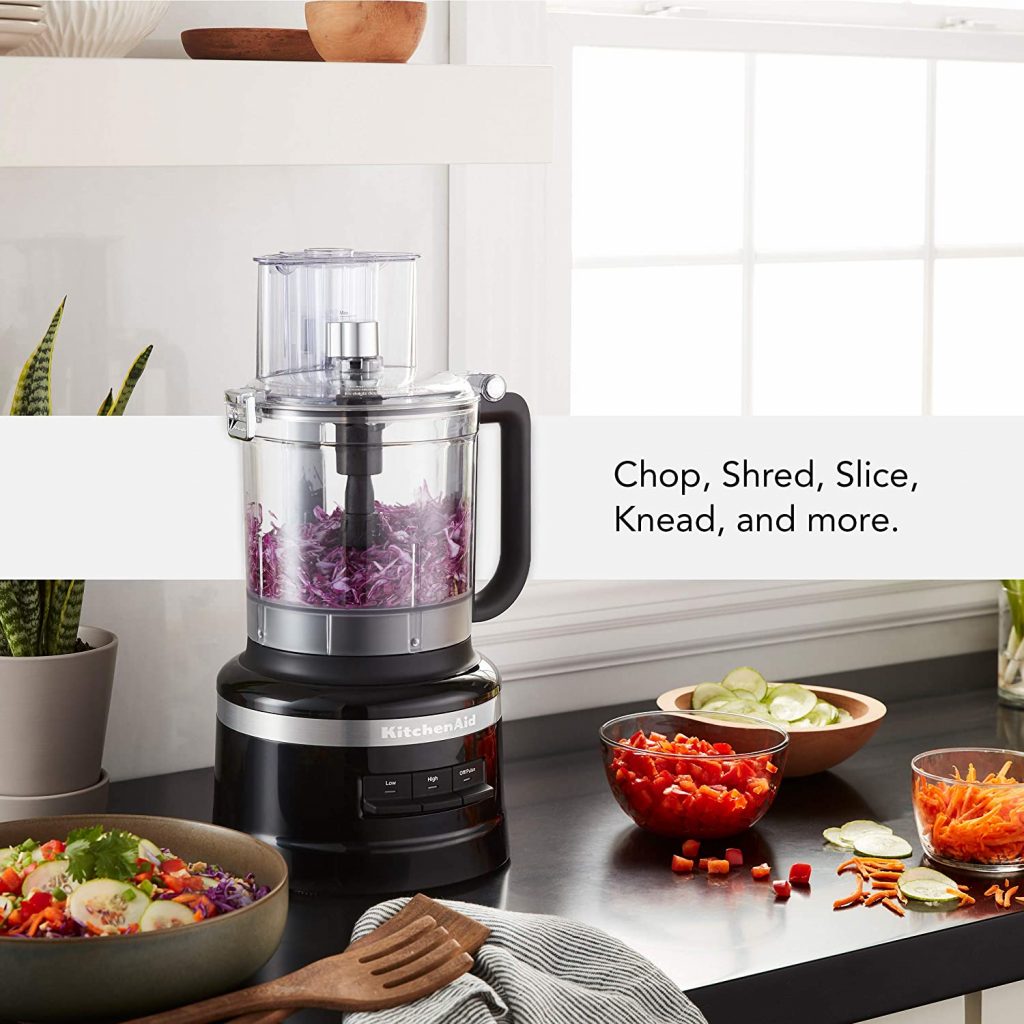 Very sharp processor blades
Available in four different colors
Small footprint
Easy to use and clean
Do you want a food processor that is versatile, efficient, yet so simple to operate? Then KitchenAid 13-Cup Food Processor is what you need. What's more is that you choose from four different color ranges, including white, red, black and silver.