Zojirushi induction cooking jar is the latest offering from this Japanese company. The 1.8 L rice cooking capacity is more than enough to serve a family. You can also use this unit as a pressure cooker to prepare your favorite rice recipes.
These induction cooking jars have inner kettles made of iron for maxim induction heating with precise temperature controls. With its compact design, you will have no problem setting up this rice cooker on any kitchen countertop.
Here are some of the features and capabilities of the Zojirushi PT10-BZ induction cooking jar;
Superior Heat and Pressure Controls
The induction cooking jar has superior induction heating technology with controls to make fine heat adjustments to meet your recipe needs. IN terms of pressure control, you can select from three pressure levels in the menu. You can select the 221 degrees F range when cooking brown rice if you want softer rice. White rice is best cooked at 219 degrees F and sushi at 212 degrees F. the pressure cooker selects the optimal pressure level depending on the temperature set.
Nonstick Inner Cooking Pan
Zojirushi relies on its unique platinum infusion technology to infuse a nonstick coat on the inner cooking pan. This prevents the rice from sticking to the surface during the cooking process, making cleanup easy. The stainless-steel inner lid is also detachable and washable.
Automatic Keep Warm
After the cooking timer goes off, you can expect the unit to keep your meals warm automatically until you are ready to serve. This function kicks in automatically, and you can pair it with the reheat function to heat up the meals a few degrees higher before you serve them.
Safe Design
Zojirushi pressure cookers have a safety-optimized design with multiple fail-safe measures that prevent excessive pressure build-up and unsafe depressurizations. To further improve the safety of the pressure cooker, the unit has a large steam vent cap that prevents excessive overflows and sensors that monitor pressure and heat levels during cooking.
Automatic Menus
Zojirushi finetunes this pressure cooker for the preset menu settings so that you can prepare your meals in the most optimal conditions. The white rice menu has options for hard, soft, and regular levels. You can also select from umami, sushi, jasmine, steel-cut oatmeal, GABA brown, prodigy, and quick-cooking options.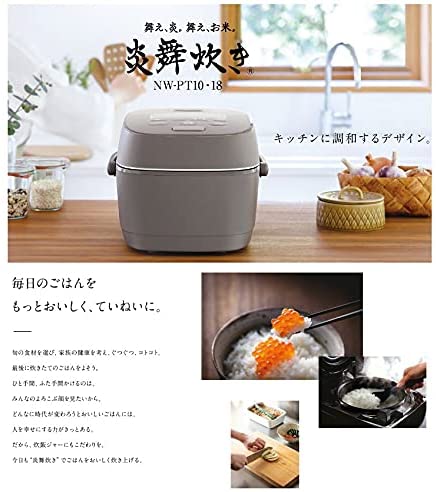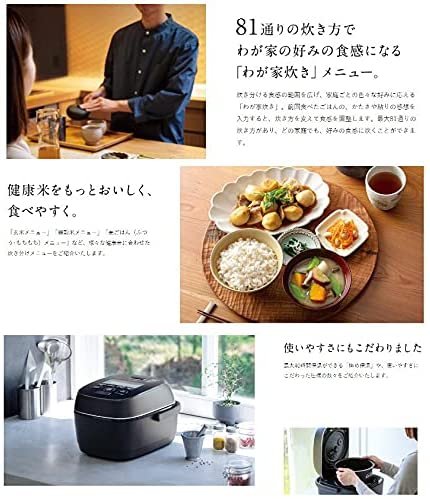 Has an easy-to-clean nonstick inner cooking pan.
Has multiple fail-safe measures for safe pressure cooking.
Ships with instruction manuals and recipes.
It has a compact design that takes minimal countertop space.
The reheat function and extended keep warm options will reset if the unit gets unplugged.
The Zojirushi induction rice cooker is an excellent addition to any kitchen countertop with its three in one f8nctionality. The unit takes minimal counter space, and its black finish fits in perfectly with any interior decor. With this pressure cooker, you can always expect delicious meals, and you get to try out new exciting recipes with it.