Foodi lineup of kitchen appliances has a longstanding approval with thousands of positive reviews from happy kitchen owners. The Ninja Foodi 10-in-1 Pressure Cooker is no exception; its multi-use approach to cooking covers up to 70% of all traditional recipes without compromises in terms of flavor and nutrition. 
The pressure cooker features an ergonomic design with a crisping lid and a detachable pressure lid for increased functionality while still retaining its 6.5-quart capacity. This is more than just a pressure cooker; it can steam, broil, slow cook, sauté, dehydrate, air fry, and even keep food warm until when you wish to serve.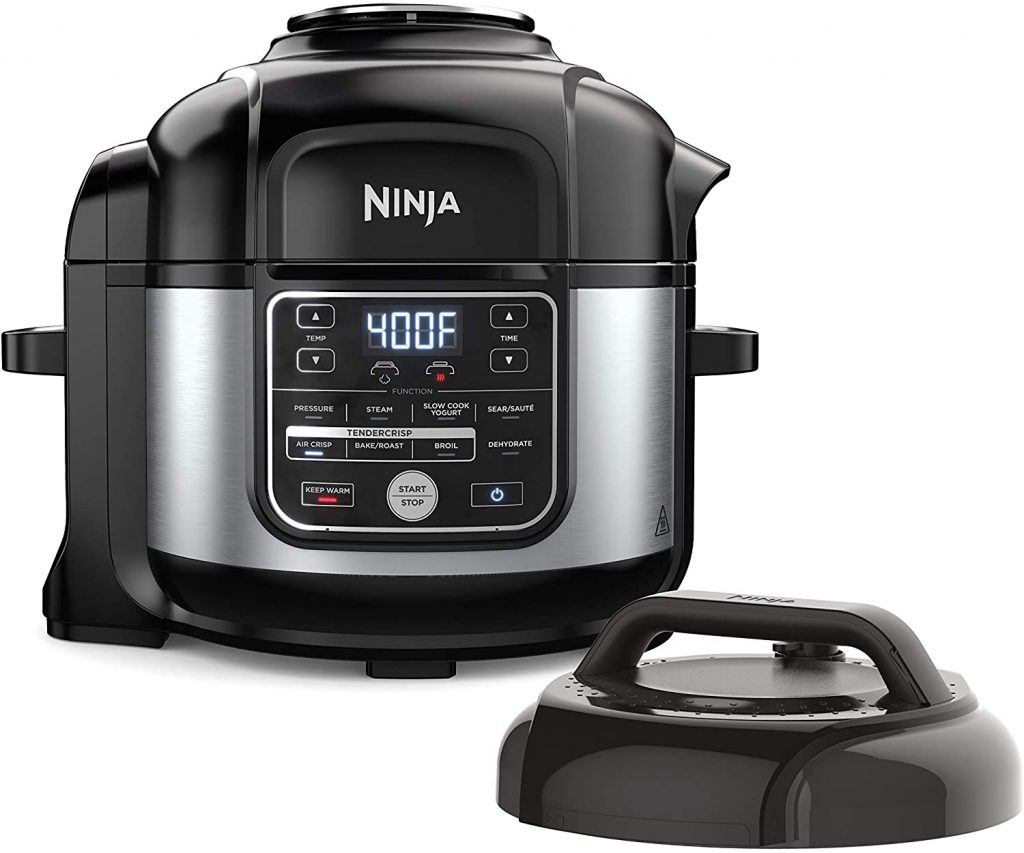 Read on and discover the fantastic features and capabilities that make the Ninja Foodi Pressure Cooker stand out.
10-in-1 versatility
The Ninja OS301 comes with ten cooking modes to fit your recipe's needs allowing you to prepare each hearty meal as needed. The pressure cooking option will enable you to cook meals 70% faster than slow cooking while still retaining the ingredients' tenderness. You can gently cook delicate foods at high temperatures using the steaming function with the slow cook function relying on low temperature for extended cooking periods. This pressure cooker can also function as a stovetop when you need to sauté vegetables and brown meats. 
Air fry functions
This unit's air fry function makes it possible to air-fry the food with little to no oil for a crispy and crunchy meal. This is important for people who want to cut down calories and still enjoy fried foods. The model also ships with a dehydrator function that gently removes moisture from meats, vegetables, and fruits, turning them into chips and jerky. 
Extra accessories
This pressure cooker ships with three accessories; stainless steel broiling rack, crisp plate, and a detachable pressure cooking lid. The stainless steel broiling rack comes in handy when you want to caramelize food and give it a crunchy topping.  You can use the crisping plate with TenderCrisp technology to lock in juices before switching lids for a crispy golden finish. The unit also ships with a free cookbook full of essential recipes for each cooking function. 
Auto switch to warming
When the unit completes a cook cycle, it will automatically switch to keep warm mode, ensuring that the meal remains hot long after the cooking process has come to an end. During this process, the pressure cooker will also naturally release the pressure so that you don't have to manually trigger the release pressure function when you need to serve the meal. 
Programmable cooking function
This unit comes with ten programmable cooking functions, which are adjustable depending on your cooking needs. This comes in handy when you want to preset custom cooking cycles for each meal to your needs.
Multiple cooking modes
Programmable cooking function
Ships with a one year warranty
Non-stick ceramic coating
The pressure cooking lid is stored separately
The Ninja OS301 Foodi 10-in-1 pressure cooker is the best value product in the market right now, considering its multi-use approach to cooking, which allows it to bake, broil, air fry, and steam. This pressure cooker is a welcome addition to any kitchen counter with its breathtaking cooking results.