In recent times, the market has seen the production of different kinds of cookware sets with varying materials, sizes, and pieces. Buying the right cookware set will elevate your performance in the kitchen. When choosing the best cookware set, there are many things to consider, including price, durability, heat conductivity, and safety of materials used.
The Oster Corbett Non-stick Cookware Set is suitable for anyone looking for a few pieces to add to the kitchen for all kinds of cooking. The set is compatible with most stovetops, including induction cooktops. The price point is great, considering the durable aluminium construction that is long-lasting and excellent at heat distribution.
This set includes:
6 Qt. Saucepan with Lid
1 Qt. Sauce Pan with Lid
4 Qt. Dutch oven with Lid
10-inch Frying pan
Read this Oster Corbett Cookware Set Review to learn more features and whether it's worth the money.
Aluminum Build
The set features forged aluminium construction that's not only strong but also excellent heat conduction. A long-lasting nonstick coating complements this durable 8-piece cookware set. The exteriors are made of stylish ceramic that is resistant to stains for easy maintenance.
Ceramic Non-stick
A nonstick coating makes clean easier and keeps food from sticking on the pot or pan's surface. The Oster has a durable ceramic nonstick coating that releases food easily and also reduce fumes when cooking. Besides, the set is manufactured without PFOA and other harmful materials.
Riveted handles
Another nifty feature of this set is the solid metal handles that can be put in the oven or under the broiler without any issues. Besides, the metal handles come with a soft-touch coating that stays cool while providing grip. Oster riveted the stainless steel handles into the set to ensure strong and comfortable handling of large boils and hot oil. A tempered glass lid offers easy monitoring of food without opening and losing heat and flavor. The lids have a stainless steel rid all round to make them sturdy.
Easy to clean
Cleaning this set is a breeze, thanks to the nonstick ceramic that does not hold food even when using little oil. Make pancakes, scramble eggs without cooking oil and you without sticking. Most customer reviewers appreciate the ease of cleaning, saying that it's one of the most nonstick cookware sets. However, a hand wash is recommended to prolong the lifespan of the ceramic nonstick.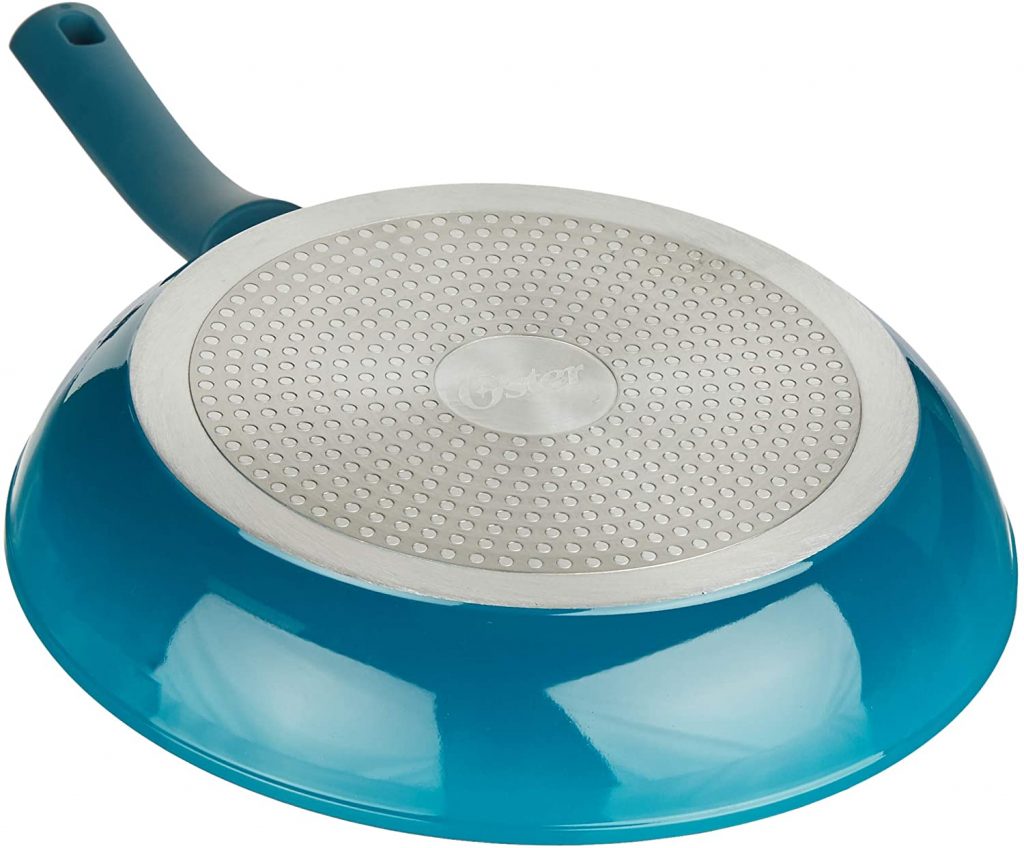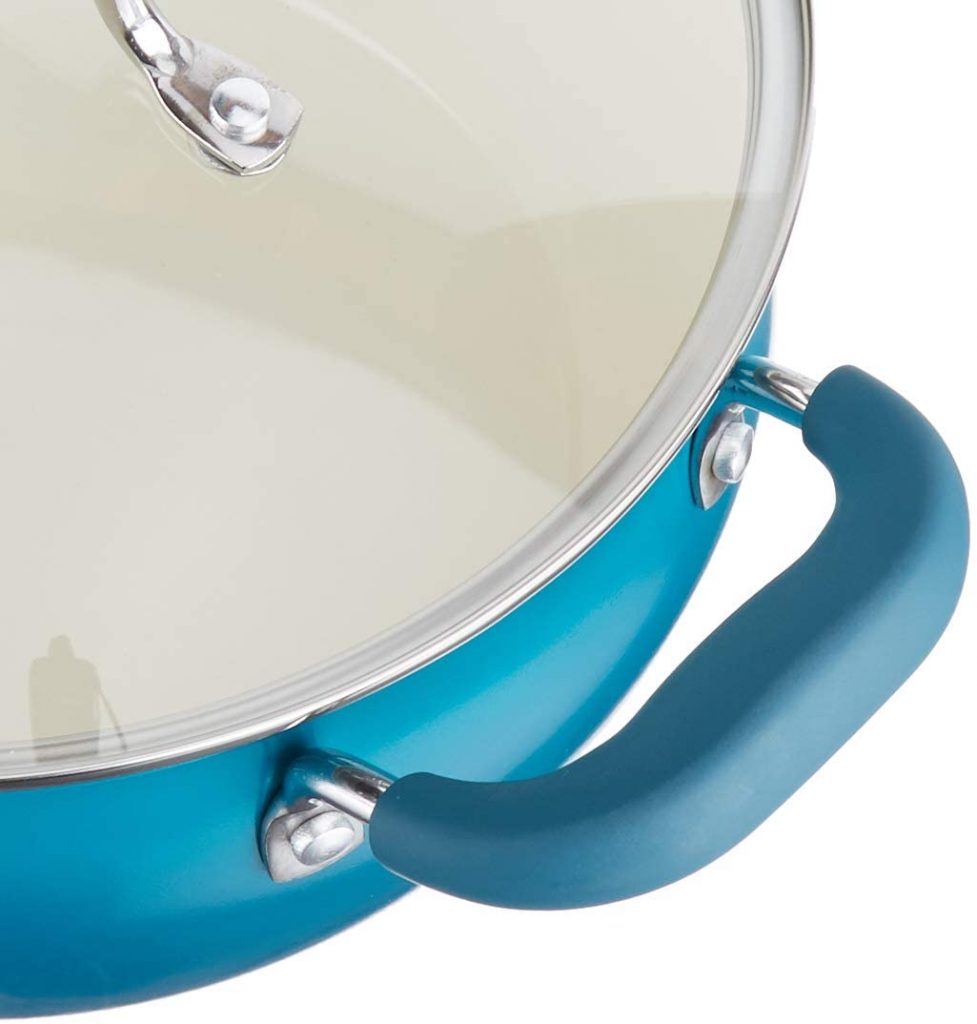 It's visually appealing and sturdy
It's nonstick for easy cleaning
Has comfortable handles
It's compatible with all stovetops
If you prefer the Oster brand products, then this set can be a great addition to your kitchen. The premium cookware set is PFOA-free with a long lasting nonstick coating for minimal cleaning afterwards. Besides, the handles offer a comfortable grip and are riveted for strength. The mid-priced set is compatible with induction cooktops, so it suits a majority of the kitchens. We highly recommend it.