Making pour over coffee requires details, so you need the right equipment to make it easier. The little things such as the pouring, water ratio and grounds saturation can make or break the quality of your coffee. That's why you need the best electric gooseneck kettle for precision. Unlike a drip coffeemaker, a gooseneck kettle helps you to customize your brew perfectly.
After identifying various models, the Cuisinart Digital Gooseneck kettle is one of the best gooseneck kettles for the money. It's custom-designed to perfect the pour-over brewing with its pour spout that's steady and slow for maximum flavor extraction. It has a perfect size for individuals and couples, with a capacity of 1-liter of brew which is about 4 cups of flavorful pour-over coffee.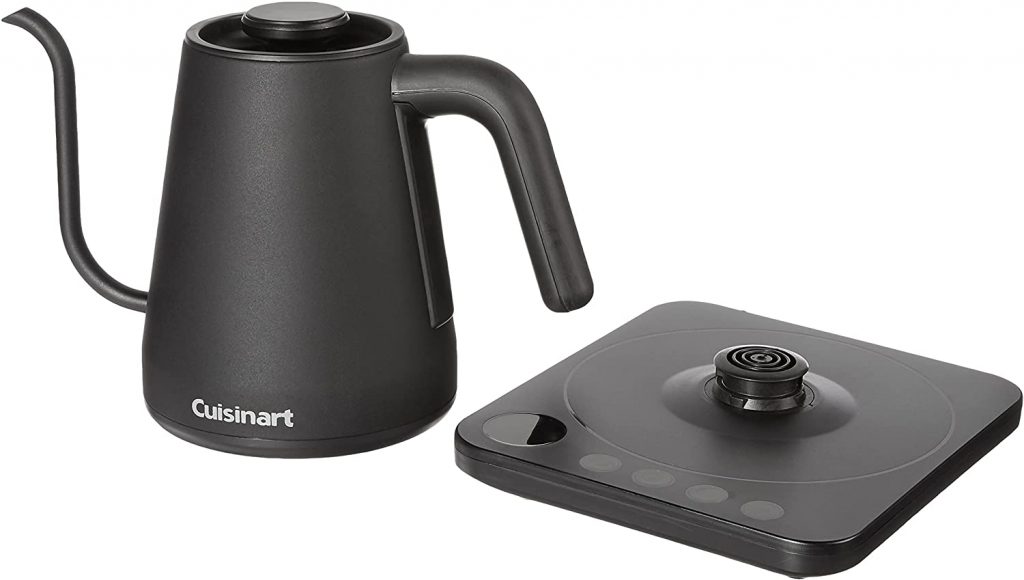 Read on this Cuisinart Digital Gooseneck Kettle review to learn it's features and benefits.
Fast heating
For people on a hurry, this kettle can heat water to boiling in 2-3 minutes, because it has 1200 watts of power. "It's extremely lightning-fast to boil water and the quality of coffee is amazing" one reviewer noted. Furthermore, you can select temperatures from 1400F – 2120F so it's possible to get the flavor of your choice. Just turn the intuitive control knob to adjust the temperature to your liking and beep that lets you know when the set temperature has exceeded. The real-time temperature display is a convenient addition for precision.
Easy pouring
A well-designed spout and ergonomic handle make this kettle extremely easy to use and prevents spilling. It's long, narrow and curved to control the flow rate, which is important for extraction of pour-over coffee. The slow flow rate encourages more contact between the boiling water and the coffee beans for a more even extraction. The result is a flavorful and better tasting coffee and tea.
Keep warm function
The temperature holds or keep warm feature is another nifty feature to keep water hot for up to 30 minutes. This allows you to keep refilling the cup without needing to reheat the brew and allows for enough time to prepare multiple brews. You can also shut off the keep warm feature by pushing a button, if saving power is too much of a priority for you.
3-Year Warranty
Cuisinart belief in longevity and durability is further backed by a generous 3-year warranty. That's thrice times longer than most kettle manufacturers provides. Besides, Cuisinart has a superior customer service that attends to issues problems. The warranty covers any material defects within this period.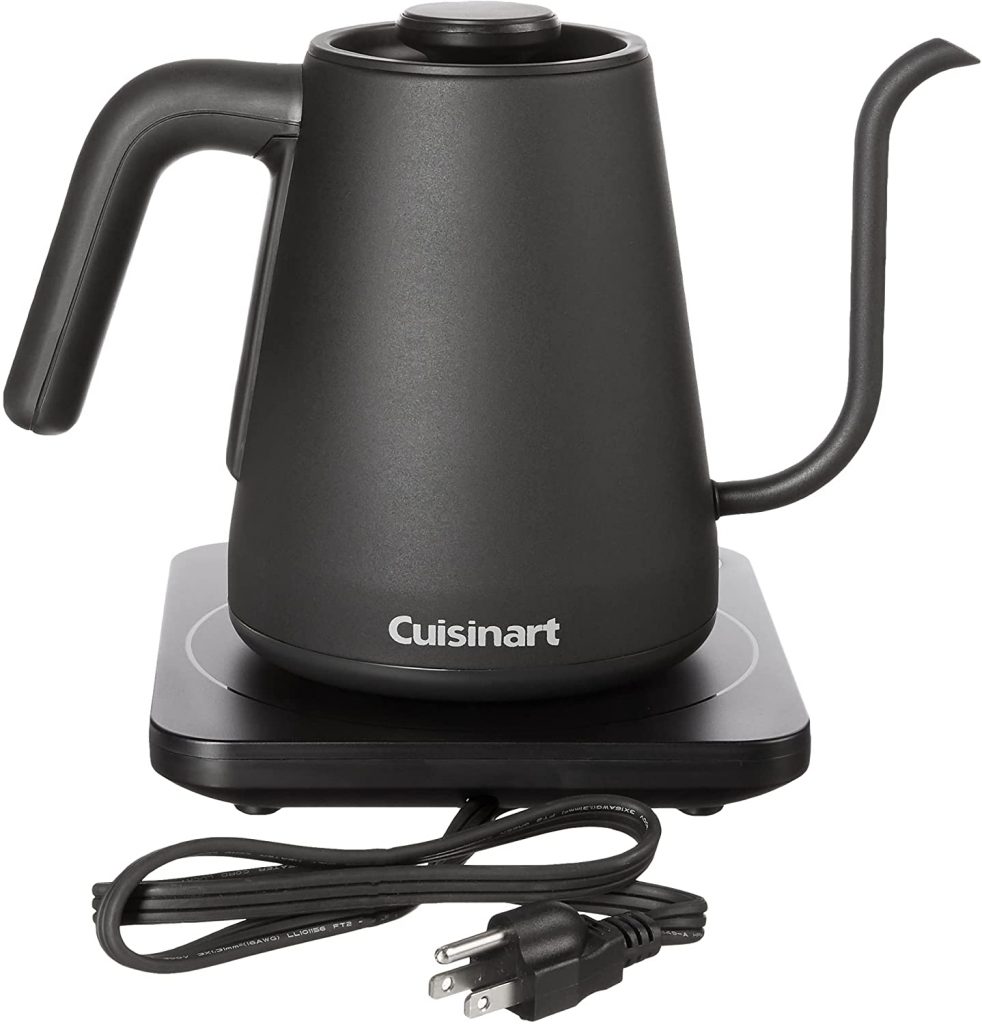 It has a stylish design
Easy to use
The spout offers precise control
The company provides a 3-year warranty
You might pay a bit more than other models
A gooseneck kettle opens up endless possibilities for aspiring home baristas and coffee connoisseurs. If you wish to begin your pour-over journey, this kettle's ability to control temperature, ground saturation and flow rate makes the Cuisinart GK-1 a game changer. You may have to spend an extra few bucks but it's totally worth it. The three-year warranty goes ahead to show just how the company trusts their product.