Everyone loves a good cup of coffee! And if you are a true coffee lover, you probably need a good coffee grinder to make your early mornings and evenings. To help break down the selection process for you, we introduce the Baratza Virtuoso+ Conical Burr Coffee Grinder. This grinder stands out for brewing the most flavorful cup of coffee compared to similar models. Don't take a word for it yet! Read this Baratza Virtuoso review to discover some of the unique features that set it apart from the rest.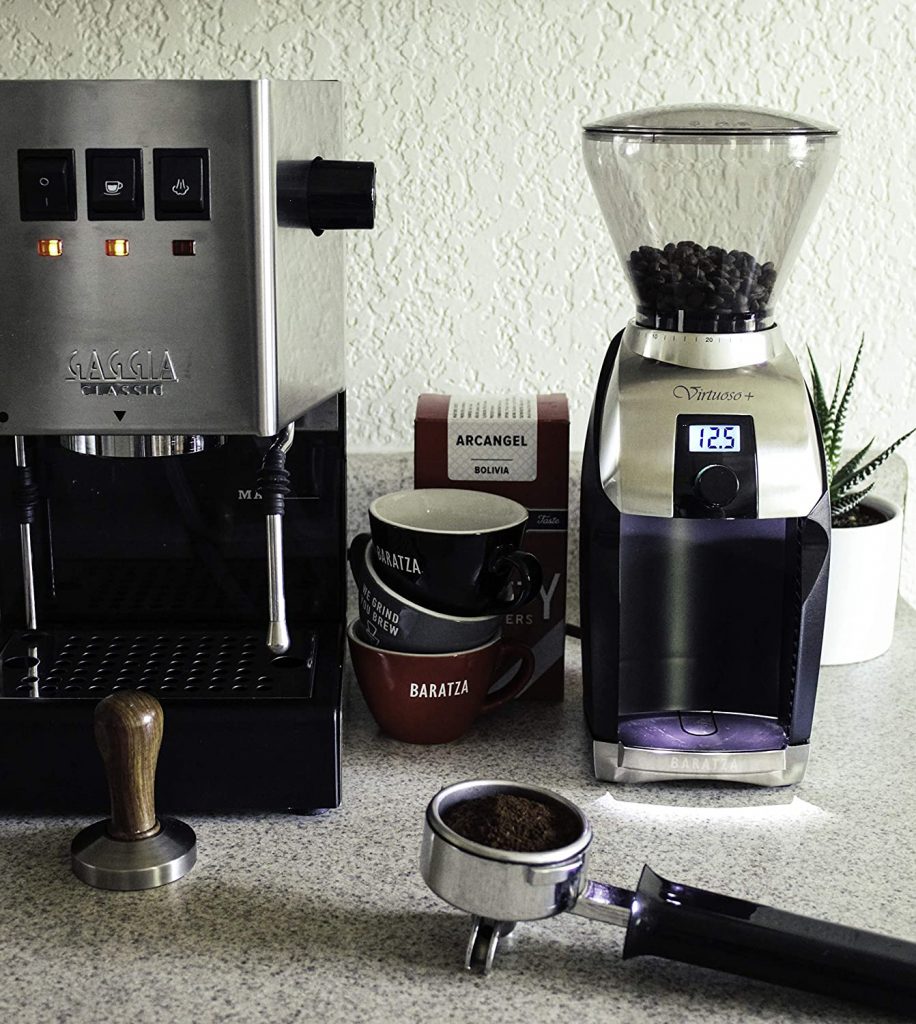 Digital timer display and a Backlit Ground Bin
The machine features a 40-second digital timer, which is adjustable at the tenth second, allowing you to set and adjust and replicate your ideal grind time for the perfect dose. The grinder has a see-through backlit ground bin that enables you to see the brewing process and know when it needs to be emptied.
Easy to use and maintain
Another great thing about this grinder is that it is not complex to use. If you are a first-time user, you can use its basic 450rpm speed with the 40-grind setting. Adjusting the rotation and grind time is also relatively straightforward. Also, the cleaning process is very simple. The parts that require frequent cleaning like the burrs, hopper and grounds catcher are easy to access.
Multiple Grind settings
The appliance also features 40 individual grind settings, which is quite impressive. Backed with the enhanced commercial-grade conical blurs, you can effortlessly switch between an extensive range brew method from fine to coarser such as the fine Espresso grind, AeroPress, Hario, Chemex, V60, and French press, as well as automatic brewers. The Virtuoso grinds at twice the speed of other grinders at its level, which is remarkable.
Stylish with a small footprint
The Baratza coffee grinder boasts a sculptured metal top and a modish base, which should enhance your kitchen decor. Besides, it takes a relatively small counter footprint, which can fit perfectly under most kitchen cabinets. What is also impressive is that the grinder can hold up to 8 ounces of coffee to serve a few people.
Quality and warranty
In addition to the sleek, stylish look, the grinder is engineered with 40mm solid alloy steel blurs manufactured by the DC motor, a reputable manufacturing company in Liechtenstein, Europe. With this combination, you can expect quality and consistent performance, and durability. Following the gradual wear and tear after years of use, you can repair using readily available spare parts instead of replacing the grinder. Even better, the Virtuoso is backed up with a one-year manufacturer warranty.
Easy to use and maintain
Has a 40 grind setting
Consistent performance
One-year warranty
Baratza is a reputable electric coffee grinder producing company based in the United States dedicated to making quality and accessible grinders for two decades. Virtuoso is one of the company's latest and leading model and one that most uses can't seem to get enough of. The advanced features, including the 40 grind settings and the backlit grounds bin, makes it your ideal and top choice coffee grinder in 2020.