Nutrichef cookware makes the joy of cooking ridiculously effective and sweetly nostalgic, just like cooking should be. Besides, the company offers lacquered nonstick cookware sets that are attractive and affordable. With this NutriChef 14-pcs cookware set, you can meet all kitchen needs, such as preparing delicious stew, sauces, creamy pasta, veggies and breakfast effortlessly.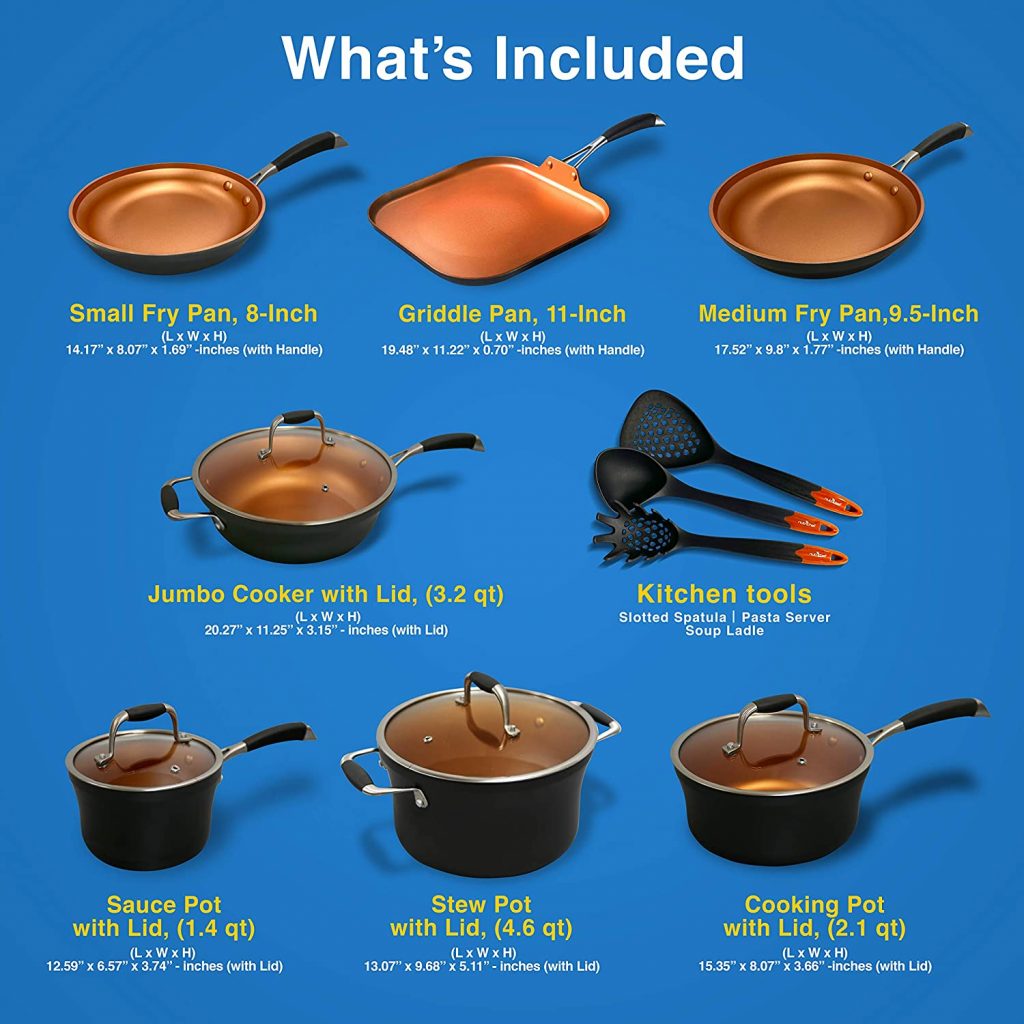 Read on the NutriChef 14-piece Cookware Set review to know what it contains, its outstanding features and whether it's worth it.
14 pieces of pots and pans
The NutriChef Cookware set comes with numerous pieces, which lets you experiment with various recipes in your kitchen. The set contains a saucepot with lid, jumbo cooker with lid, cooking pot with lid, small fry pan, medium fry pan, griddle pan, soup ladle, slotted spatula and pasta server. With the 14 practical pieces, you can cook any dish in the kitchen.
Food-grade material
NutriChef designed these utensils with a nonstick mineral-based coating that won't leach toxic materials into your healthy food. Besides, the nonstick pot set cookware features a heat-resistant lacquer exterior that is PTFE, PFOA, and PFOS free.
The coating material also releases up to 60% less CO2 than traditional nonstick coating. In other words, the NutriChef cookware set is both food-grade safe and environmentally friendly.
Space-saving design
What makes this copper cookware set unique is the practical stackable design that makes storage easier and well-organized. This allows you to keep your kitchen neat and save more space for other kitchen utensils. Just stack the pots and pans into any drawer in your kitchen to get more functional space.
Easy to clean
If you love cooking but dislike cleaning, you can check out this ceramic set as it's dishwasher-safe. Additionally, the nonstick texture reduces the frequency of cleaning because food and oil rarely stick. You can also clean it using warm water and soap with less effort.
Induction and stove compatible
These pots and fry pans are safe to use on ceramic, induction, gas and electric countertop and safe to 446 degrees Fahrenheit. The ceramic cookware set features three layers of copper with hard-anodized aluminium and a heat-resistant exterior. With the solid cast aluminium design that's sturdy, you can use the accessories anywhere for many years to come. Furthermore, the copper cookware set come with silicon grip handles that make it easier to take the cookware out of heat without injury.
Super-Stylish design
Besides being durable and high quality, the set also shines when it comes to aesthetics. The NutriChef features a luxurious and elegant design with attractive shades of copper. You can get this amazing nonstick pot and pan set as a present for your family and friends.
It's sturdy and long-lasting
It's stylish and lightweight
It's induction and stove compatible
Easy to clean using a dishwasher
It has an attractive price tag
Copper cookware may require special maintenance to avoid scratching
NutriChef 14-piece set is an excellent choice for a smart cook looking for a budget-friendly cookware set without compromising product quality. Thanks to its top-notch craftsmanship, you can use it on any cooktop without any problem. The elegant design makes it ideal for any kitchen décor, and the stackable design is easy to store.