Dutch ovens are the ultimate culinary multitasker. These heavy-lidded pots are incredibly versatile and can withstand years of use. With this pot, it's easy to prepare spicy-delicious soups and stews, effectively braise your meat to tenderness, and even bake you a crusty, evenly browned cake or bread. What's more, you don't need to spend a fortune to get a Dutch oven that will consistently serve you for years.
One such pot is the All-Clad electric Dutch oven that has all the features you need in an oven. It has excellent heat retention, 6-quart capacity and oven safe up to 5000F. Many users appreciate that the pot gets super-hot, allowing for faster and even cooking. It's a workhorse of a Dutch oven that you can rely on for regular use.
This is one of the best Dutch ovens 2021, featuring a stainless-steel exterior with two easy-to-grip side handles, this oven promises a professional and unrivaled cooking experience. What's more is that the oven is generously large and deep, making it suitable for several cooking techniques, including stewing, browning, slow cooking, all in the same vessel.
Want to learn more about the All-Clad Electric Dutch Oven, Cast Iron, and Stainless Steel, 5 quarts? Read the comprehensive review below.
Large Capacity
The oven has a relatively larger holding capacity of 5 quarts, giving room for roasting a pound of chicken breasts and sautéing veggies. If you typically cook for two or three people, then the All-clad 5-quart Dutch oven will suffice.
Lid Technology
This oven also features a tempered lid made from cast iron that locks in heat and moisture, thus retaining the flavor vapors. This way, your food remains warm and delicious even hours after cooking is over. You can use the lid in the oven or on the stovetop, or inside the oven. You can also remove it to allow your food to finish cooking.
Five cooking modes
This oven is also a highly versatile appliance featuring five different cooking modes: slow cook high, slow cook slow, simmer, Braise, manual, and Sauté. These programs allow you to extend and enjoy your cooking capabilities when preparing a wide variety of home-made meals. Once you are accustomed to these modes, you will surely appreciate how easy and fast you can prepare a meal.
Ease of Use
As a consumer, when purchasing a kitchen appliance, or any appliance, one primary concern is how to use the product. No one wants a device that is too complex to use. Luckily, the intuitive control panel features large control pushbuttons with ready lights and an easy-to-navigate LCD display.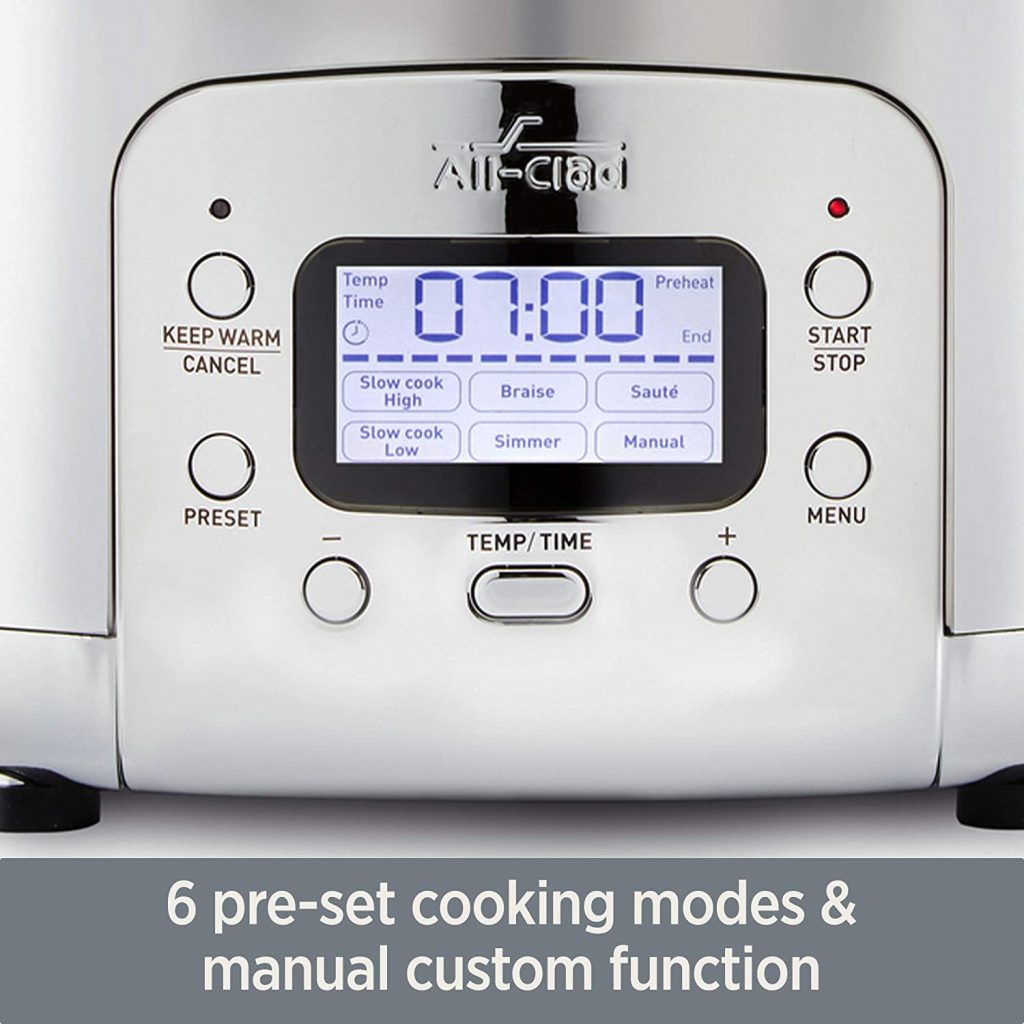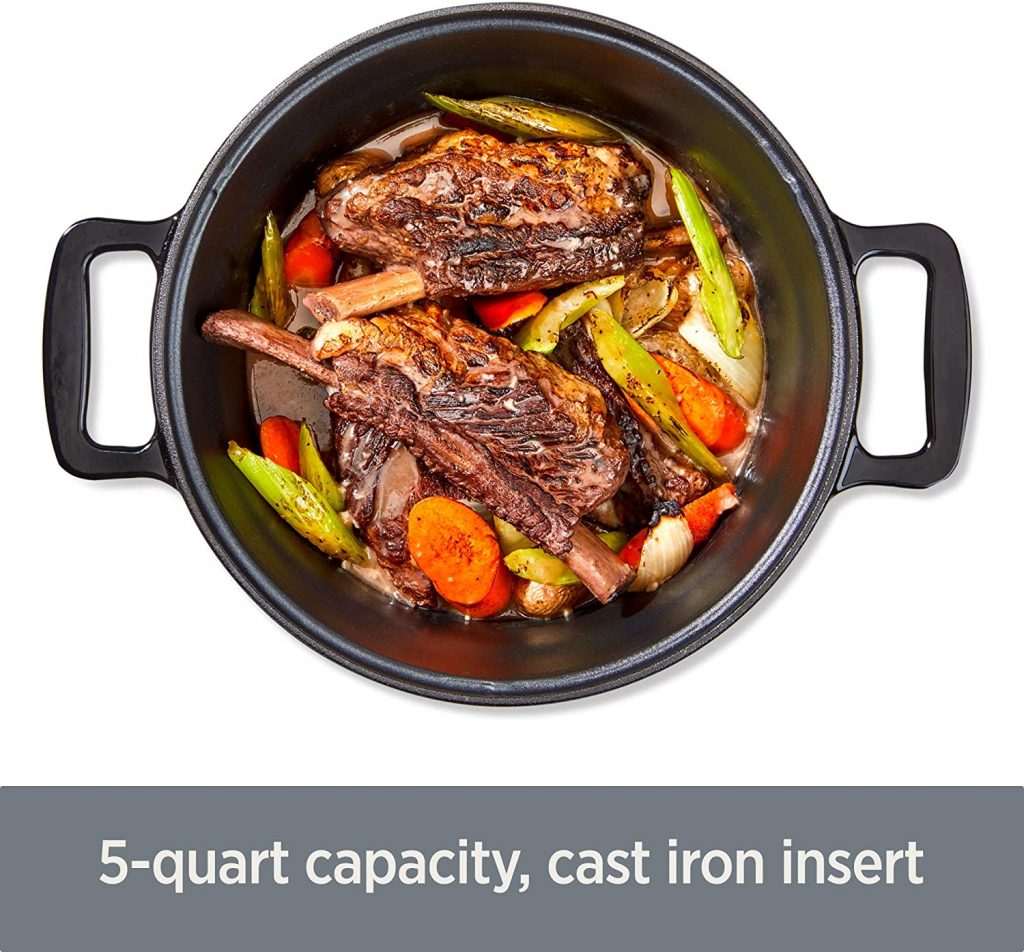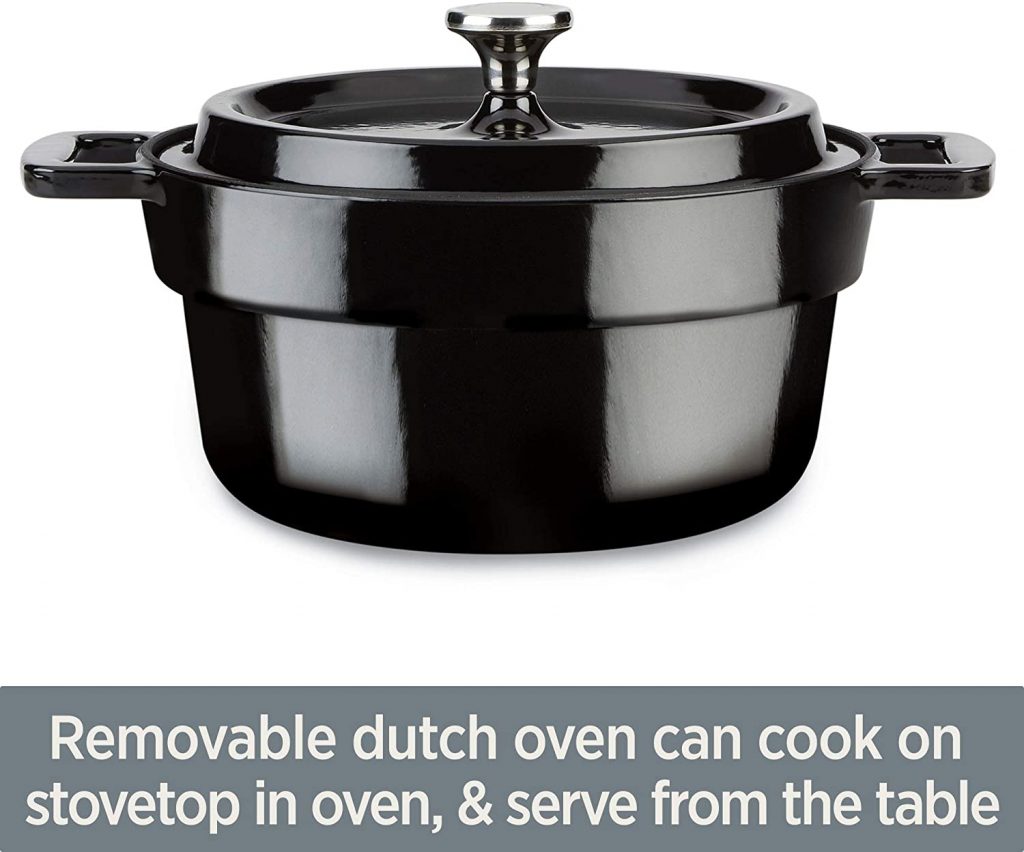 The removable cast iron insert and lid are dishwasher safe
Features two side handles that are easy to grip
Features a manual countdown timer
Sturdy design
Transform your cooking experience today with the All-Clad Electric Dutch Oven, Cast Iron, and Stainless Steel, 5 quarts. Utilize the five cooking modes to prepare delicious and freshly cooked meals for your friends and family. Riveted handles help to transfer your ready meal to the serving table comfortably. We highly recommend it.