Breville is an iconic global brand with over 80 years of experience enhancing people's lives through brilliant innovations and thoughtful designs. Their latest Breville bambino plus espresso machine is a perfect addition to any coffee-lovers space, thanks to its proprietary thermojet heating system and precise espresso extraction.
The unit has a hands-free automatic steam wand and adjustable milk temperature and texture options giving you the ideal frothing with each brew.
Here are some of the features and capabilities of the Breville bambino plus espresso machine;
4 keys formula
Breville designs these espresso machines to optimize for the four keys formula. This includes regulating the amount of freshly ground beans, optimal water pressure, precise temperature control, and true micro foaming. The resulting latte art is more than a work of perfection; it provides the best tasting coffee brew at any given time.
Digital temperature control
This unit relies on digital temperature control (PID) to deliver precisely heated water to the extraction unit. As a result, the coffee retains its naturally sweet aromas before the low-pressure pre-infusion. The brew finally goes through a 9-bar high-pressure extraction process in the Italian pump. You can always expect evenly matched notes and aromas with this brewing process.
Hand-free automatic steam wand
The Breville bambino plus espresso machine features a hands-free automatic steam wand that creates perfect latte art. This is achieved by frothing the milk into a silky microfoam under an intense steam pressure of up to 266 degrees F. You can also adjust the milk temperature and texture with the three settings for excellent microfoam taste and texture.
Thermojet heating system
Breville relies on the thermojet heating system that can achieve optimal extraction temperature in as little as three seconds. This reduces the waiting time significantly, allowing you to brew your favorite caffeine brew instantly. The espresso machine has a brewing capacity of 64 oz, which is more than enough of a busy day.
Precise espresso extraction
The digital temperature control unit delivers heated water at the right temperature for each brew setting resulting in rich, full-bodied coffee with complex flavors. The unit accurately infuses 19g of ground coffee for an optimal dose before filtering the brew through its commercial-grade filter.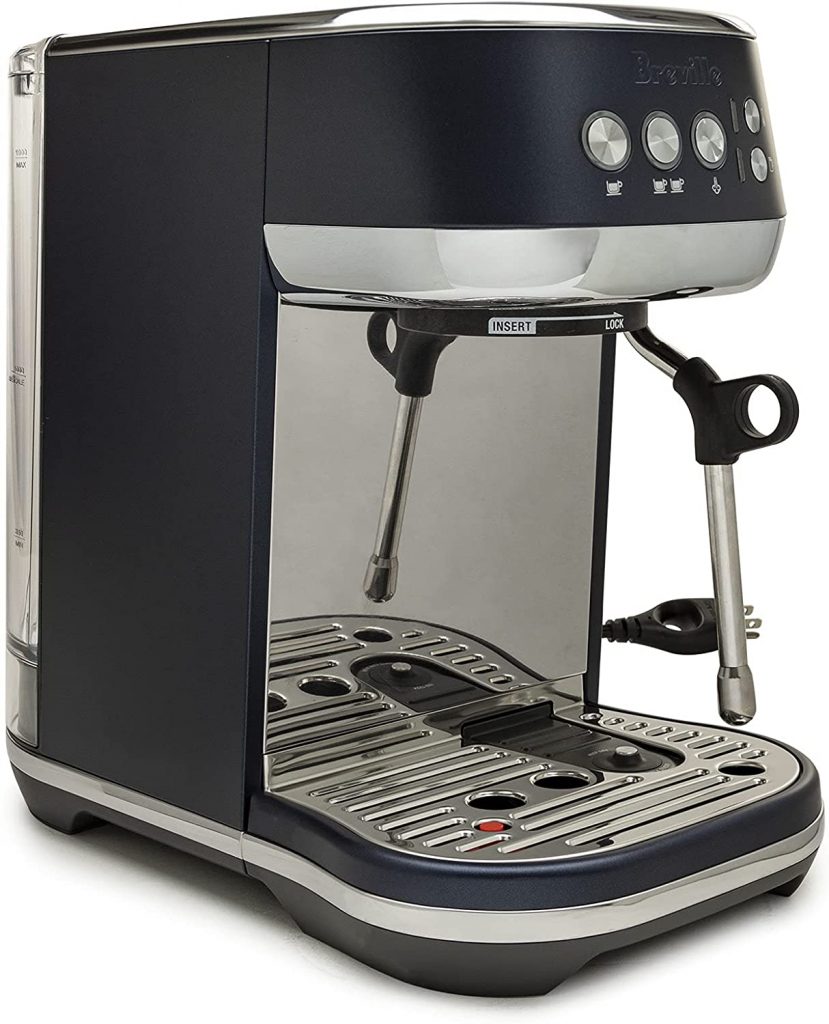 Brews full-bodied coffee while retaining rich and complex flavors.
It has a hands-free steam wand for frothing the milk.
The damson blue color scheme perfectly matches any interior decor.
Has a powerful 15 bar Italian pressure pump.
The unit lacks custom presets, and you will have to rely on the knobs to adjust the pressure and temperature options for each brew manually.
If you are in the market for a high-performance espresso machine, then the Breville bambino plus espresso machine is the unit for you. This countertop espresso machine relies on the four keys formula to precisely regulate the ground beans dosing, temperature, and pressure for the ultimate tasting brew. The adjustable milk frother allows you to play around with the texture and temperature options to produce the best latte art with each cup.