Cuisinart GR-6S contact smokeless Griddler promises to revolutionize how you prepare your meals with its five separate cooking options. The Cuisinart GR-6S can handle everything, from grilled steak to sausages and even pancakes. It features a set of reversible plates and a floating cover for contact grilling without the expected smoke.
The Cuisinart GR-6S relies on dual temperature controls ensuring that the final meal is well cooked through while still retaining its flavor notes. After using the Griddler, you can remove the non-stick cooking plates for cleaning up – these are also dishwasher safe.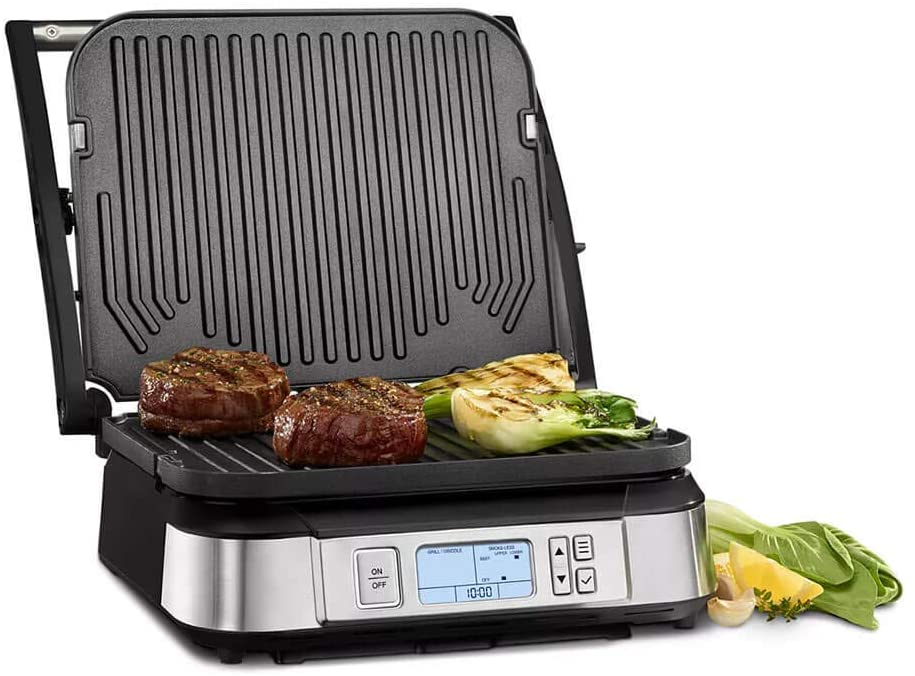 Read on to find out the exceptional features that make the Cuisinart GR-6S Griddler a great addition to any kitchen.
Multiple cooking modes
The Cuisinart GR-6S relies on a pair of independently heated plates to provide up to five cooking modes. The contact grill option is excellent for foods that are prepared without having to turn, such as sandwiches.
The panini press option delivers toasty results, while the full grill option comes in handy when dealing with beef, poultry, and pork. This Griddler also features cooking presets for various food groups allowing you to either use the full griddle or half griddle setting depending on the preset.
Removable and dishwasher safe cooking plates
Cleaning the Cuisinart GR-6S after use is easy; simply pop the plates out and clan them using` soapy hot water or throw them in the dishwasher. The drip tray should also be cleaned using hot soapy water to wash away any grease that may still be sticking on it.
The hinged floating cover that helps adjust food thickness should also be wiped clean after each meal. The rest of the stainless steel housing is much easy to clean; simply wipe it with a wet kitchen towel.
Integrated drip tray
The Cuisinart GR-6S has an integrated drip tray that collects the grease as it drains from the cooking food. This makes it much easier to collect and store the grease for future use. The heating plates have grooves that help drain away from the hot grease from the cooking food to the integrated drip tray for efficient grease management.
Brushed stainless steel housing
The Cuisinart GR-6S is made to withstand years of use, and it features a brushed stainless steel housing that's corrosion and stain-proof. The housing can withstand prolonged exposure to heat and pressure, and the sturdy handle attached to it is firm as well.
Includes a manual with classic gourmet recipes
Adjustable temperature controls for griddle and grill functions
Adjustable temperatures ranging from 175 to 425 °F
The controls are not intuitive and can be somewhat confusing.
The Cuisinart GR-6S is more than just a griddle; its multi-functional approach to cooking makes it an excellent bargain for your money. This griddle is also compact enough to fit on any kitchen counter (11.5" L x 10.5" W x 7.0" H).
Go ahead and equip your kitchen with this elegant multi-use griddle.