Ninja is a US-based brand that has been producing innovative kitchen appliances for over a decade. It has become a fan favorite for producing reliable ovens, grills, coffee makes, and even blenders. Their Ninja Foodi DT251 Convection Oven is a large air fryer for those who love to have an extra crunch in their food.
It's extremely versatile with its 10-in-1 functionality, allowing you to prepare anything you can think of in your kitchen. The machine helps you cook with 75% less fat than traditional cooking so you can be sure your food is healthy.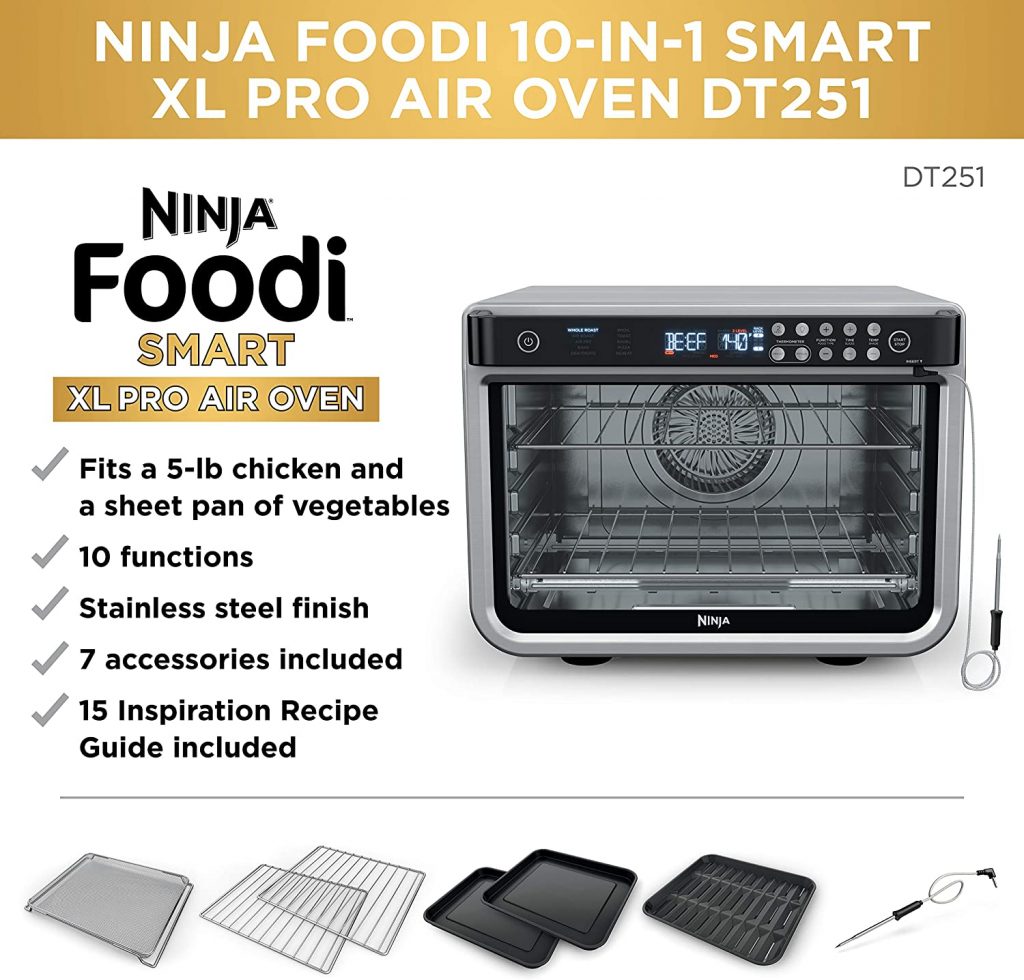 Read on this review of Ninja DT251 Foodi air fryer and a convection oven to discover more features.
TenderCrisp Technology
The TenderCrisp Technology allows you to cook food before making the outside crunchy, leaving you with a moist inside and an appetizing outer crust. This a bonus for chicken and fish lovers because they can think of the perfect succulent chicken and fish. You can also choose your finish with the Ninja Smart Cook System that does all the work.
Easy clean-up
Apart from cooking tasty food, the appliance is designed with effortless cleaning in mind. Ninja added a convenient crumb tray at the bottom that you can remove and clean up spills after each cook. Besides, the back panel allows easy access to the inside to allow deep cleaning. The non-stick interior also means easy cleanups.
Smart cook system
The Ninja oven can cook your food to picture-perfect with the perfect doneness as required. No more guesswork as the air fryer is equipped with a smart thermometer designed to regulate the food temperature with just a touch of a button. Just select your food and let the digital oven do the rest.
Large capacity
This oven offers an extra-large capacity for large families' offices, with 2-level cooking that can accommodate 5-lbs chicken or two 12-inch pizzas. You can prepare multiple foods using the two racks without rotating or swapping. Surprisingly, the machine does not take up too much counter space owing to its sleek design.
Numerous accessories
The Ninja Foodi Oven offers more than just the machine itself. You also get two sheet pan, two-wire racks, a roast tray, a crumb tray, and air fry basket, and a recipe book. The manufacturer provides a 1-year warranty for any material defects and a 60-day money-back guarantee should you receive a faulty product,
Offers fast and even cooking
Has a compact design
Provides a large interior capacity
Easy clean-up
If you need an air fryer and a toaster oven, this product is definitely worth your considering. Users will appreciate the removable crumb tray and the accessible back panel, as this makes it extremely easy to clean. Despite having ten functions, it's very easy to use, and the digital panel is easy to read and operate using the selection knob. It's a great choice if you have limited kitchen space.