The Ninja SP301 air fry oven is the perfect upgrade for any kitchen owner looking for a multi-functional cooking unit. With up to 60% faster cooking compared to conventional ovens, you can count on this air fryer to prepare delicious and crispy meals without a hitch.
The unit features 13-in-1 cooking presets designed to quickly cook your favorite meals at the touch of a single button. Ninja SP301 has a spacious cooking area that's more than adequate to prepare a full family-sized meal. Read on to discover some of the fantastic capabilities that make the Ninja SP301 air fry oven a must-have.
13-in-1 cooking modes
The Ninja SP301 Foodi air fry oven is the king of versatility when it comes to countertop ovens. With thirteen preset cooking functions, you will have an easy time picking the best-suited cooking option for each recipe.
You can use the air fry function to air roast your favorite crunchy meals, or you can set the oven to sear crisp, which gives barbeque meals incredible flavoring while retaining the juices on the inside and crisping the exterior. Other functions include reheating, rapid bake, bagel, toast, broil, dehydrate, air roast, and cooking fresh and frozen pizza.
Dual heat technology
The Ninja SP301 incorporates a dual heating technology that relies on a convection fan and the SeaPlate to generate the required amount of heat for each cooking mode. As a result, you can preheat the air fryer in 60 minutes, cutting down on time needed to prepare meals. The dual heating mode is great for open-faced beef roasts as it crisps the exterior while trapping in the juices.
The oven can reach up to 500 degrees Fahrenheit and rapidly distribute the cyclic air when cooking for consistent results. The SearPlate can also function as a traditional sheet pan when using the air oven functions.
Space-saving storage option
 When it comes to storage, this air fryer sets itself apart from other countertop ovens, as you can just flip it up and save up to 45% less space. This makes it much easier to store the unit against your backsplash and reclaim your counter space. Keep in mind that the unit can still fit up to 6 chicken breasts and air fry up to 4 pounds of ingredients.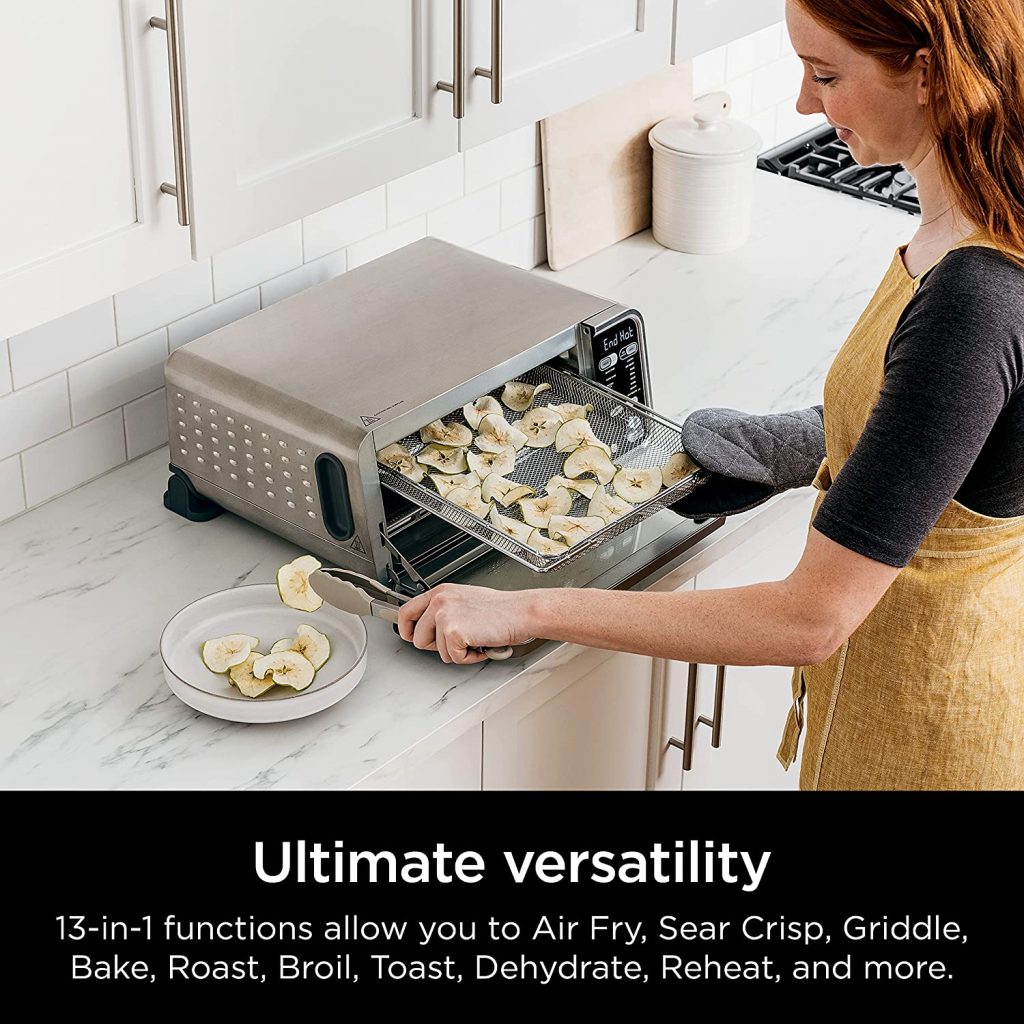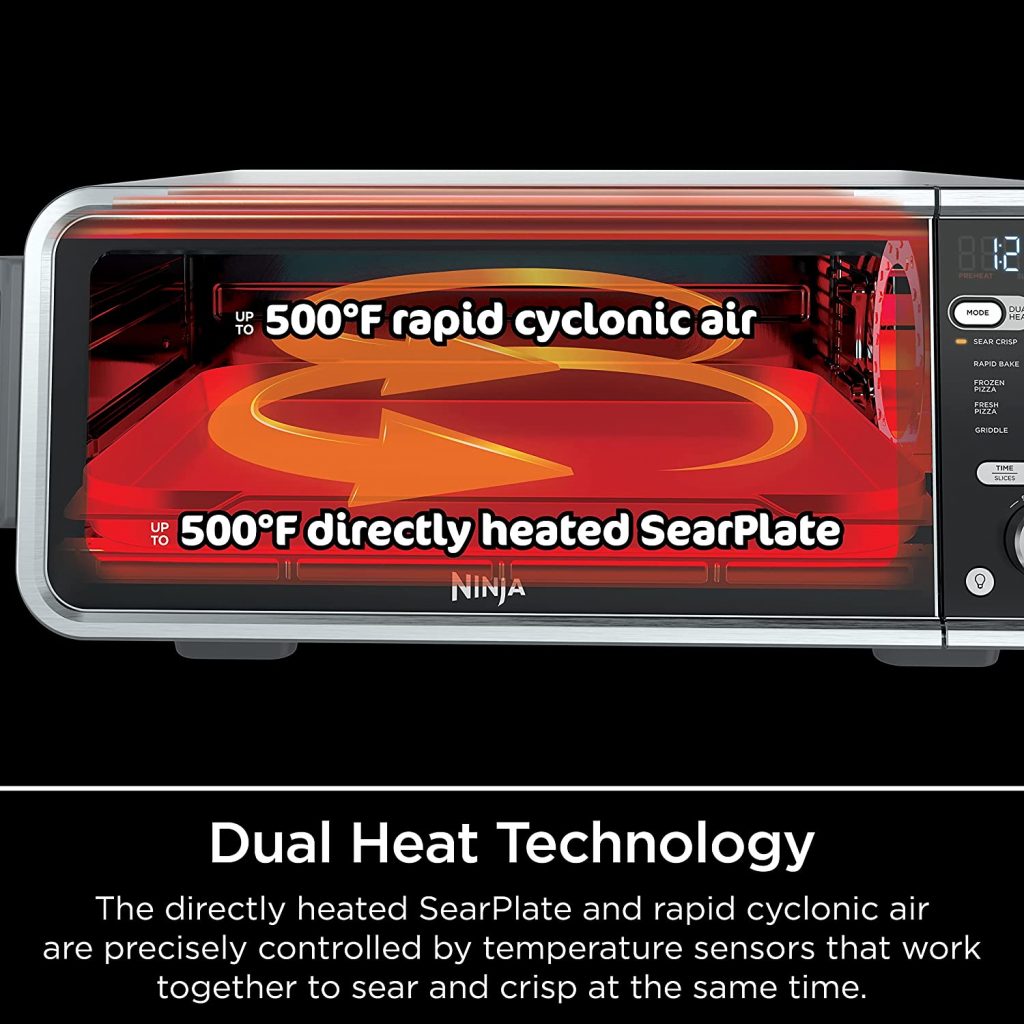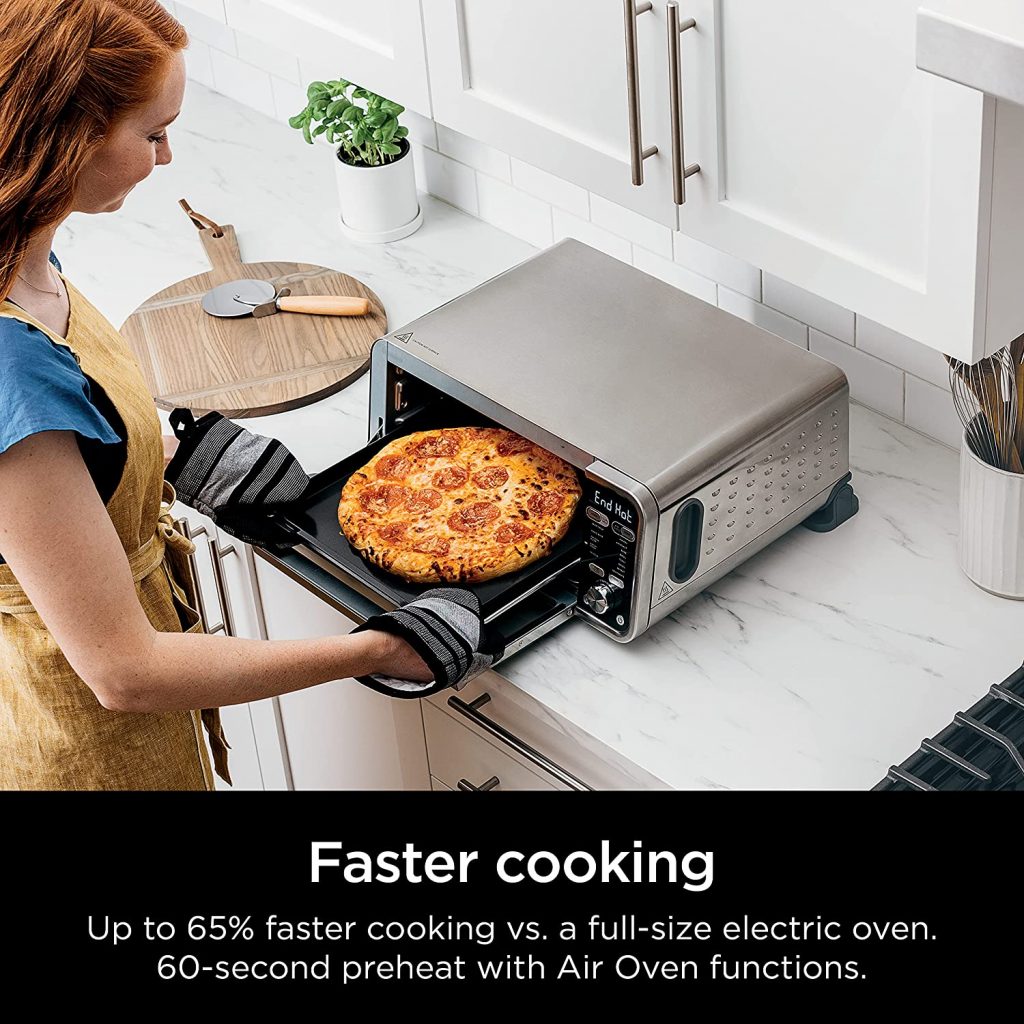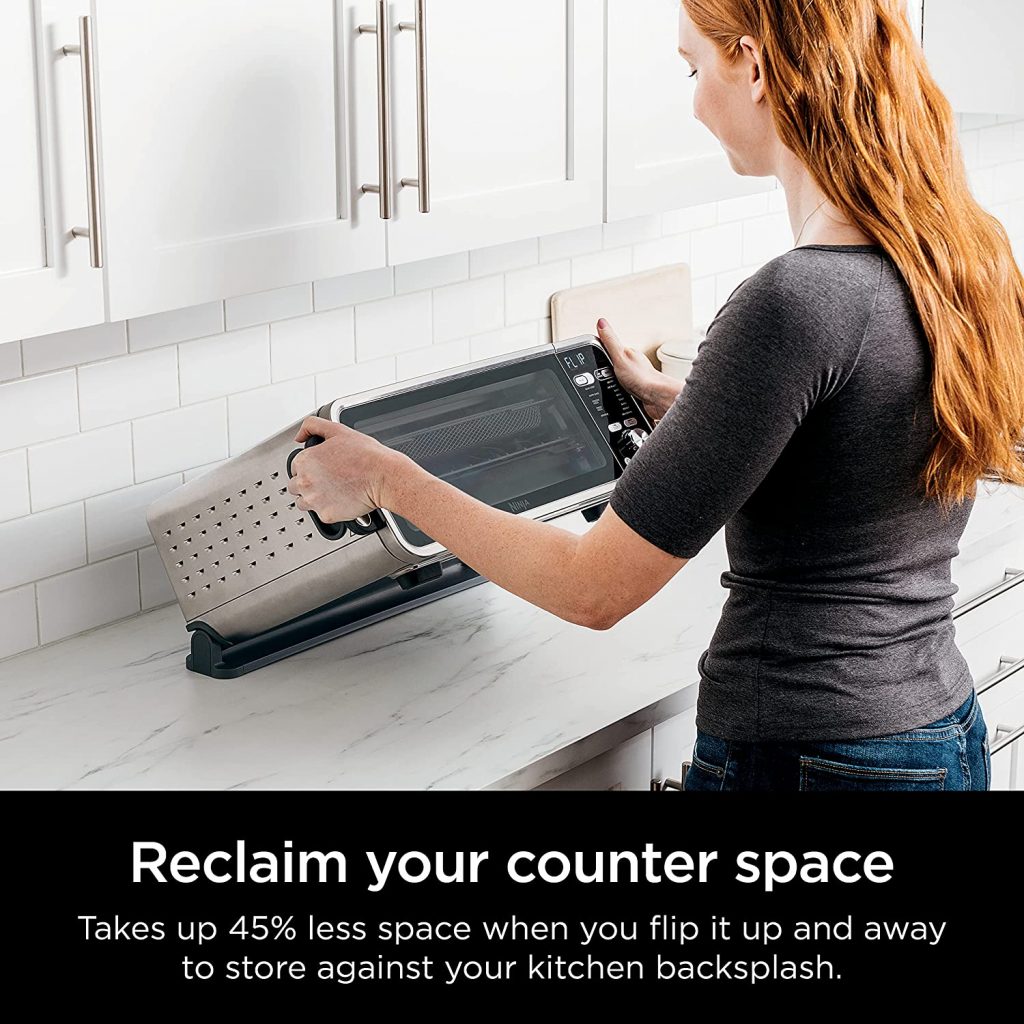 Prepares healthy meals that use up to 75% less fat compared to traditional deep frying
Faster cooking options with up to 65% less time compared to full-sized electric ovens.
The extra-large interior allows you to prepare a single meal for the entire family. 
It takes up less than 45% of the space when flipped over for storage.
The unit lacks a keep-warm function
Transform your kitchen with the Ninja SP301 Foodi air fry oven with its ability to prepare fast family-sized meals. This countertop air fry oven has multiple cooking modes allowing you to sear, air fry, and crisp your favorite meals just the way you like them. Basically, you can prepare anything with this appliance.
Go ahead and equip your kitchen with this much-needed upgrade.