KitchenAid products have taken the kitchen appliances industry by storm as they are made to best suit users' needs. The company has come up with an excellent KitchenAid Digital Countertop that comes with the air fryer function.
It is easy to make almost everything ranging from delicate fish to fresh fries with this countertop oven in your kitchen. Using the oven is straightforward, and it takes just a few minutes to bake and get your cake ready. As if that is not enough, the oven comes with a design of both upper and lower heating elements. They ensure that the food inside will be uniformly heated and the proper temperature maintained at all times.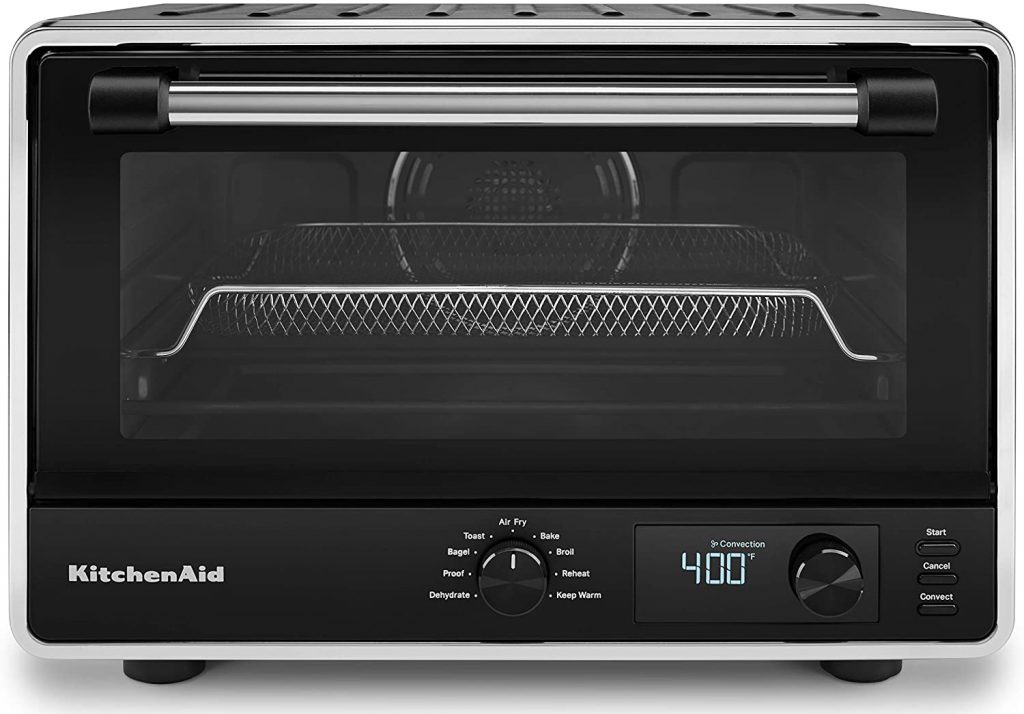 Read on to discover the features that make the KitchenAid KCO124BM Digital Air Fryer Oven stand out
Fast Preheat
This feature makes the KCO124BM oven stand out as it preheats the oven faster saving energy and time. It can take only four minutes or less to bake as the oven elements and the fan heat quicker and creates the ideal temperature faster.
Large capacity
KCO124BM comes with numerous cooking capacity that allows you to cook various foods. They include a full one-pan dinner with a baking pan included with dimensions of 9″ by 13″. It can easily prepare a sheet cake, a 12-inch pizza, or can even accommodate two full-size chickens.
Air frying
This feature is essential as it is responsible for making healthy food with less or minimal oil. The machine comes with an air fryer basket that reduces calories in meals by up to 20% while retaining the taste.
Convention heating
The oven comes with both the bottom and top heating element design that ensures even heating of food without hotspots. The technology has a convection fan that makes sure the oven's interior elements are evenly heated, and the temperature inside is the right for heating the food.
Nine cooking options
This oven provides you with the freedom to create anything that you can ever imagine that ranges from dehydration and proofing to air frying and toasting.
Numerous accessories
KCO 124 comes with numerous components that will all blow your mind as far as baking and any other cooking using this oven are concerned. They include a removable metal rack, a crumb tray, and a metal drip that is also removable. Besides that, it also entails a baking pan with a grill rack and a fry basket.
It's easy to clean
Comes with a one-year warranty
Comes with an integrated timer
Its highly versatile
This oven by KitchenAid is, without any doubt, one of the best air fryers in the market right now. This might be the best value product considering the amazing features and versatility with options for baking, broiling, and air frying. The KitchenAid Digital air fryer oven will surely level up your cooking game and enhance the look of your kitchen.