Countertop ovens like the Ninja SP201 digital air fry pro take up less space while still providing a wide variety of cooking capabilities in your kitchen. with its digital crisp control technology, you can expect precision-controlled temperature and airflow to provide even cooking. theSP201 has a more extended height capacity that easily fits in a whole four-pound roast. Unlike traditional deep-frying techniques, the Ninja SP201 relies on air fry functionality to quickly   75% less fat.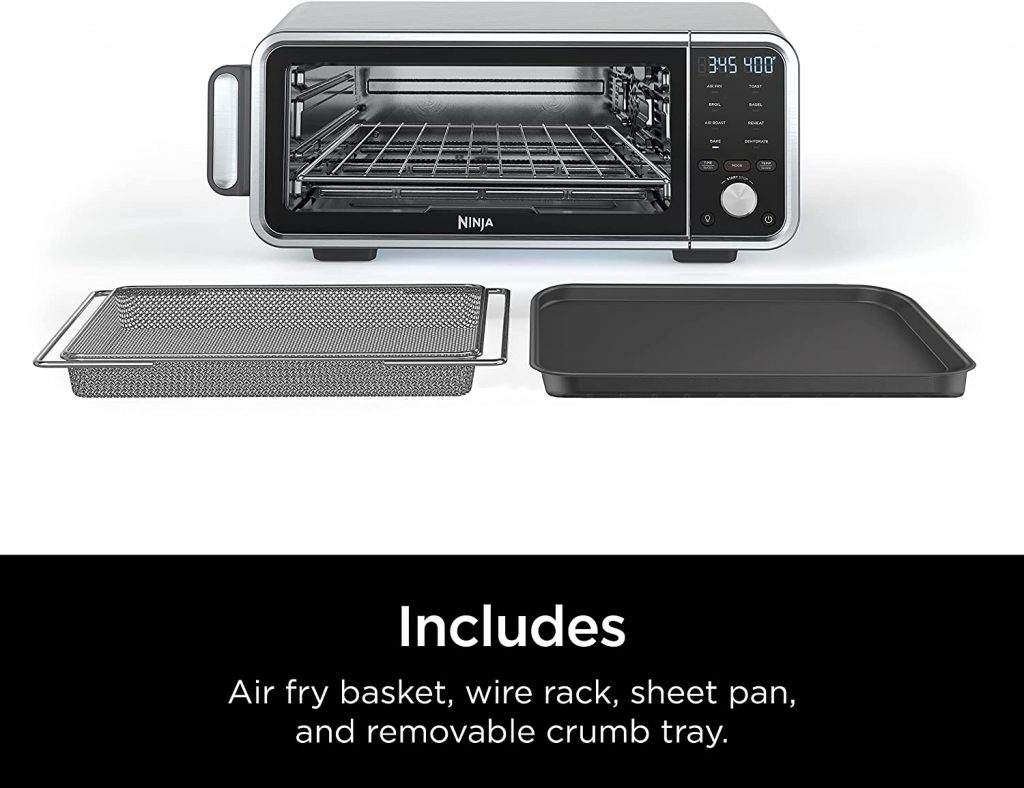 Read on to discover some of the features of the Ninja SP201 digital air fry pro:
Digital Crisp Control
The SP201 relies on digital crisp control technology to provide controlled heating and airflow to meet the recipe requirements with each meal. Heated air that powerfully circulates within the oven browns the food to a perfectly crispy texture on the outside and juicy on the inside. You can also adjust the crisping controls to fit various meals for an optimum cooking experience while guaranteeing that every meal will be delicious.
8-In-1 Versatility
Gone are the days when kitchen counters would be clattered with multiple units to perform singular purposes. The Ninja SP201 is designed to provide eight functions in a single air fryer for ultimate versatility. Its functions include roasting, toasting, baking, dehydrating, and a dedicated keep warm function. The 1899 watt appliance has a bagel mode, and it will beep at the end of each cooking cycle.
Faster Healthier Cooking.
The SP201 cooks up to 60% faster compared to full-sized electric ovens. Air oven functions are also ready for cooking within 60 seconds, skipping the need to wait for the unit to preheat. The SP201 requires up to 75% less fat to cook meals compared to deep frying, so you can prepare your favorite fried meals that are still healthy.
XL Family-Sized Capacity
This air fryer can hold up to four pounds of ingredients or bake a thirteen-inch pizza. You can also use it to toast nine slices of bread at a time providing enough cooking capacity to feed an entire family. The SP201 has increased height compared to the old models, and it can flip up and away for storage, saving space on your countertop.
Additional Accessories
Ninja air fryers ship with the necessary accessories to get you started with your first air-fried meals. This includes an air fry basket designed to make it easy to toss food at intervals during cooking and a wire rack. A removable crumb tray and a sheet pan are also included for all your baking needs.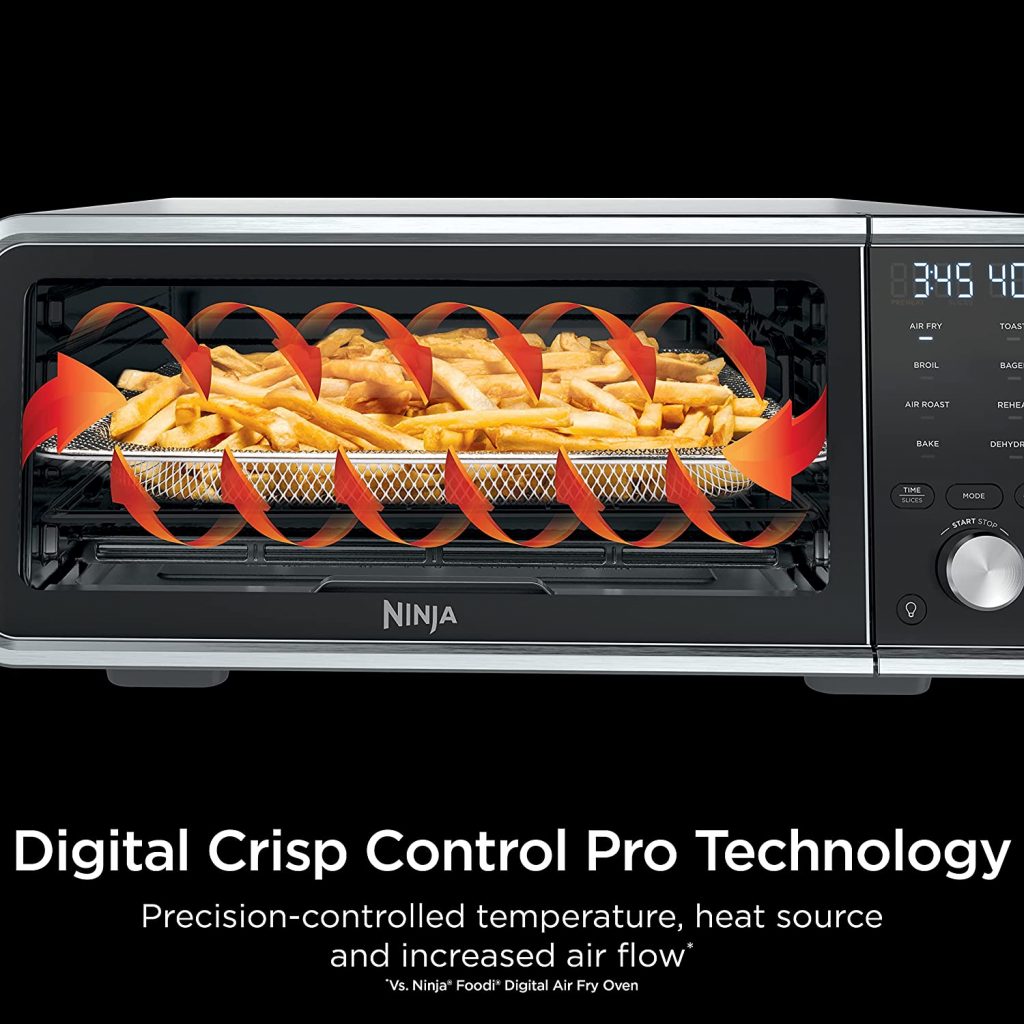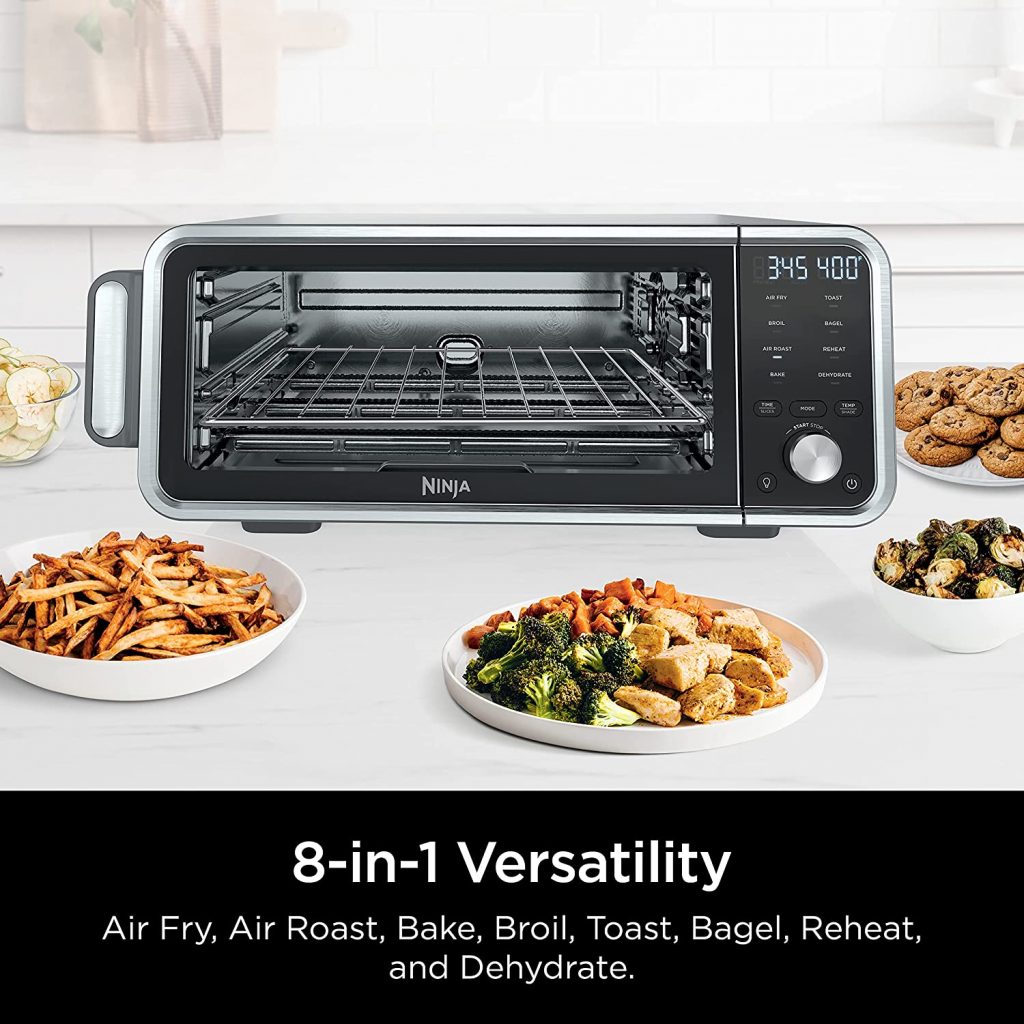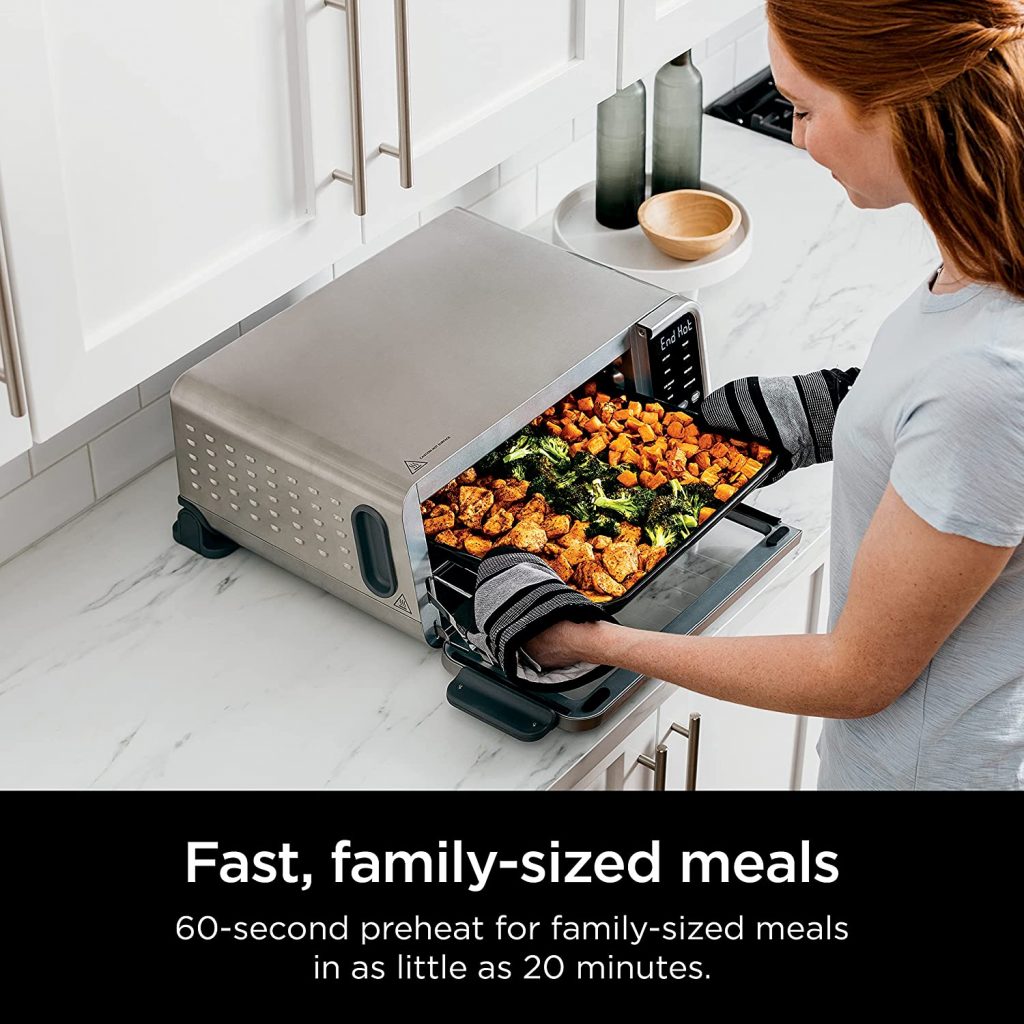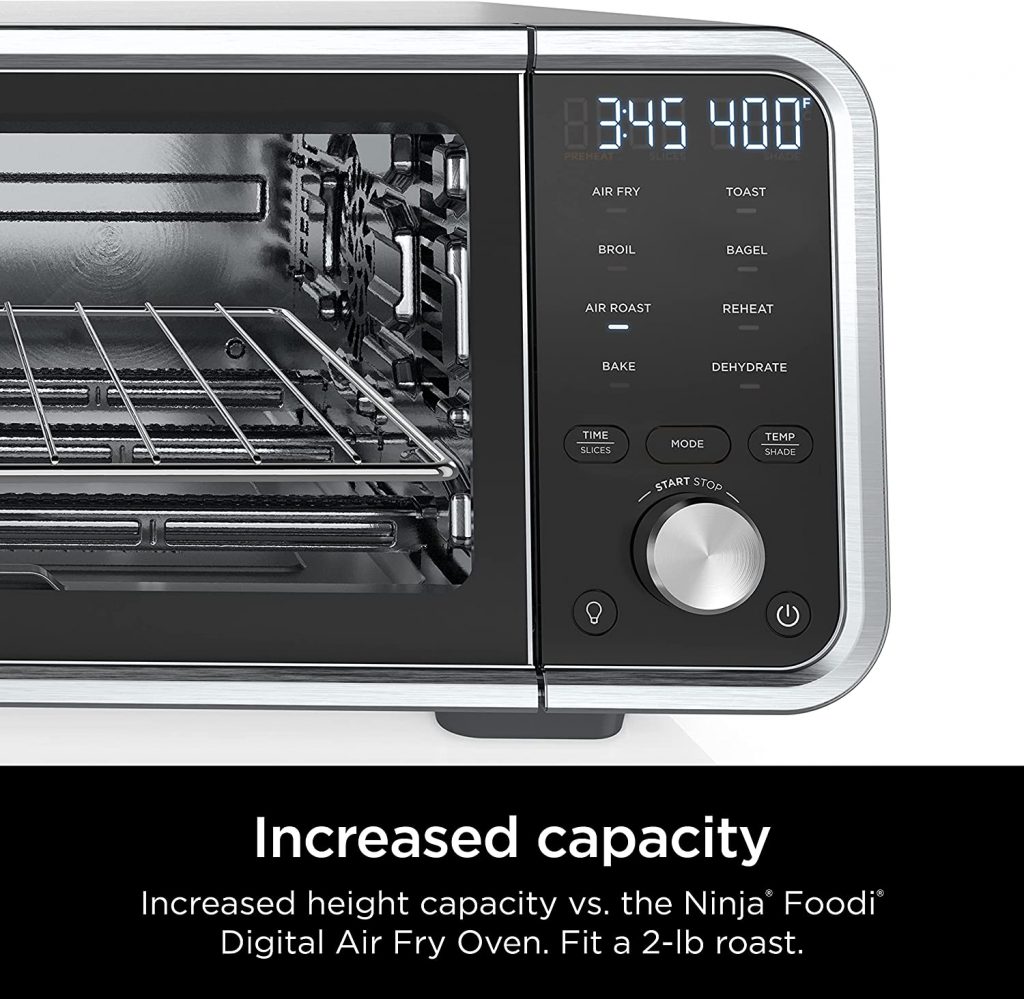 It takes up 45% less counter space after flipping it up and away for storage.
Bagels and toast darkness selectors give you the freedom to get them done just the way you like.
The unit cannot be used underneath cabinets as the sides do get hot and require ventilation, and you have to toss food at intervals during cooking.
The Ninja SP201 provides versatility in the kitchen with its eight functions and optimal cooking performance. Its interior heats up quickly, and it can achieve up to 450°F. Get your meals ready in a fast and healthy way with the Ninja SP201.