Ever heard of an instant pot that can also air fry? Most machines can't, but there's a new machine that allows you to enjoy both worlds. The instant Pot Duo Crisp allows you to do pressure cooking, air frying, broiling, and baking – all in one.
Its design is similar to other instant pots containing a base, inner pot, and pressure lid. The difference is the air fryer lid that allows you to air fry goods in the same pot your pressure cooks in. It's an excellent pressure cooker when you want to pressure cook meats and then crisp at the end.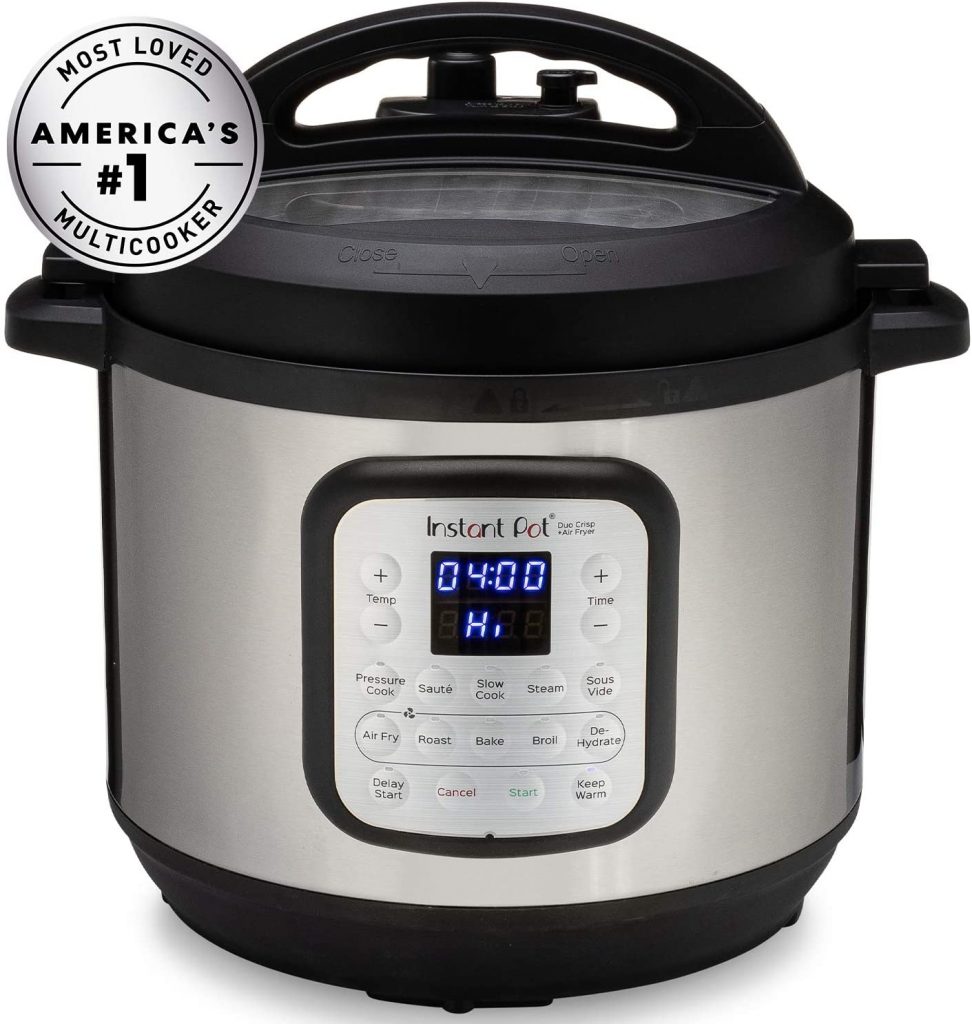 Here are some of the features that you will love about the Instant pot duo crisp and air fryer.
Two separate lids
Most users love the way Instant Pot uses two lids that are removable, which makes it easier to lift the cooker at any time. The Instant Pot is designed in a clever way- the pressure cooking function does not work with the air fryer lid on and vice versa.
The pressure cooker lid is ideal for steaming, slow cooking, and pressure cooking, while the air fryer lid helps when baking, roasting, air frying, and dehydrating. Pro Crisp's new air fryer can support up to 450 degrees and as low as 70 degrees to allow for the preparation of different recipes.
User-friendly interface
Instant Pot brand keeps getting better at how they design their screens. If you have any experience with their pressure cooker, you will find that this model's operation is quite straightforward and intuitive. The Instant Duo Crisp + air fryer features a large screen that's operated using buttons, a turning dial, and easy to read LCD. The clear screen is readable from different directions, so it's easy to observe the cooking cycle as you do other tasks across the room.
Ease of cleaning
It's interesting when you have a machine that lets you cook any meal, but clean up becomes an issue for most of us. You will love how easy the Instant Pot Duo Crisp is easy to clean. The pressure cooker lid, as well as the pot you cook in, are dishwasher safe, so you just throw the parts in. The only thing you need to clean yourself is the air fryer lid.
11 cooking functions
The Instant Pot Duo Crisp can take care of nearly any job you need to be done in the kitchen. Keep in mind that it depends on which lid is on. The functions include pressure cook, steam, sauté, sous vide, slow cook, roast, air fry, broil, bake, and dehydrate. The 8-quart capacity is large enough for a family, especially when using the air fryer function.
Allows both pressure cook and air fry
It's easy to use
Easy to clean
Occupies a small space on the counter
Is the Duo Crisp a worthy investment? Absolutely! The machine does an excellent job for sautéing, air frying, pressure cooking, slow cooking, baking, and much more. If you only have space for just one multipurpose gadget, then this machine is your solution. If you don't have an instant pot yet and consider getting one or you need a modern machine.