GoWise is a Phoenix, Arizona-based brand that aims to promote a healthier and more leisurely lifestyle, like their latest GoWise air fryer. With a futuristic design that features a touchscreen display, you can rest assured that this dehydrator will be a welcome addition to any kitchen countertop. The air fryer can easily fit up to five burgers or an entire chicken in the seven quarts of cooking space you get with the single basket.
GoWise's feature-packed design equips the air fryer with additional functionality as a dehydrator or, better yet, to whip up tasty snacks. Here are some of the features and capabilities of the GoWise air fryer: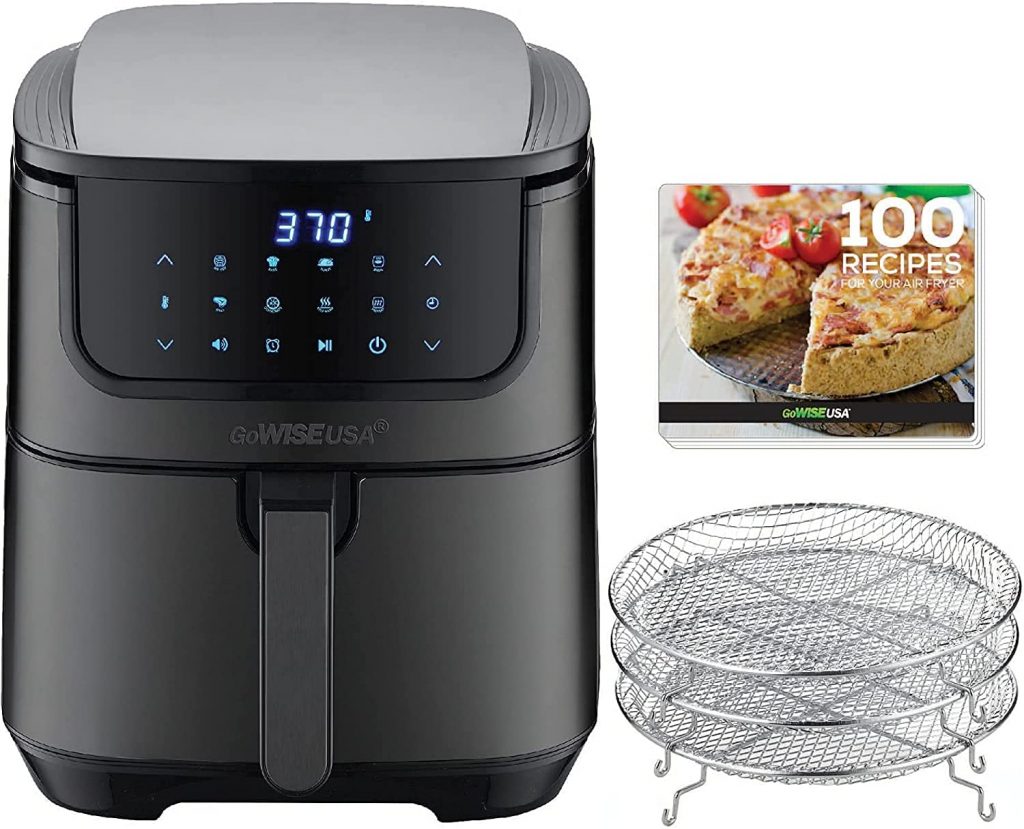 Preheat Function
The GoWise air fryer has a preheat function that automatically heats the interior to the desired temperature. This comes in handy when you prepare temperature-sensitive meals that require preheating to the prescribed temperature. You can specify how long you want the air fryer to hold the temperature steady. You can also use the preheat function with other cooking modes by pressing preheat followed by the cooking preset. Once the preheat temperature is achieved, the air fryer will alert you to add the food, after which the cooking preset will continue automatically.
Smart Controls
This air fryer features a large full touchscreen control panel that looks sleek and provides quick access to all eight cooking functions, and you can adjust the presets as you wish. GoWise includes an air fry function, roast, grill, dehydrate, bake, broil, and keep warm options as well. You also get two cooking settings and an alarm to remind you when to check in on the ingredients. If you don't want to be interrupted by the occasional beep from the air dryer, you can turn on the mute function. The keep-warm function is also available in the touch controls.
Dehydrator Function
The GoWise air fryer is designed to provide dehydration functionality without extra setup; just place the stackable racks to hold the food and set the timer. You can adjust the temperature from 90°F to 170°F for up to 24 hours per cycle. This function is highly recommended for dehydrating fruits, beef jerky, vegetables, and herbs.
Custom Alarm
This air fryer is equipped with a custom alarm function that allows you to set period alarms to keep track of each recipe's cook time. These remind you to stir the ingredients to provide even cooking on all sides. You can also set the alarm to notify you when the cooking temperature is achieved automatically, and it will also notify you when the preset functions are done.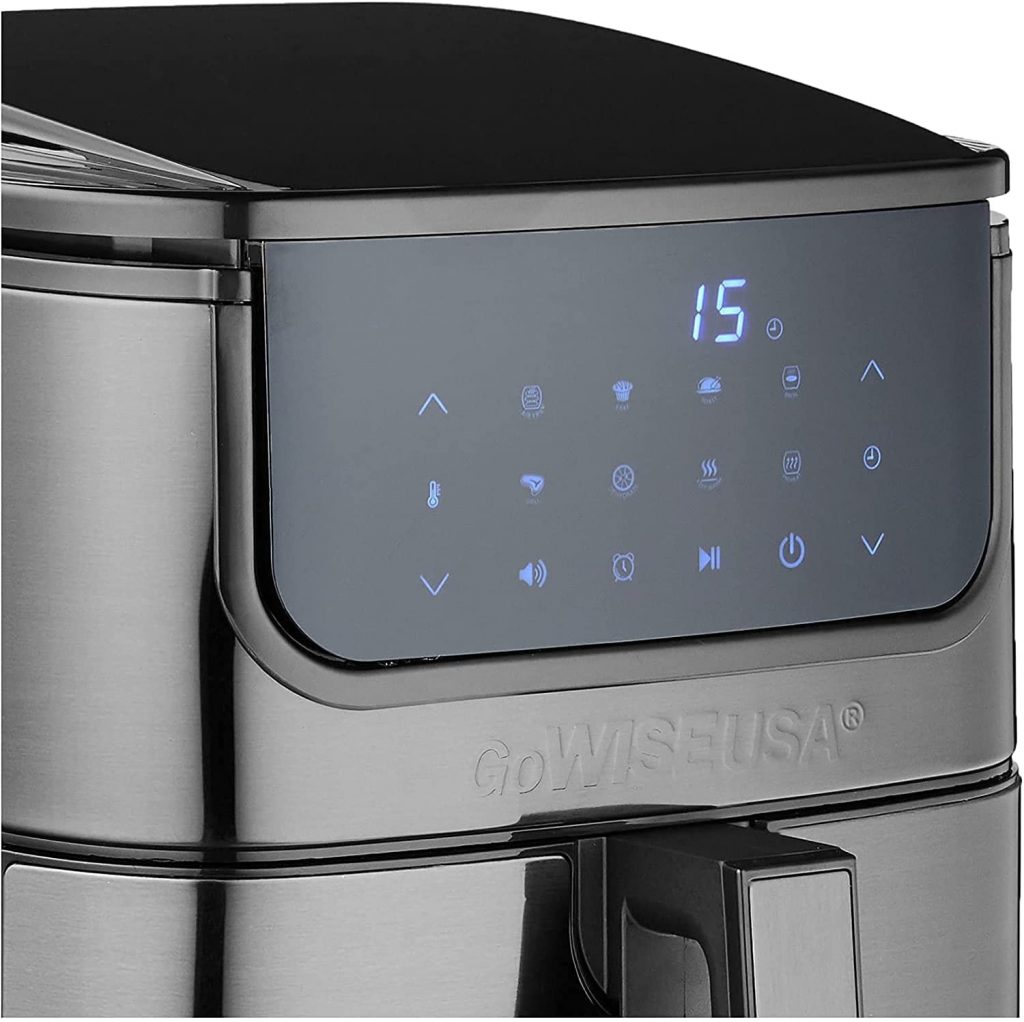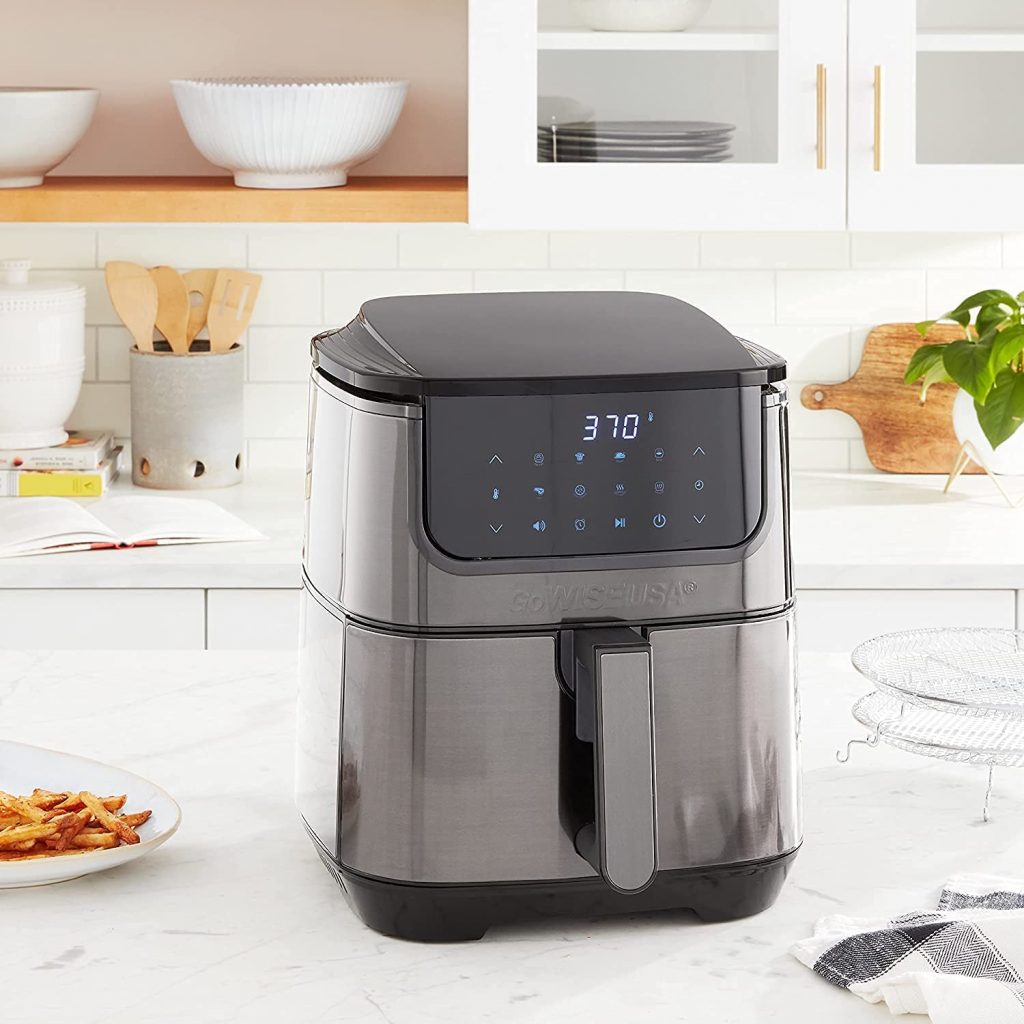 The large cooking capacity easily fits a whole chicken or five large burgers.
The crisper tray and removable pan have a nonstick coating that makes cleanup easy.
It comes with extra stackable racks that are great for holding food while dehydrating food.
Despite its futuristic design, this air fryer lacks smart interconnectivity.
The GoWise air fryer is the perfect addition to any kitchen needing an upgrade. You can always expect quick meals with crispy textures and great flavors. This air fryer cooks food evenly and with less oil for healthier meals. Transform your kitchen countertop with the GoWise air fryer.