Wine lovers will appreciate the Black + Decker 8 bottle wine cellar with its superb wine chilling capabilities and classy design. This thermoelectric wine cellar can keep your bottles chilled at all times without any obvious noise output, making it a great addition to any room. You also don't have to worry about space usage thanks to its compact design while still managing to house up to 8 wine bottles. Read on to discover some of the features that make the Black + Decker 8 bottle wine cellar a must-have.
Eight bottle storage capacity
This thermoelectric cellar will keep up to 8 bottles perfectly chilled to your preferred temperature, whether you are into red, rose, or white wine. With its stylish yet practical internal storage, you can store either 750ml or 1500 ml bottles without worrying about inconsistent chilling.  This freestanding wine fridge can maintain consistent temperatures, which prevent unbalanced chemical reactions that would otherwise ruin your wines' quality and unique flavors.
Thermoelectric cooling
Black + Decker 8 bottle wine cellars operate within the range of 46-65 degrees Fahrenheit, allowing your wine to retain its rich flavors at all times. The thermoelectric cooling system produces minimal vibration and ambient noise, so it won't be a distraction while running in th background. Unlike other freestanding coolers, the Black + Decker does not rely on refrigerants and is energy-efficient. You can quickly adjust the temperature won the LED touch display.
Triple pane glass door
This wine cooler features a triple-pane glass door that maintains optimal cooling while still providing a beautiful interior display. The door also swings outwards on discrete hinges, allowing the cooler to take up less space on the countertop and fit unobtrusively into living rooms.
Chrome racks
The Decker + Black 8 bottle wine cellar features three full-length chrome racks that are removable to create additional storage space as needed. These are corrosion-resistant and sturdy enough to withstand the weight of up to 8 bottles without bending in. the chrome slide-out wine racks are easier to clean.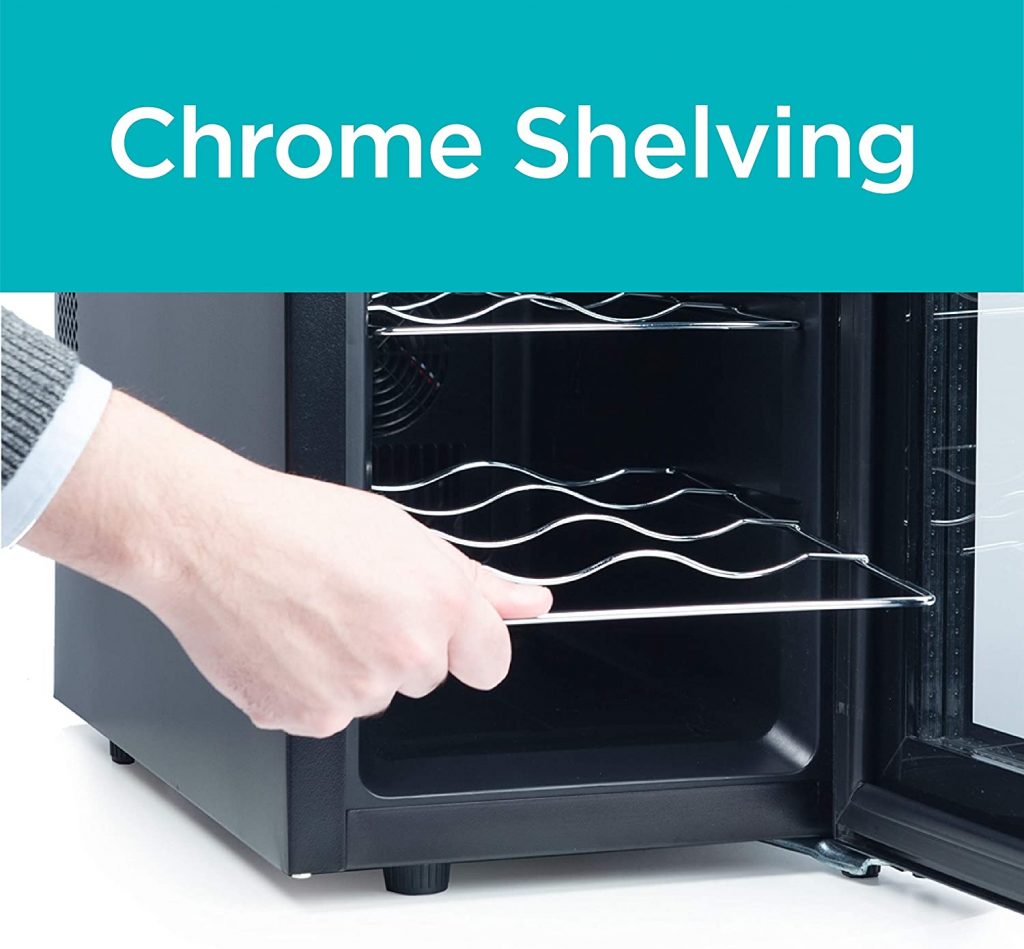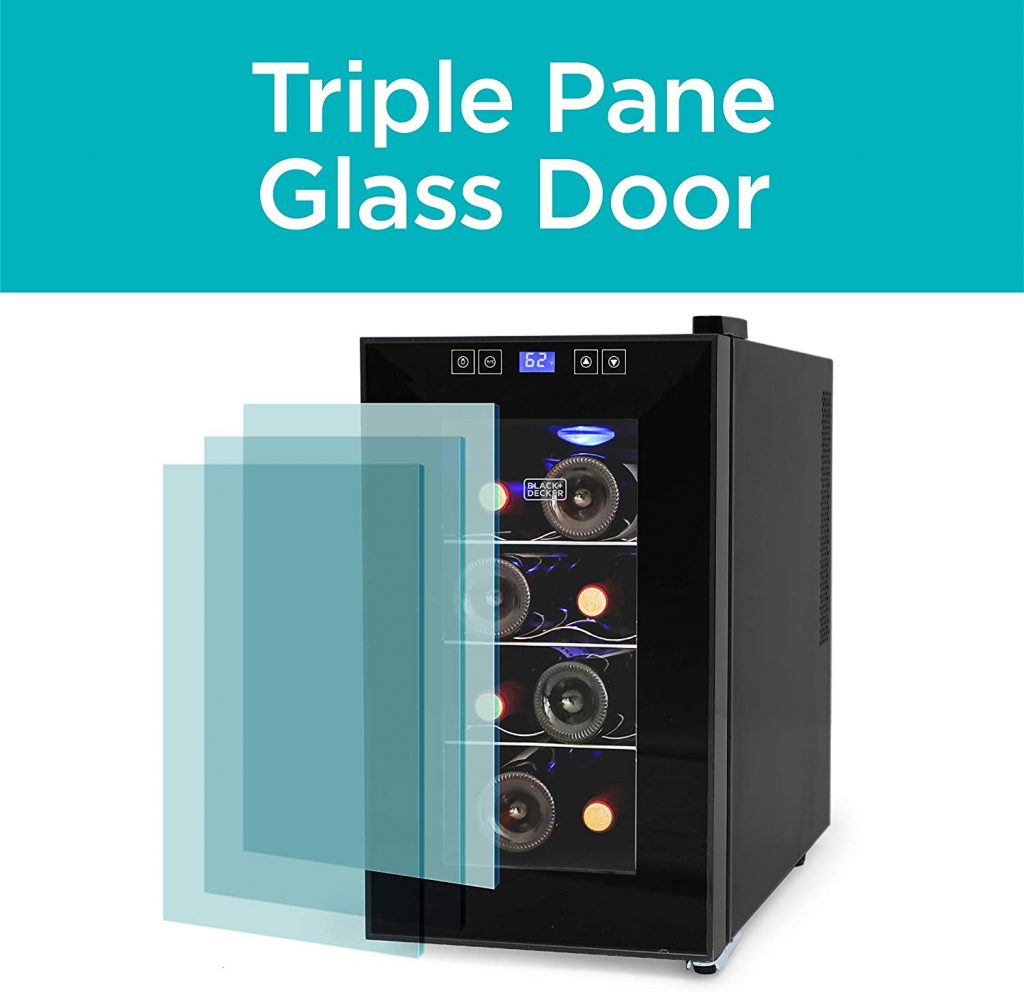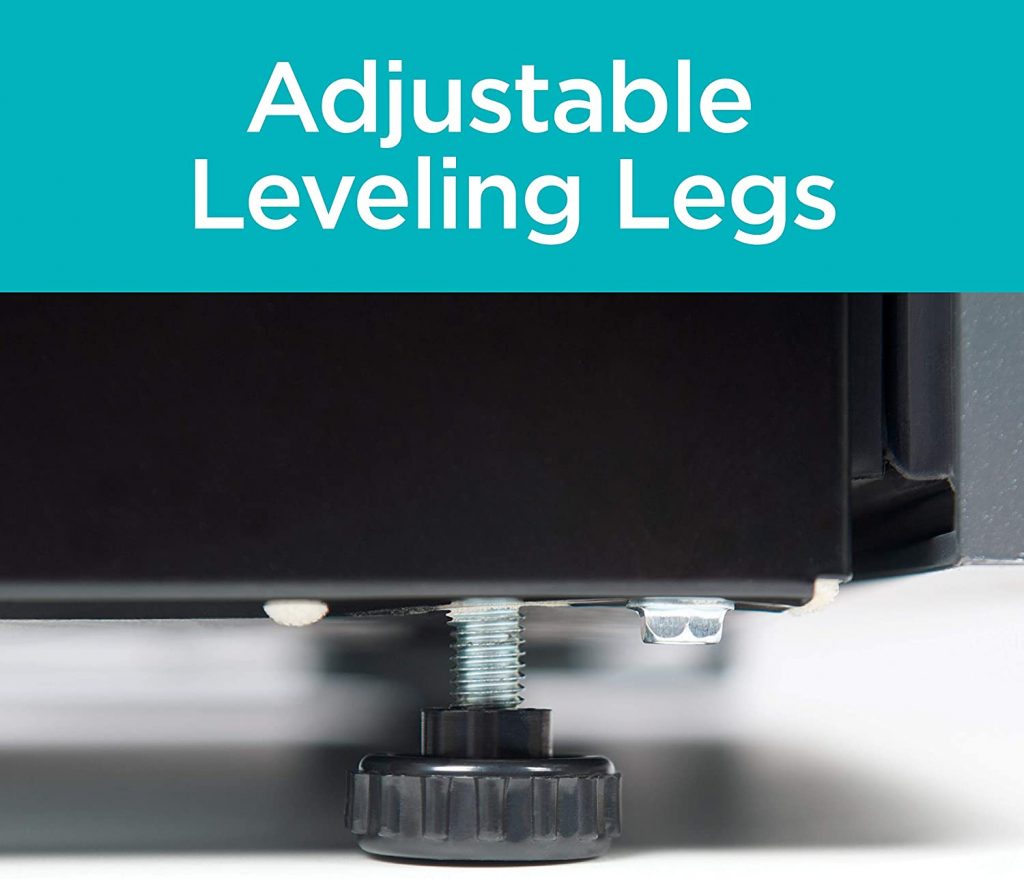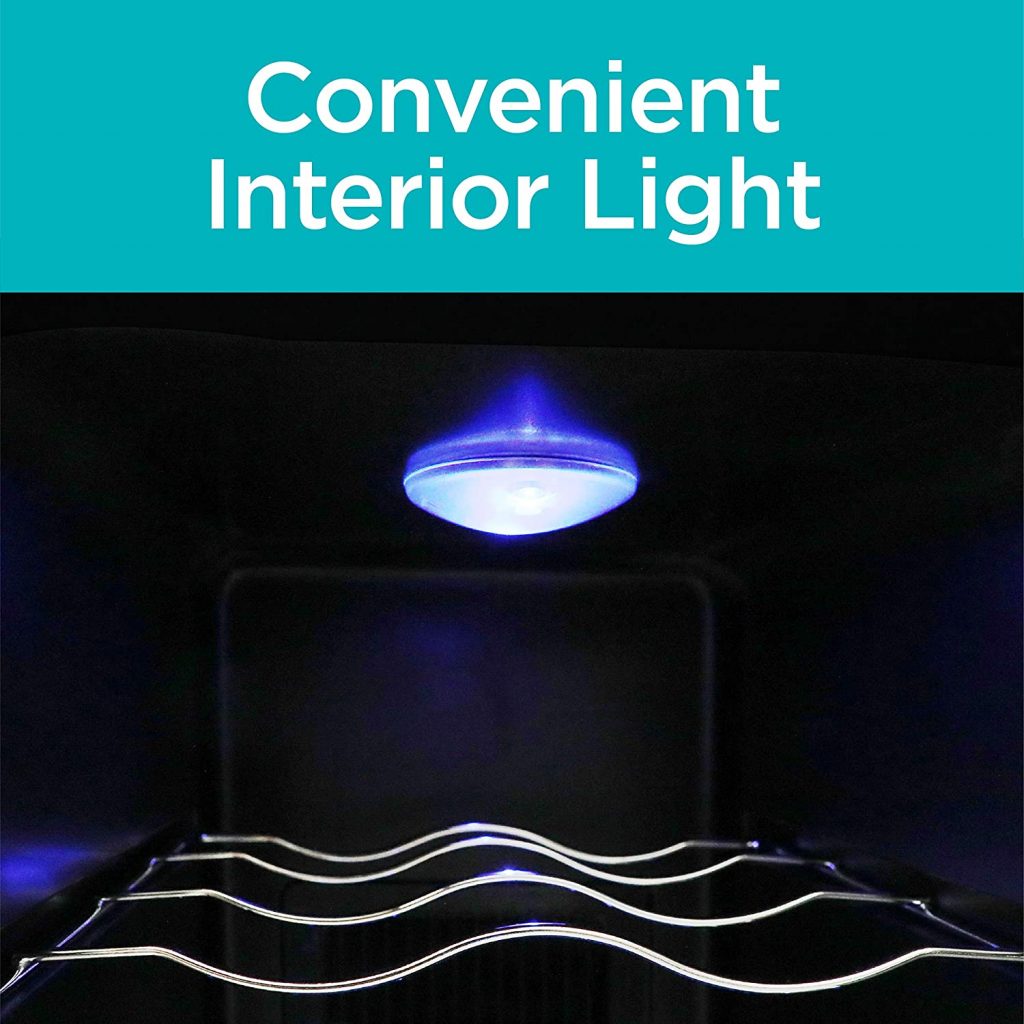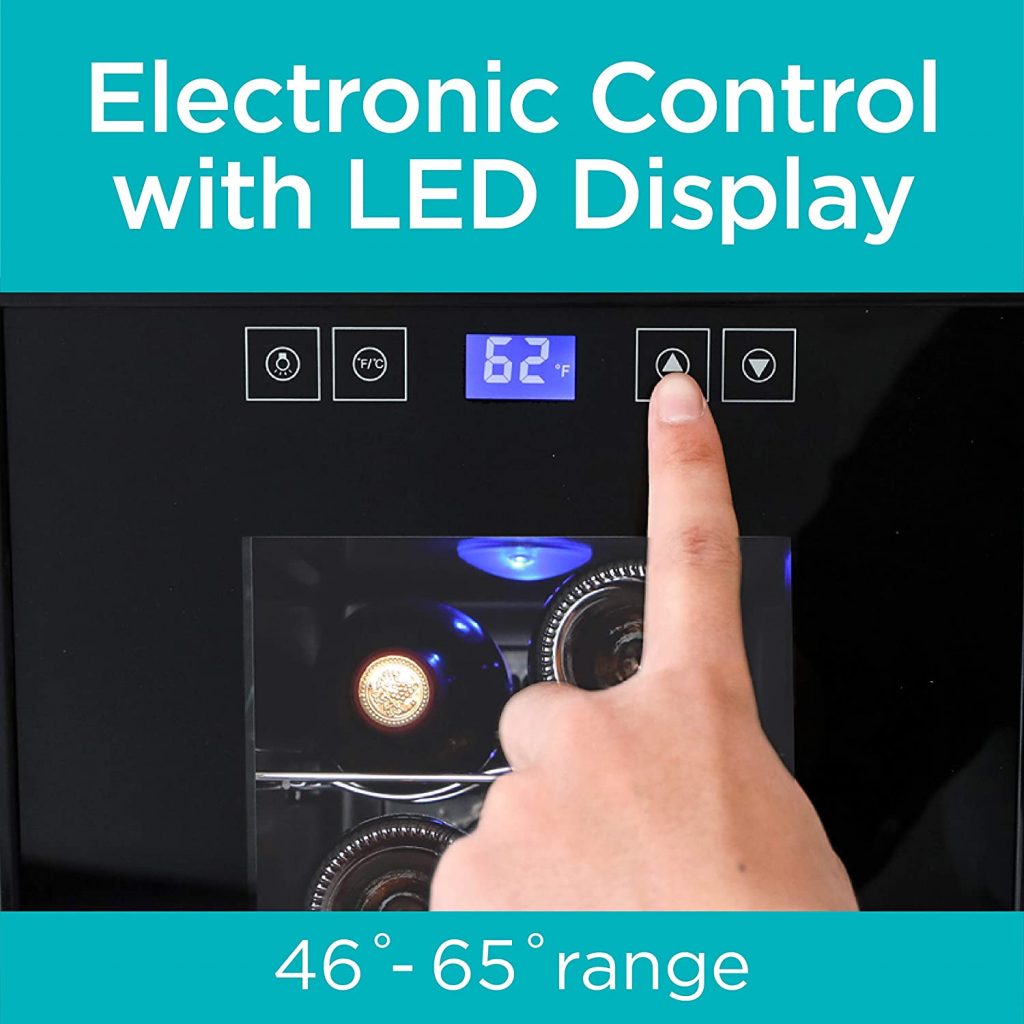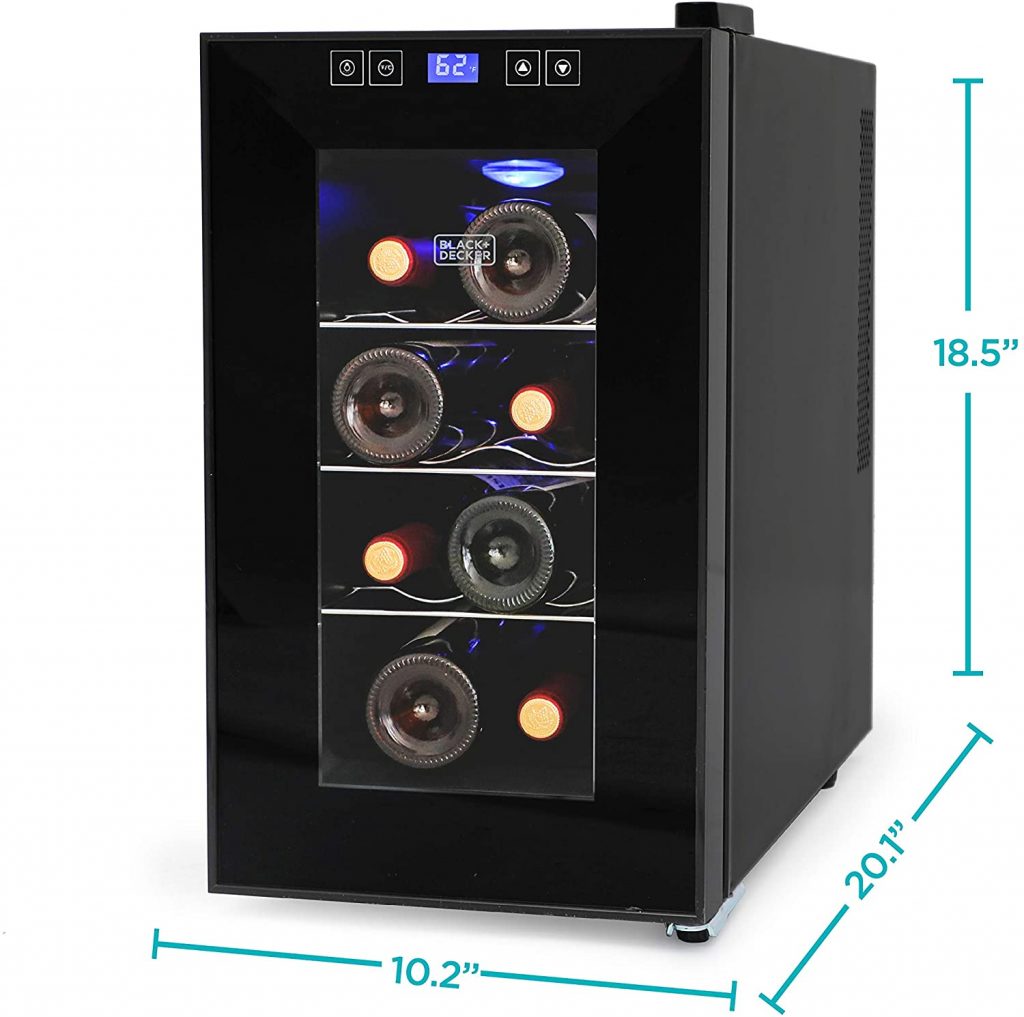 Automatic interior lights
Triple pane glass see-through door fully displays your wine collection
Adjustable leveling legs to modify the height of the wine cellar
Recessed door handle
Some customers complained about the lack of reversible doors
If you are in the market for a stylish and functional wine cooler, then the Decker + Black 8 bottle wine cellar is the best option at this price point. The unit weighs in at 20.9 pounds making it easy to move around, and its 8 liters of refrigeration capacity is more than enough to hold up to 8 wine bottles. You can move the slide-out wine racks around to create as much space as you want without any sacrifices in the unit's chilling capabilities. With the energy-efficient thermoelectric cooling system, you can expect your wines to retain their natural, nuanced flavors and tastes. Go ahead and up your wine game with the Decker + Black 8 bottle wine cellar with its unparalleled cooling capabilities.