Are you searching for a new set of cookware? Finding the right cookware set can be a daunting task, especially with the wide selection the market provides. Today, we review the T-fal anodized cookware set that offers unique features and has a high-quality built to last for years to come. You can use the set on electric, gas, halogen, and ceramic burners. Whether you want to brown a steak off or fry some eggs, this cookware set is great at that and much more.
Are you interested to know more about the best T-Fal cookware set? Read on its features to find out.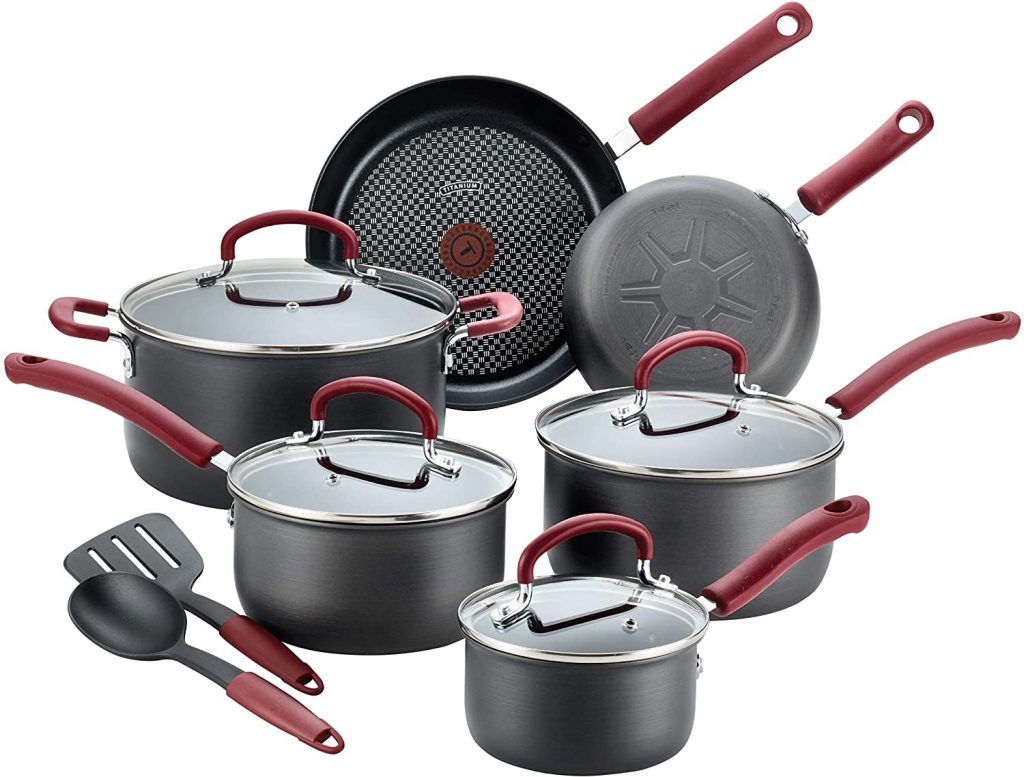 Versatile Set
The T-Fal Ultimate contains 12 pieces of utensils including;
1-quart saucepan + lid
2-squat saucepan +lid
3-quart saucepan + lid
5-quart saucepan + lid
8" fry pan
25" fry pan
Solid spoon
Slotted spoon
Being such an incredibly versatile set means you'll be able to cook all your favorite dishes without needing more equipment.
Premium build
All the components in this set are made using anodized aluminum, which is an excellent conductor of heat, so it becomes hot fast. The material is also more resistant to general wear and tear as well as corrosion. Lids are made of oven-safe glass that can be used for heats up to 3500F, which is excellent. The tampered glass is clear, so you can see how the food cooks.
On top of the incredible build, this set also features a non-stick coating that repels any food. This reduces the cleaning job because cooking is no longer mess-free. It's ideal for people who don't want to fight cleaning.
Excellent handles
Another thing that most users like about the T-fal 12-piece cooking set is the handles that are made with silicone and are riveted onto pots for durability. They feel so comfortable to touch and will never get hot despite the temperatures. As a result, you don't need to worry about wearing gloves as silicone conducts almost zero heat transfer. The grip is soft so you won't slip your food by accident when moving over your busy countertop. The holes on the end of the handles allow for easy storage when you need to hang them.
Superb heating
One of the features that stands out for this set is the way the handles utilize heat. It comes with a unique heat mastery system that ensures food heats evenly, regardless of the quantity. Every pot and saucepan comes with a unique spot at the center that lets you know when the pad has reached the ideal cooking temperature. Ensure that the middle circle turns bright red before you start to cook to ensure food cooks evenly. Overall, the set has unmatched heat distribution, so you are less likely to deal with hot spots and unnecessary burning.
It has numerous pieces for versatility
The material offers excellent heat distribution
The utensils are oven safe and freezer safe
It comes with comfortable handles that offer a tight grip
Components are dishwasher safe
The set is not suitable for induction type burners
There are many reasons to purchase the T-fal ultimate – set is durable, efficient, and affordable. It will look stylish in any kitchen, and you can't go wrong with this one. Besides, T-fal is a well-reputed brand that offers some of the best cookware sets available. Just keep in mind that the T-fal 12-piece anodized cookware set is not compatible with induction stovetops.