Most home cooks these days prefer to have a multi-use cooking appliance that's fast and makes cooking easy. Fortunately, you can get a multi-use machine like this one from the GoWISE USA that works as a pressure cooker, rice steamer, slow cooker, yogurt maker, warmer, and can sauté.
This 6-in-1 appliance offers 6 quarts of capacity as well as other advanced features at an affordable price. Multiple dishes can be cooked in this cooker, and its innovative design makes it look quite impressive.
If you are interested in adding a multipurpose appliance, read this article to know more about the GoWise USE GW22711 Pressure Cooker.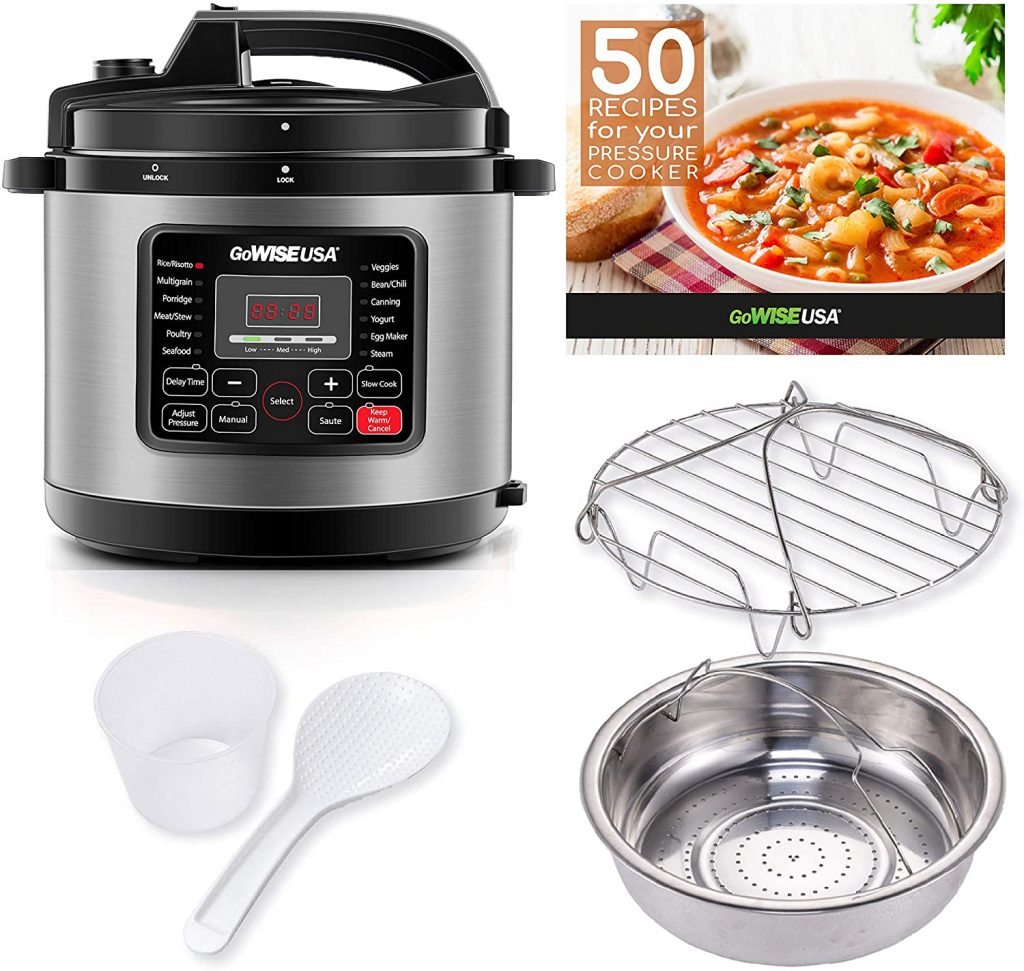 Numerous presets
The manufacturers have added 12 presets to this pressure cooker to ease the process of preparing your favorite dishes. Some of the presets you get include steam, egg maker, bean, yogurt, poultry, meat, multigrain, seafood, rice, porridge, and more. Apart from the simple presets, the pressure cooker also comes with an LCD screen when the presets are located. This makes it easy to use, even for those who are not familiar with the appliance.
Release options
As is typical with pressure cookers, you may need to wait for some time after cooking to release the safety pin to ease the pressure off the cooker. The GoWISE USA electric pressure cooker also comes with a desirable quick release option where you just press a button on the top of the electric cooker and open without delay. This cooker offers both options and the best part in the built-in safety mechanism that ensures the lid remains fixed until it's safe to open. To back the safety, the lid is attached to multiple safety knobs and valves that ensure you cook all dishes safely without the risk of burns. The cooker is certified by ETL and FDA, meaning it has undergone multiple experiments to test the worst possible scenarios before being released to customers.
Multiple accessories
There are numerous accessories delivered with the package including a stainless steel pot, a rack, basket, measuring cup, spoon, and a built-in spoon holder. There is also a detachable cord that makes it easier to move the cooker to tight storages after use. A recipe book offers you ideas on how you can make tasty meals right away. Also, its components are dishwasher safe, which makes cleaning effortless.
Warm function
Almost every electric cooker comes with a warm function, but this cooker is different. The warm function switches on immediately after the cooking process is complete. Many cooks are impressed with the auto-warm function that allows you to slow cook food for 20 hours.
It offers faster cooking than standard cookers
Allows for preparation of a variety of dishes
The pressure release system is safe and secure
The design is compact for easy storage
The stainless steel pressure cooker is durable and highly versatile with enough capacity for small families. The fact that it combines steam and pressure results in tender and well-cooked food. The automatic warm function keeps your food ready for future consumption, allowing you to cook early and keep it ready.
Try out the GoWise USA electric pressure cooker!