Ninja is a popular brand when it comes to durable kitchen appliances. Among the most popular products from this brand is the foodi line, such as this Ninja Foodi Smart XL 6-in-1 Indoor Grill. The smart countertop appliance is excellent for those who need an indoor grill that can also roast, bake, dehydrate, broil, and air crisp your food.
It also comes with an air fryer that allows you to cook your food without oil for individuals who want to live healthily. The appliance has dimensions of 19 x 18.5 x 14.75 inches with a capacity of up to hold up to six steaks and features a built-in thermometer to track the doneness of foods. It's smokeless, so it can work great indoors, especially when the weather outside is not favorable.
Enjoy crispy food with 75% less fat than deep frying.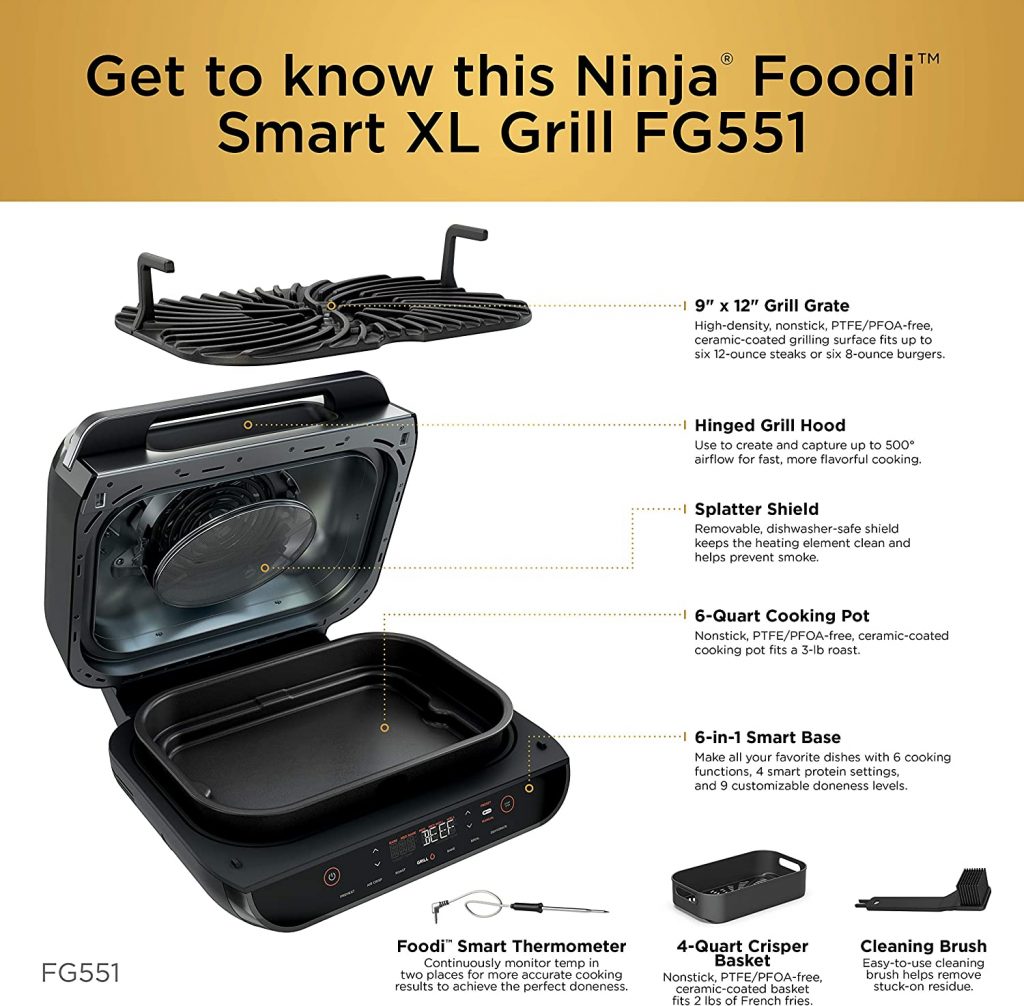 Read on to discover more features of the Ninja Foodi Smart Indoor grill.
Strong build
The main unit feels sturdy as it combines brushed stainless steel and hard plastic. For this reason, it's durably heavy, but movable when not in use. On the advantage, you do 50% more grilling than similar grills, which is good for bigger families.
The lid glides with ease when opening and closing, not to mention it has a satisfying click sound when the door is shut. The front panel has a clear display and easy to use even for first-timer with 6 presets. You can also adjust the temperature and timer as you like through the simple up and down arrows.
Smart Cook System
Another benefit a few customers noted is how the machine cooks your food to perfection. The smart cook system ensures that you get the desired doneness for your food by browning on both sides. This is even made possible by the cyclonic air heating technology that heats from the top, and a grill plate that heats up to 5000F. With such a high-density grill plate, you get delicious char-grilled marks on your steak grills. The system also retains maximum flavors in your food, so you get all the nutrients you need.
Smoke Control System
Most users love the Ninja Smart XL for its ability to reduce smoke indoors. But where does the grilling smoke goes? Well, it has a smoke control system that features a thermometer to ensure food cooks with the ideal temperature to reduce smoke. Reviews agree that Ninja Foodi Smart XL indoor grill to be smokeless although there may be minimal smoke when cooking at the highest temperature. The smoke control signal creates a cool-air zone that reduces smoke production.
Perfect for indoor and outdoor use
Offers more accurate results
Easy to clean
It's smokeless
The Ninja Foodi 6-in-1 indoor grill isn't ideal for replacing a 4-burner barbeque for large groups, but it has enough room to feed a family of five – or more. Numerous online reviews show that it's worth the price, considering that it can do a lot of things. Lastly, it's effortless to clean with all components being dishwasher-safe and a non-stick surface.
Get yours!