Are you looking for a new coffee maker for your mornings and evenings? If you prefer having a German machine, then the new Krups Simply Brew coffee maker might be the right option for you. The Krups coffee makers are famous for their attractive appearance and their ability to last year after year.
This compact drip coffee maker has a 10-cup capacity glass carafe that's decent for a small family or individuals. It has a pocket-friendly price with plenty of high-end features such as an attractive stainless steel finish and auto-pause functionality.
We also love that the coffee maker ships with a permanent filter, which is extremely high-quality, and a large spoon for adding coffee grinds. If this sounds like an appliance you'd want to have, then read this Krups Simply Brew coffee maker review to know its features in detail and whether it can be a great buy.
Compact design
Krups is a totally reputable brand, so it's no surprise it has so many positive customer reviews and high Amazon rating than other models. The Krups Simply Brew has a relatively small footprint, measuring 8.27 by 6.65 by 12.83 inches.
Permanent coffee filter
The Krups Simply Brew 10-cup coffee maker comes with a permanent coffee filter, which means you won't spend more money buying disposable paper filters.
10-Cup Capacity
With about 80 oz. fluid capacity, the Krups Simply Brew coffee maker is large and suitable for making the entire family's morning brew or individuals who want to stay fueled for the whole day. You do not need to worry about wasting coffee because Krups designed this appliance to brew small batches of coffee of 1 to 4 cups.
Pause and serve system
Can't wait for the whole batch to brew? Don't worry because this system lets you pause and grab a cup of Joe while brewing for convenience. Simply press, pause, remove the carafe, pour a cup, and then put back the carafe to resume the cycle.
Easy to fill the water tank
Another nifty feature of the Krups Simply Brew is the water tank with a no-drip spout, which ensures a mess-free experience. This ensures some kind of affliction that prevents coffee from spilling out when pouring on your cup.
Keep warm function
As this coffee maker is relatively large, it features a keep warm cycle that ensures your coffee stays warm for 60 minutes to minimize coffee wastage. However, the machine lacks an auto-shutoff, meaning you'll have to remember to switch it off when you're finished.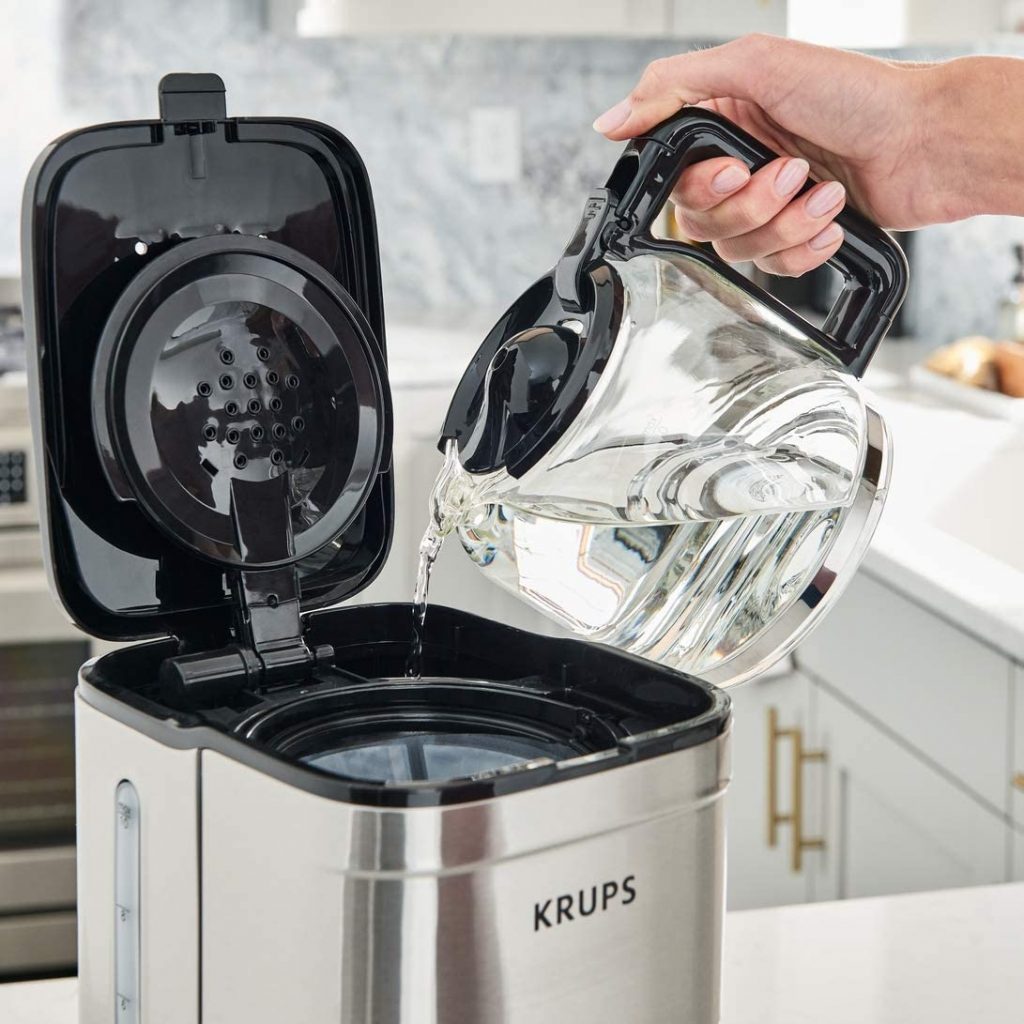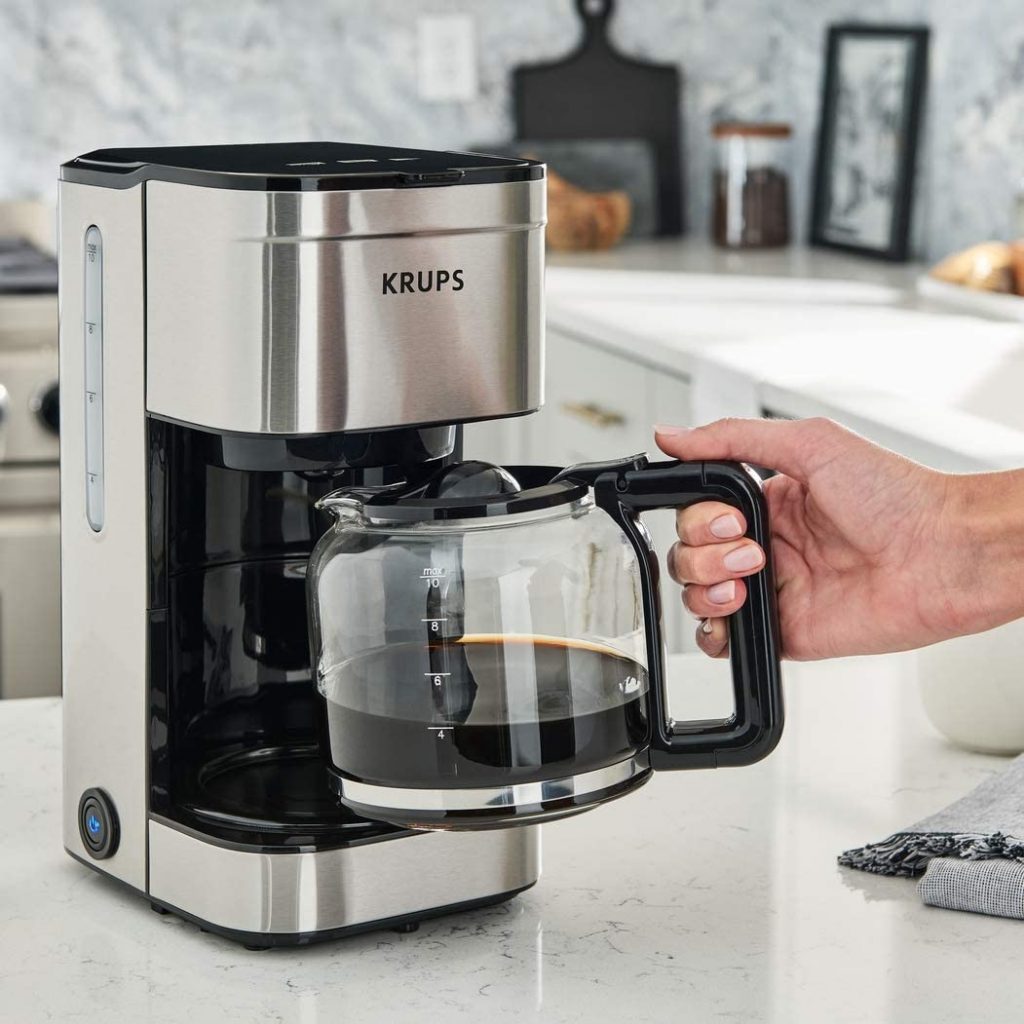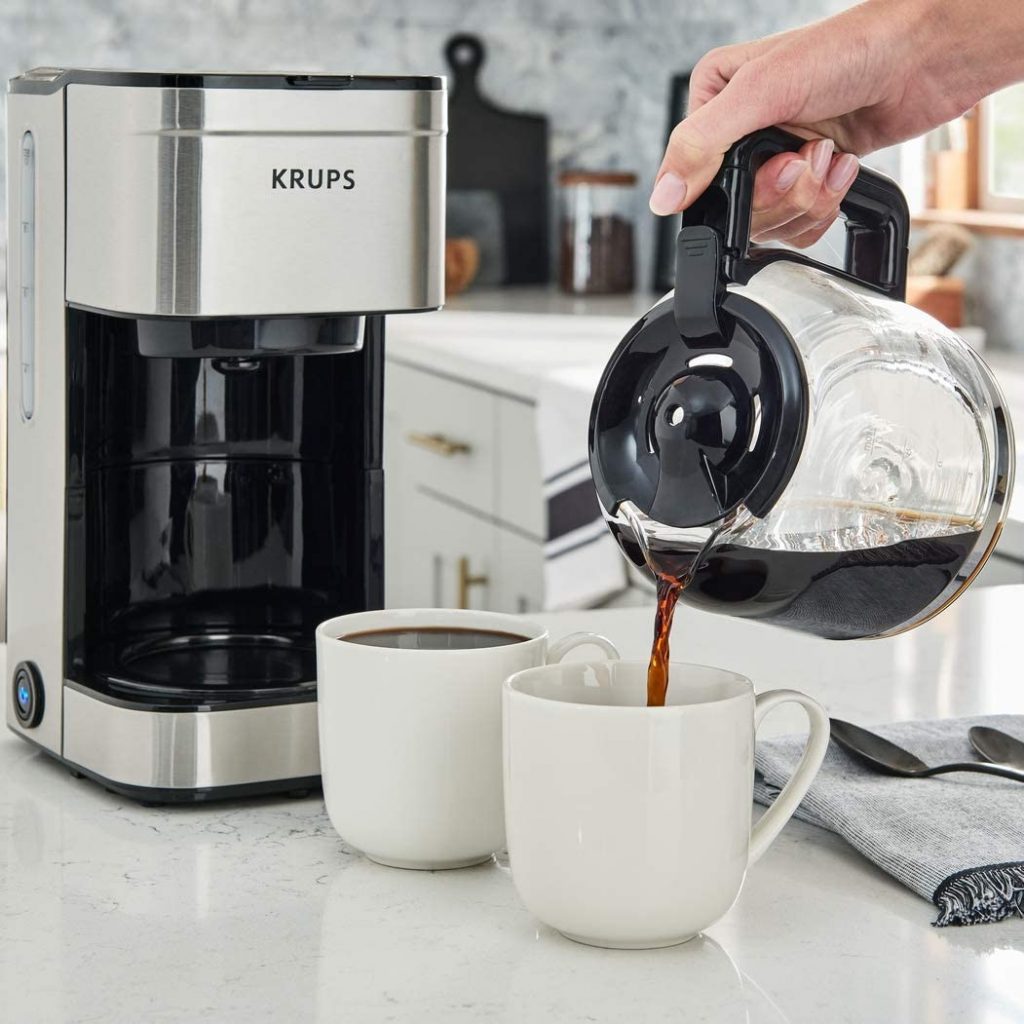 It has a dependable automatic temperature gauge
It features a great reusable coffee filter
It's easy to use the appliance
It offers the keep warm function
It has a small countertop footprint
This is such a fantastic coffee maker that is straightforward to use and makes a flavorful cup of Joe. Krups makes it easy to use with an easy on/off button and no drip spout design that makes serving easier. It's an elegant design, and the small footprint ensures it fits in most kitchens seamlessly.