Recent years have seen an increase in the popularity of air fryers due to the numerous benefits that these new generation appliances offer. The Vortex Plus Air Fryer oven is ideal for those who love to make French fries, chicken wings, egg rolls, and such.
Having this air fryer reduces the use of cooking oil yet provides a crispy texture as you get with deep-fried foods. One of its most exciting features is the rotisserie capacity that allows you to make a whole rotisserie-style chicken in an hour or less.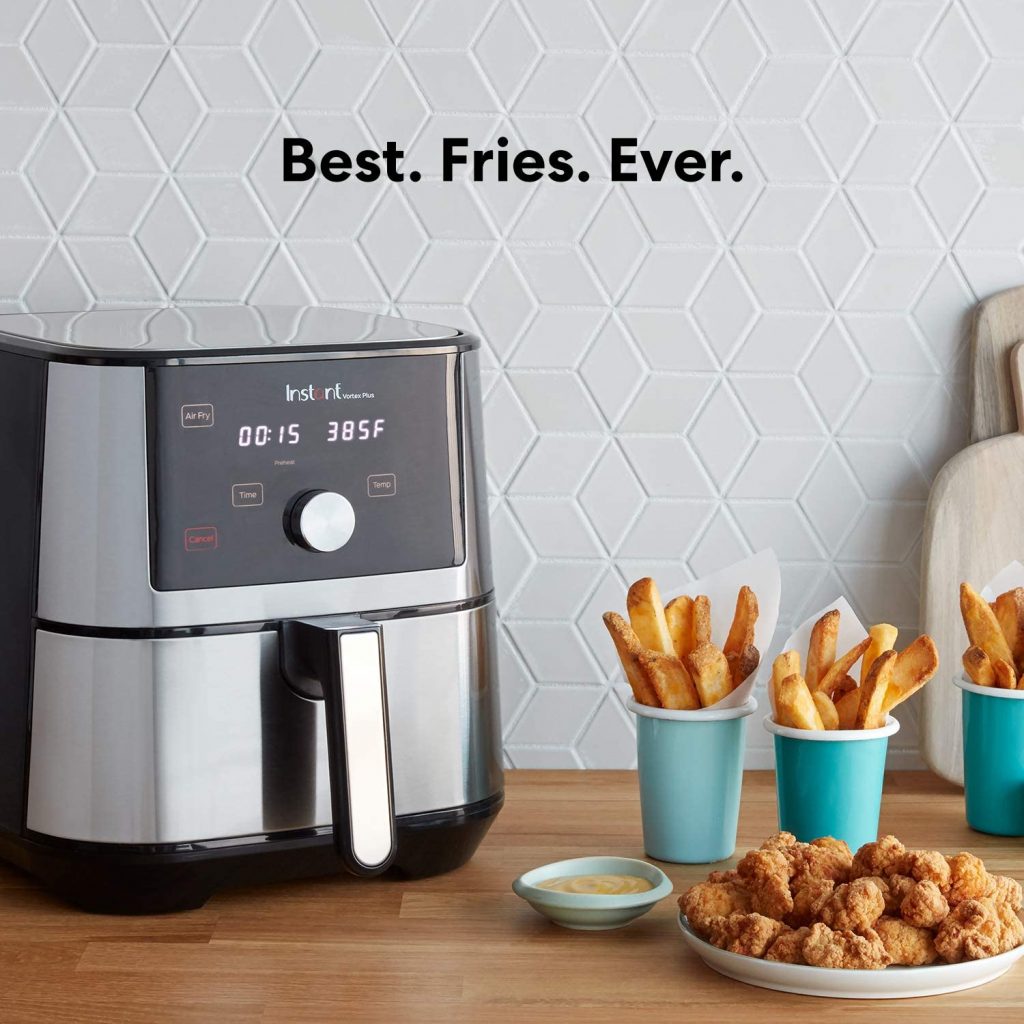 Read more Instant Vortex Plus features below.
Built-in Smart Programs
The Instant Vortex Plus comes with 6 built-in smart programs including air frying, bake, roast, dehydrate, broil, and reheat, all in one appliance. This is a great plus because you don't have to split your food into a traditional oven because the machine can do most of your cooking tasks.
You can also customize your settings depending on the result you want to achieve. The memory function remembers your last settings, meaning you don't have to set the appliance when cooking the same food over and over again.
Large capacity
The Vortex Plus has a massive capacity to accommodate 2 pounds of fries or a 4-pound chicken. As a result, it can cook enough for a family of up to 5 or for a few guests. Cooking is faster because you can cook food in large batches without dividing it into portions.
Moreover, the large capacity allows proper air circulation because you don't cramp the interior with food. There are two trays fitted in the interior so you can make different meals.
Numerous accessories
Having several accessories can make cooking more convenient and fun. Some of the accessories with the Instant Vortex air fryer include fry trays, spit, and forks. The basket is a convenient addition to this appliance as you do not have to turn the fries because hot air is circulated evenly. Most of these accessories are dishwasher-safe and the door is removable for easier cleaning. Besides, the exterior surface can be wiped clean using a damp cloth.
EvenCrisp Technology
This technology has been developed to ensure the perfect crunch with the tumbling basket all the time. This ensures that the food is tender on the inside and perfectly crispy outside by using 95% less oil. The vortex plus air fryer can prepare your food 50% quicker and it won't heat up your kitchen as a normal oven would.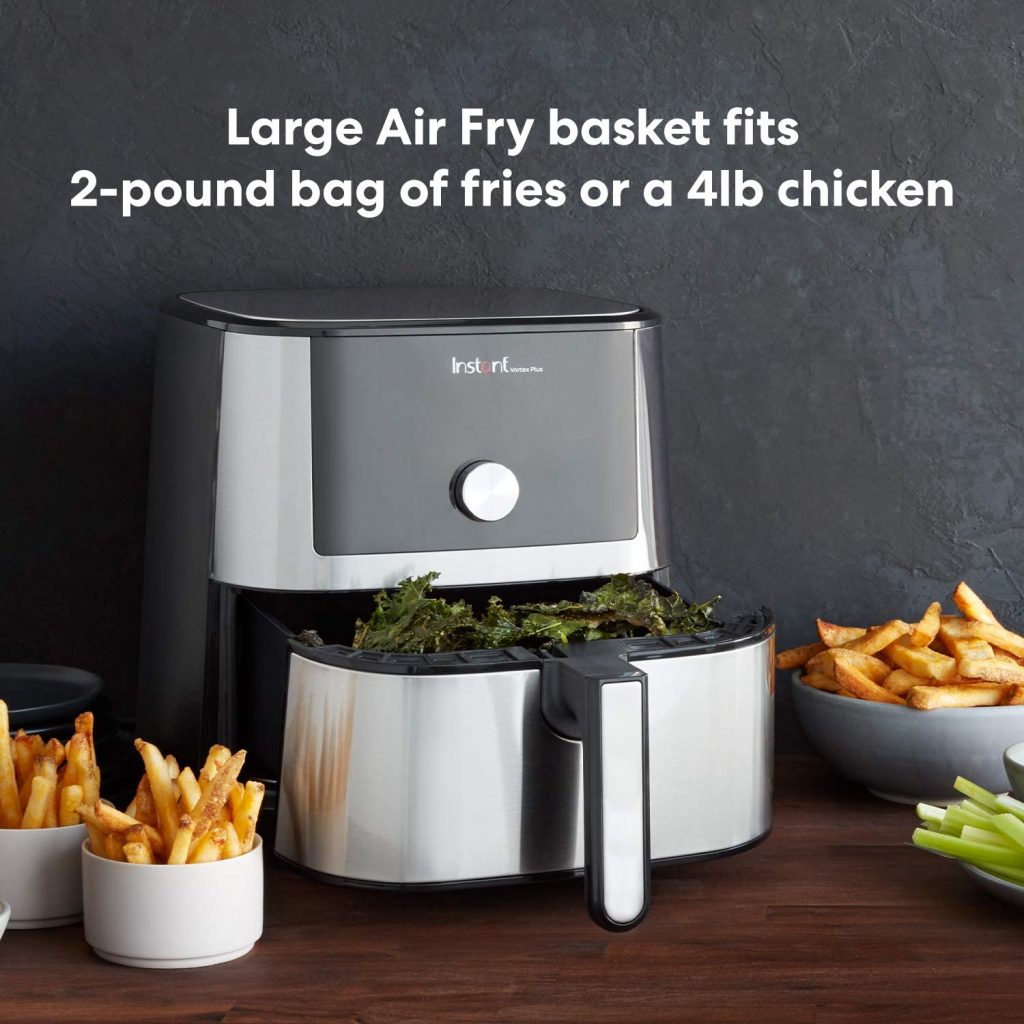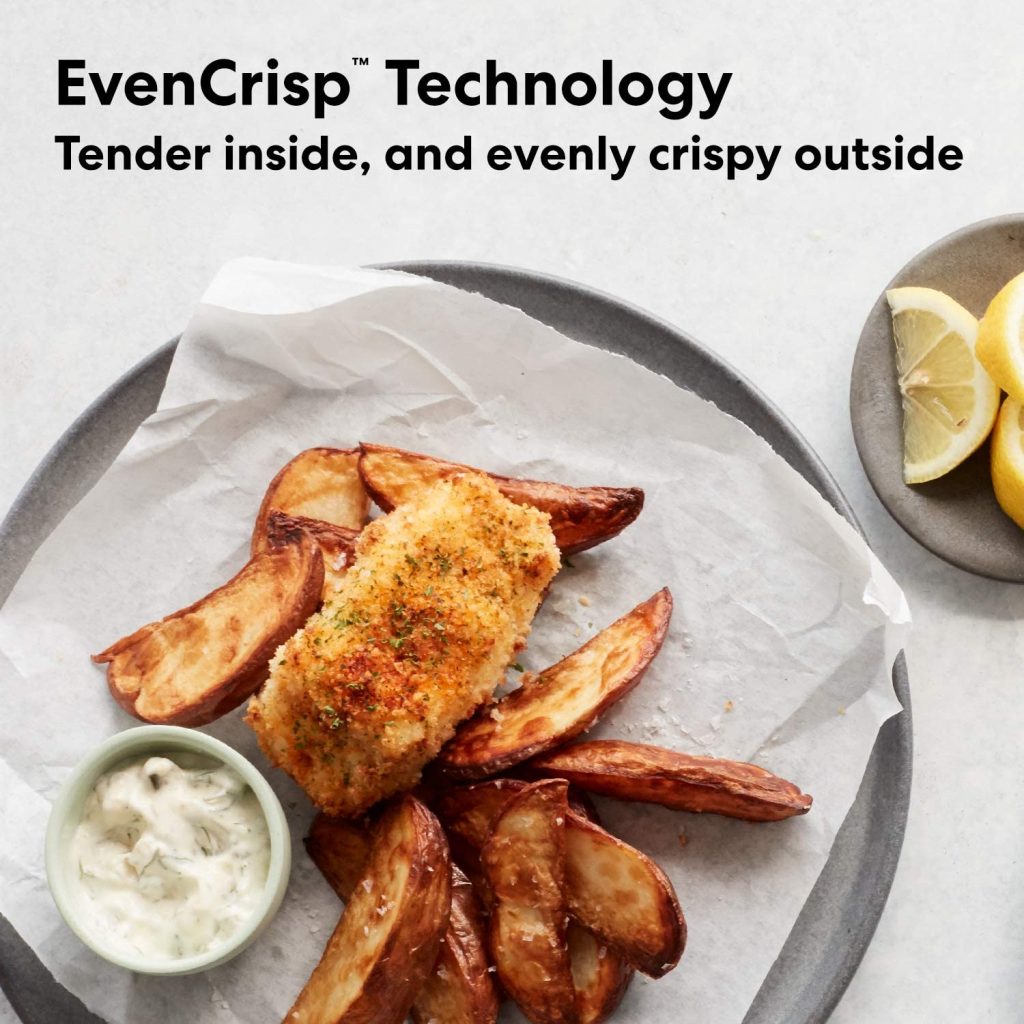 It cooks crispy food with less oil
Has a large capacity
Offers built-in smart programs
Easy to use
It requires a lot of space
Looking for the best air fryer 2021? Many reviewers agree that the Instant Vortex Plus is an excellent multi-use appliance. The air fryer can transform your cooking and lead to a healthier diet with less effort. It air fries, roasts, reheats, broils, bakes, dehydrates, and rotisserie. The massive 6-quart capacity can prepare enough food for the whole family and the interface is easy to use for anyone.
It's definitely worth it.