The Duo Evo Plus is one of the latest electric pressure cookers from Instant Pot and the improved version of Duo. There are over 20 enhancements, including a much bigger display, more ergonomic handles, and a pressure release switch instead of a valve, among other improvements.
It's basic and easy to operate for new cooks but can still upgrade your kitchen to a modern one. The cooker has everything you never knew you needed, featuring nine appliances in one. Discover that and more Duo Evo Plus features in this guide below.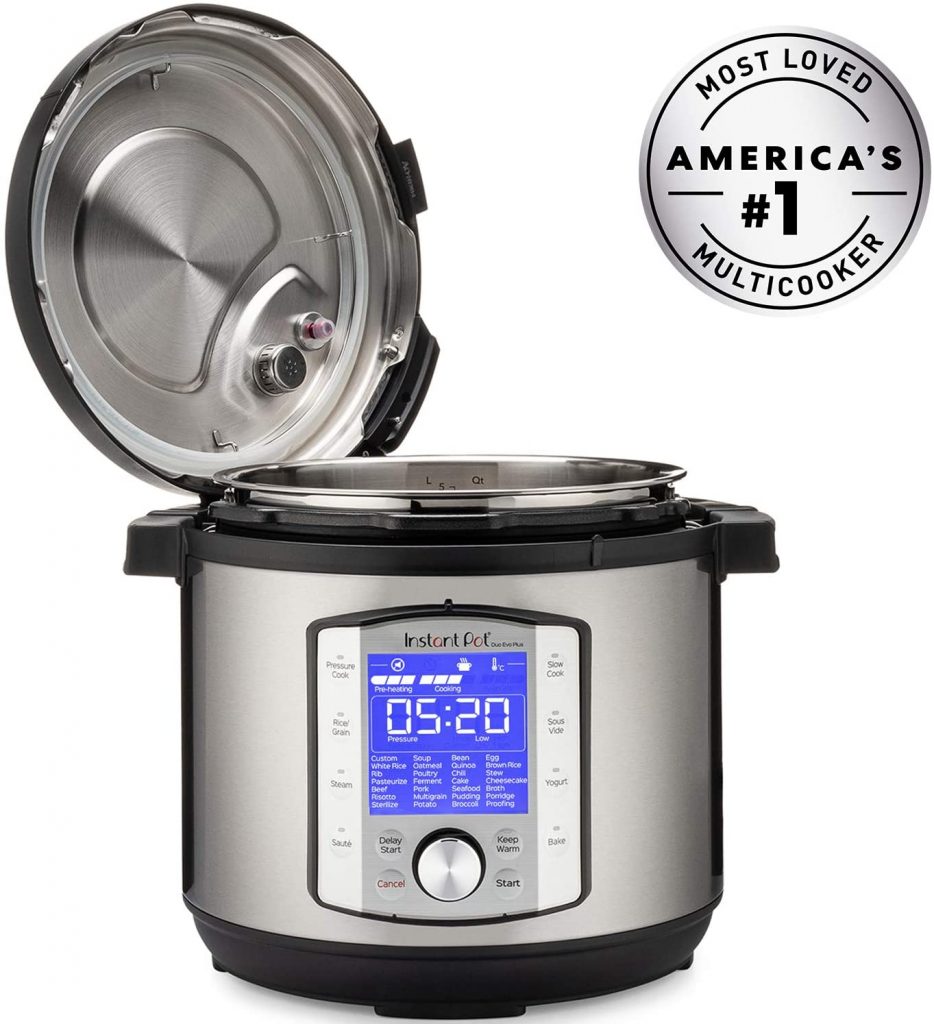 48 preset cooking functions
Sounds great! The instant pot Duo Evo+ boasts 48 easy cooking functions to take the guesswork out when making soups, rice, beans, ribs, and more. The operation is simple with just eight one-touch buttons, including slow cook, pressure cook, rice, yogurt, sauté, and steam. Just set your favorite preset or set the time and temperature manually just like you do with an oven.
Large display
Most customer reviews talk about its large screen that's bright and easy to read from different directions. It's clear enough to read from across the room to see how your food is doing. This display lets you observe the cooking progress, so you don't have to open the lid to see the cycle. On the flip side, the digital screen is not touch-sensitive. Instead, it has buttons on the side, which are well built to last.
Redesigned lid
The new Duo Evo Plus features a pressure release switch that makes it safe to release pressure without burning your hands with the steam. In addition to the control, they added a steam release cover that ensures slow pressure release from spitting liquids, which is common with starchy foods. Besides, the release cover dampens the sound when using quick release. The brand also updated the lid holders by putting them on the side closer to the back. This puts the lid out of the way when stirring the pot.
11 safety features
Some of the safety features you get include thermal and electric fuse, steam release, overheat protection, safety lid lock, anti-block shield, leaky lid detection, lid position detection, pressure and temperature control.
Versatile and quick
It's straightforward to use
Has the biggest display yet
Comes with cooking progress indicator
The dials might be a bit too confusing for beginners
If you need a modern electric pressure cooker that is safe to use, then the Instant Pot Duo Evo Plus is an excellent choice for you. The lid, handles, and inner pot has all be designed for better ergonomics, and the display is large and clear. In case of any challenges to operate the Duo Evo Plus, you get an updated user manual that's brief and easy to understand for all your experiments. Most users who have it praise the machine for ease of use and numerous features once you learn to use it.