Are you searching for the best pressure cooker under $100? Look no further than the Mueller UltraPot that's made with the highest quality components. Don't let its low price make you believe it's not good enough – this all-German pressure cooker offers more than you would expect.
The versatility of the device is what makes it so popular as it can replace common kitchen appliances. The reason being, it offers 10 appliances in 1, allowing you to cook all your favorite dishes such as rice, chicken, and even cheesecake. With the Mueller, you will have a lot of convenience with better, faster, and healthier cooking at a bargain.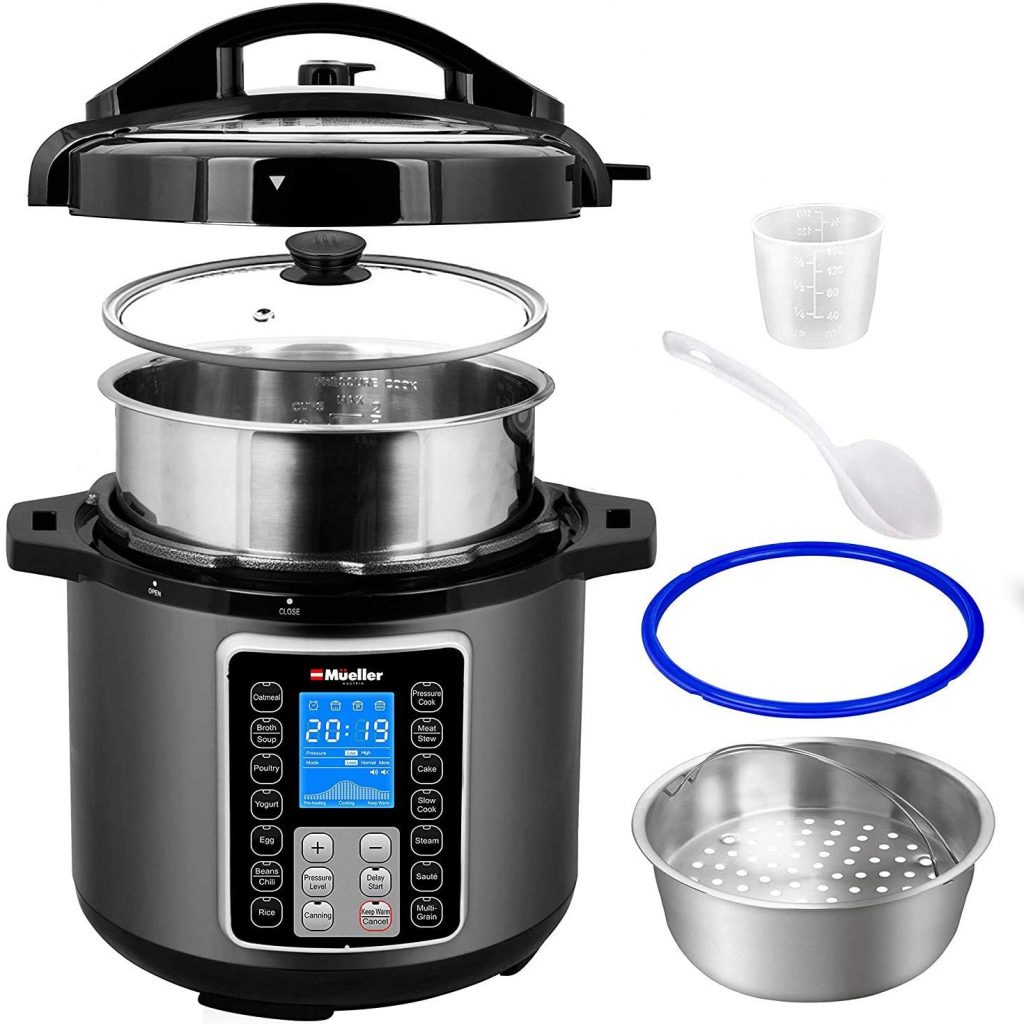 In this article, you will discover all about the Mueller electric pressure cooker.
Superior quality
The appliance is German engineered to last, featuring a stainless steel nickel finish that offers outstanding strength and the toughness required at high temperatures. The material is non-magnetic, which translates to the durability of the cooking pot. Apart from the material, this best value electric pressure cooker comes with the highest quality rubber seals and heat-resistant handles.
15 Preset Smart Programs
This machine is loaded with 15 smart programs that offer you ease and flexibility to cook a variety of dishes with a press of a button. There's no need to figure out how to cook your favorite dishes by yourself as the machine helps you to make recipes like steam veggies, broth, soup, oatmeal, stews, meats, beans, yogurt, chili, poultry, and pressure cook. Furthermore, this pressure cooker is also perfect for canning if you like to preserve food with no chemicals.
Adjust cooking time
Apart from the preset buttons, you can also adjust the cooking time for your convenience. The pressure cooker offers a cooking range of between 1-99 minutes, which should help you prepare any dishes. What's more, you can even delay start to cook food at a later time within 24 hours.
Upgraded technology and safety
The Mueller UltraPot 6-quart pressure cooker features the latest generation technology that monitors the temperature, adjusts its own heating intensity, and keeps time to offer the best results possible. It has a non-stick interior coating that's PFOA and PRFE free to prepare food with no chemicals. When you flip on the lid, it helps to seal flavors, aroma, and nutrients in food to maximize taste.
Cook two meals at once
The Mueller UtraPot comes with a variety of accessories such as a stainless steel steamer basket, ladle, a silicon gasket, and a measuring cup, which make it multipurpose. This allows you to prepare two dishes simultaneously to save your precious time.
Offers a large 6-quart capacity
It's extremely versatile
Retains important nutrients
Comes with a 2-year warranty
The silicone ring used is relatively thin
If you are looking for an inexpensive but versatile electric pressure cooker, the Mueller UltraPot is your ideal choice. It cooks food fast, and most customers are impressed with how easy it is to clean. With so many convenient features in one product, you can never go wrong with this investment.