Are you looking for the best electric pressure cooker to speed up your cooking? Check out the Instant Pot DUO pressure cooker that's built with the latest 3rd generation technology to monitor pressure, adjust heating and time for perfect results every time. It's made from stainless steel, so you should not worry about going back to the market any time soon.
In addition to pressure cooking, it can perform several other cooking functions to make your life easier. Moreover, the countertop cooker is relatively compact and looks stylish to add to your kitchen. Besides, it's reasonably priced so you should get the best bang for your buck. Here are some of the Instant Pot Duo 7-in-1 features that make it outstanding.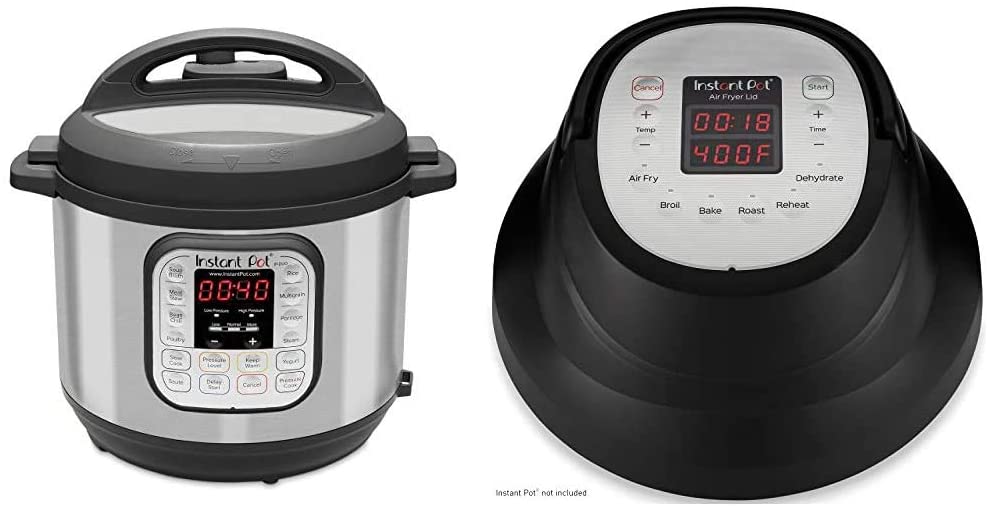 Combines 7 appliances
If you are a minimalist who prefers to have multiple appliances in one, then this pressure cooker will certainly be your ideal choice. You can use the pressure cooker to create a meal quicker, but if you have more time you may prefer the slow cooking function. You can sauté or brown meat and veggies, cook rice, prepare yogurt, warm leftovers, steam, and more.
Numerous smart functions
The machine also comes with 14 in-built smart functions to adjust cooking requirements for meat/stew, soup, bean/chili, saute, poultry, porridge, slow cook, pasteurize, fermented rice, and more. This means you don't have to guess the time and temperature for your food or search for recipes.
You can also choose different modes within the smart functions. For example, when using sauté mode, you can choose between browning, simmering, or thickening. Additionally, the slow cook mode allows you to choose 3 temperature controls: high, low, warm.
Air fryer setting
Turn this instant pot into an air fryer with just a switch with the Instant Pot Air Fryer lid. The detachable lid is easy to use, allowing you to cook with 95% less oil compared to deep frying and still enjoy onion rings, crispy fries, and wings. This is a great feature when you want to eat less oil and still enjoy tasty meals.
Delay start button
If you are the kind of person that prefers to plan your meals ahead of time, this is a good pressure cooker for you, thanks to the delay start feature. The function allows you to place food in the machine to cook up to 24 hours later. If the food is ready and you aren't ready to eat yet, there's a keep warm feature that maintains temperature without further cooking.
Has a durable build
It's versatile
Prepare healthy and tasty food
Easy to clean
Has safety features
Have you tried an Instant Pot? If you haven't, then this 7-in-1 appliance could be the perfect fit for you. the stainless steel build is robust and ensures a clean surface. The LCD display is important to show the pressure, temperature, and time and makes it easy to operate the appliance. With so many functionalities, you can prepare everything from meat, veggies, stew, rice, yogurt, and more. Besides, it packs several safety features like a valve, pressure release, locking lid, and anti-blockage vent.