If you'd love cooking crispy and fried foods without the excess oil, the GoWISE USA Air Fryer Oven & Professional Dehydrator is a worthy kitchen appliance. The GoWise 25-quart air fryer is ideal for large groups and small restaurants. In addition to its large capacity, it's versatile, with a wide temperature range for experimental cooks.
It's well-made with an easy-to-use digital display and control panel. The exterior is made from thicker stainless steel making it sturdier and easy to clean. Read this GoWISE USA 25-Quart Air Fryer Oven & Dehydrator review to know whether it's the right product for you.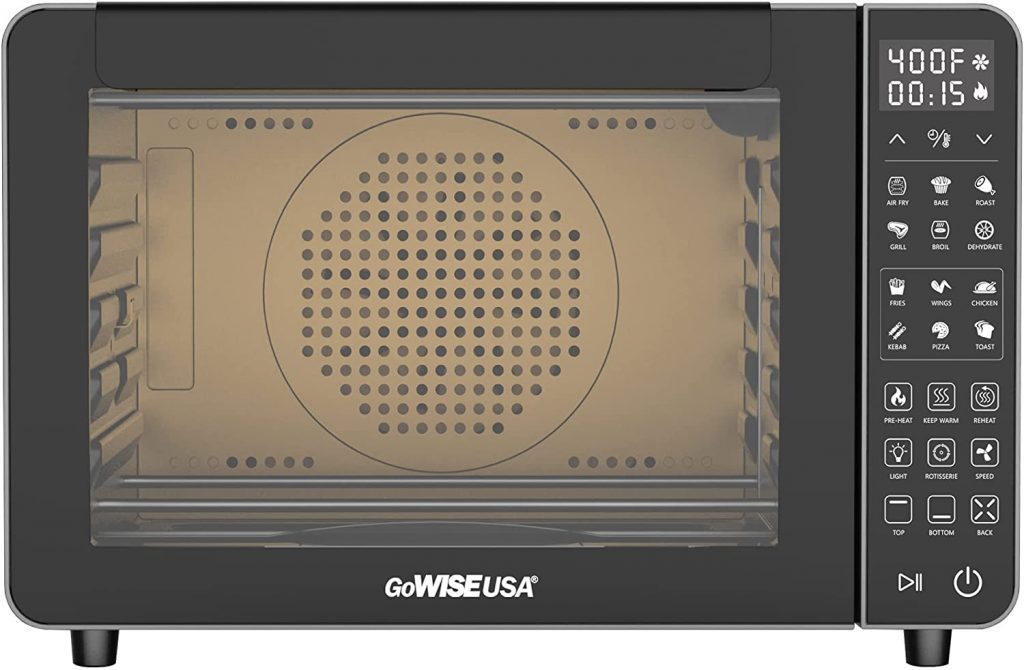 12 built-in-functions 
If you enjoy cooking food using different methods, you will love The GoWISE USA 25-Quart Air Fryer Oven. It has numerous functions at your disposal, such as Bake, Roast, Air fry Broil, Dehydrate, Grill, Fries, Wings, Chicken, Kebabs, Pizza, and Toasts.
Numerous accessories
In addition, the appliance has more than 11 accessories such as a 12-inch pan, Pizza pan, Baking pan, drip tray, two mesh racks, two-wire racks, Rotisserie Tongs, air fryer basket, grill tray, two-wire racks, and a recipe book.
Large cooking interior
With a cooking interior of 13" W x 9" H x 12.5" D, the GoWISE USA Air Fryer Oven & Professional Dehydrator allows one to fit up to three 12-inch pizzas at once or even a whole chicken. You can also make use of the five tray levels to cook different foods at the same time. This means that you can cook an entire entrée and side for your guests or family without making a mess.
Sturdy build
The air fryer's oven is made with a stainless steel exterior and a metal interior. This design allows the product to withstand high cooking temperatures of up to 450O F.
Faster cooking
Featuring three heating elements, the Go Wise appliance takes minutes to cook your food. It has a heating element on top, bottom, and rear, with a back fan circulating heat evenly. The air fryer oven offers the options to choose single, dual, or triple heating depending on your cooking needs. Unlike other convection ovens, GoWISE Air Fryer has a double pan glass door that maintains a consistent internal temperature for quicker, even heating.  
Easy to use 
Using this machine is straightforward, with easy-to-read buttons and adjustment options. All you have to do is choose your option and press start. Furthermore, the GoWISE USA Air Fryer Oven comes with a new preheat function that heats the air fryer oven to ideal temperatures and notifies you when to heat up your food. It also has a standby mode in case you forget to put your food in.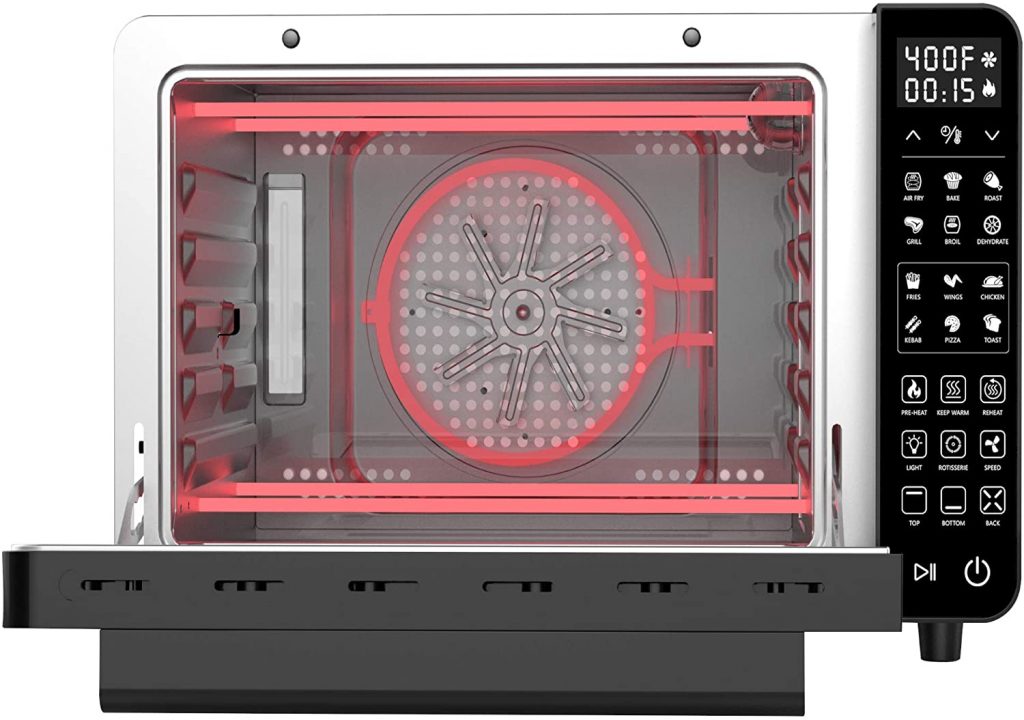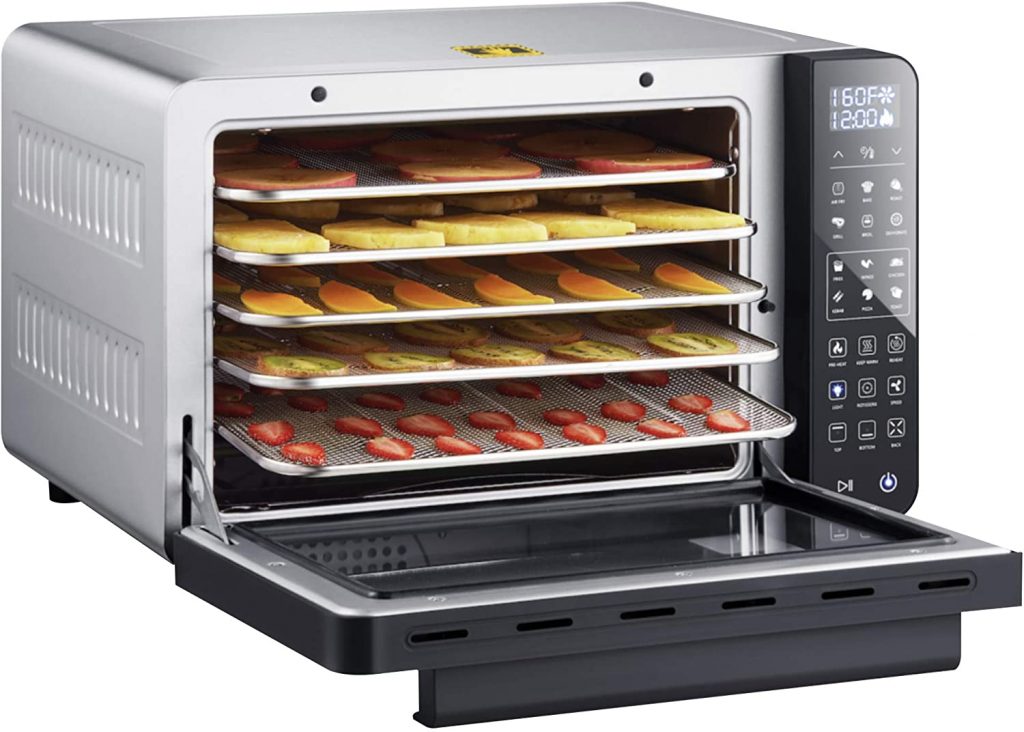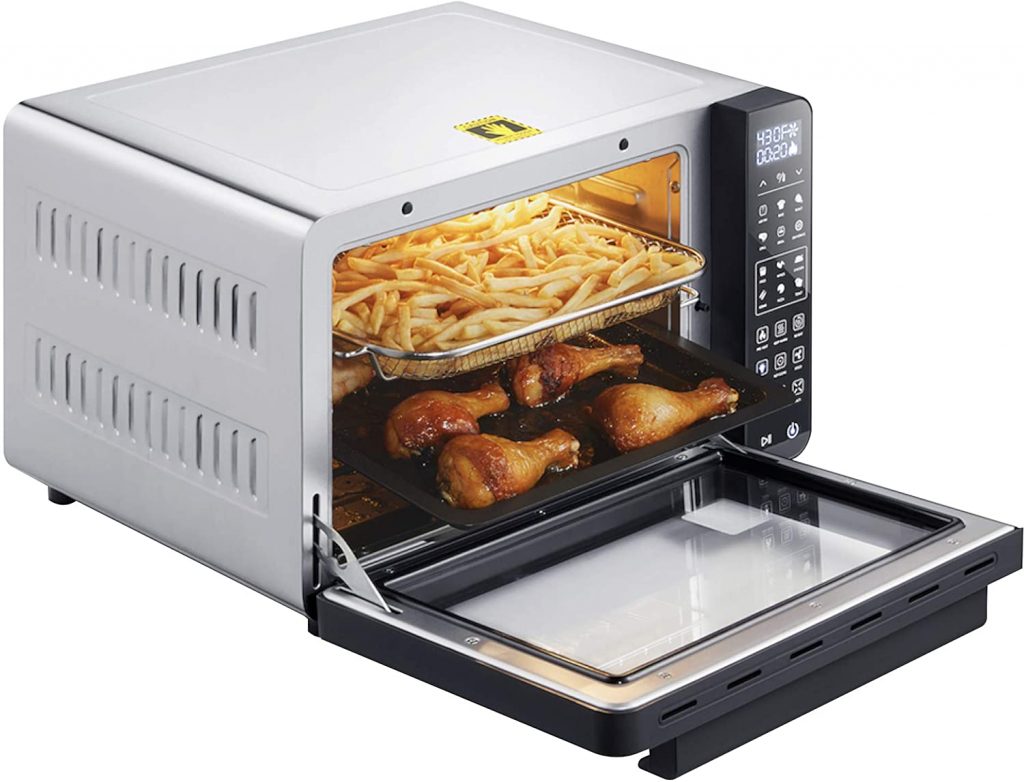 It's has a sturdy build
It comes with numerous accessories
Offers quick heating
It has a large 25-quart capacity 
Offers numerous customization options 
The convenience you get with the GoWISE USA Air Fryer Oven & Professional Dehydrator is unmatched. It has numerous features that give you limitless possibilities when it comes to cooking. Besides, the product is durable with a 1-year warranty. The product also comes with a manual that guides you on using it and a recipe book to give you cooking ideas.