A microwave oven with 7-in-1 Ultimate versatility? Yep, the Toshiba B09HKM5SVD 7-in-1 microwave can handle all your cooking needs. This product features 10 power levels making it your perfect kitchen helper. You can broil, toast, make yogurt, air fry, defrost, cook, grill, and reheat.
That said, you can enjoy your favorite recipes, from crispy French fries to perfectly roasted 2lb chicken. You only need one such machine, and nothing can stop you from preparing your favorite delicacies. Additionally, the multi-microwave comes with a 27 classic recipe cookbook to enhance your cooking experience. Read the rest of the review to understand more of the product's features.
Inverter technology
Featuring inverter technology, the Toshiba Multi-microwave guarantees even cooking, defrosting, and reheating. Unlike traditional ovens, heat is distributed uniformly to ensure your food is evenly cooked, enriching your favorite meal's natural taste. Mo, so you will get a maximum soft texture of your delectable meal.
Air frying technology
With the air frying technology, the Toshiba 7-in-1 Multi-microwave uses hot air rather than oil which helps cut down calories. Besides, the microwave provides a 360o heat circulation to enhance optimal results. This cooking option which is an alternative to deep-frying, makes the appliance a must-have for individuals who are health conscious. What's more, the product comes with two wire racks and a baking tray for perfect goodies. You to enjoy crispier and golden-fried French fries, fried fish, nuggets, and more of your preferred recipes.
Fast cooking
The Toshiba 7-in-1 multipurpose Microwave Oven features a 1000w and 425oF under grill output and 1800w under convection power output which facilitates thorough cooking while speeding up your food preparation.
What's more, the microwave grill and convection function enable you to deliver perfect dishes with tender texture on the inside and golden brown on the outside, making it the supreme Multi-microwave option.
Compact design
If your countertop space is a little tight, you should consider purchasing the 7-in-1 microwave oven due to its compact design. Also, you have an all-in-one machine to handle all your cooking which saves your counter space.
Besides, the product comes in a sleek design that complements most kitchens to a modern look to your kitchen décor.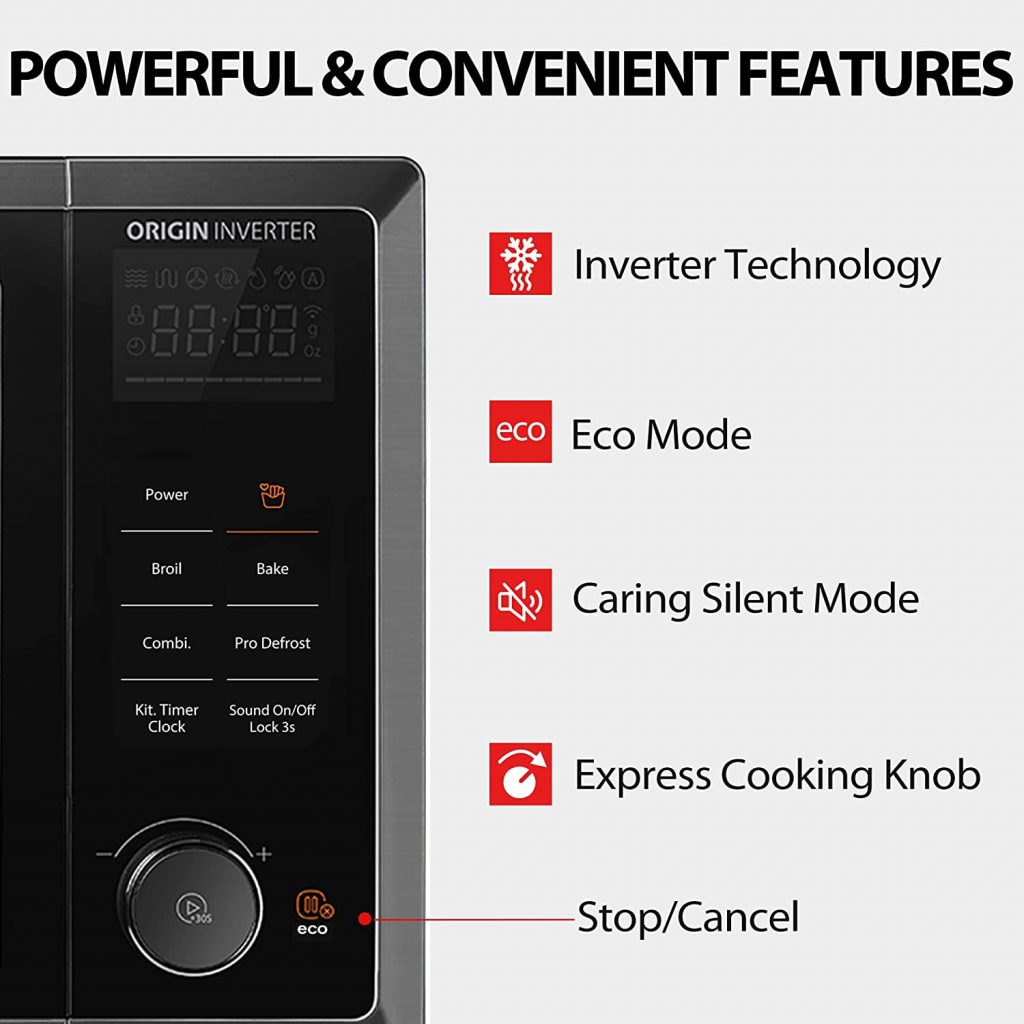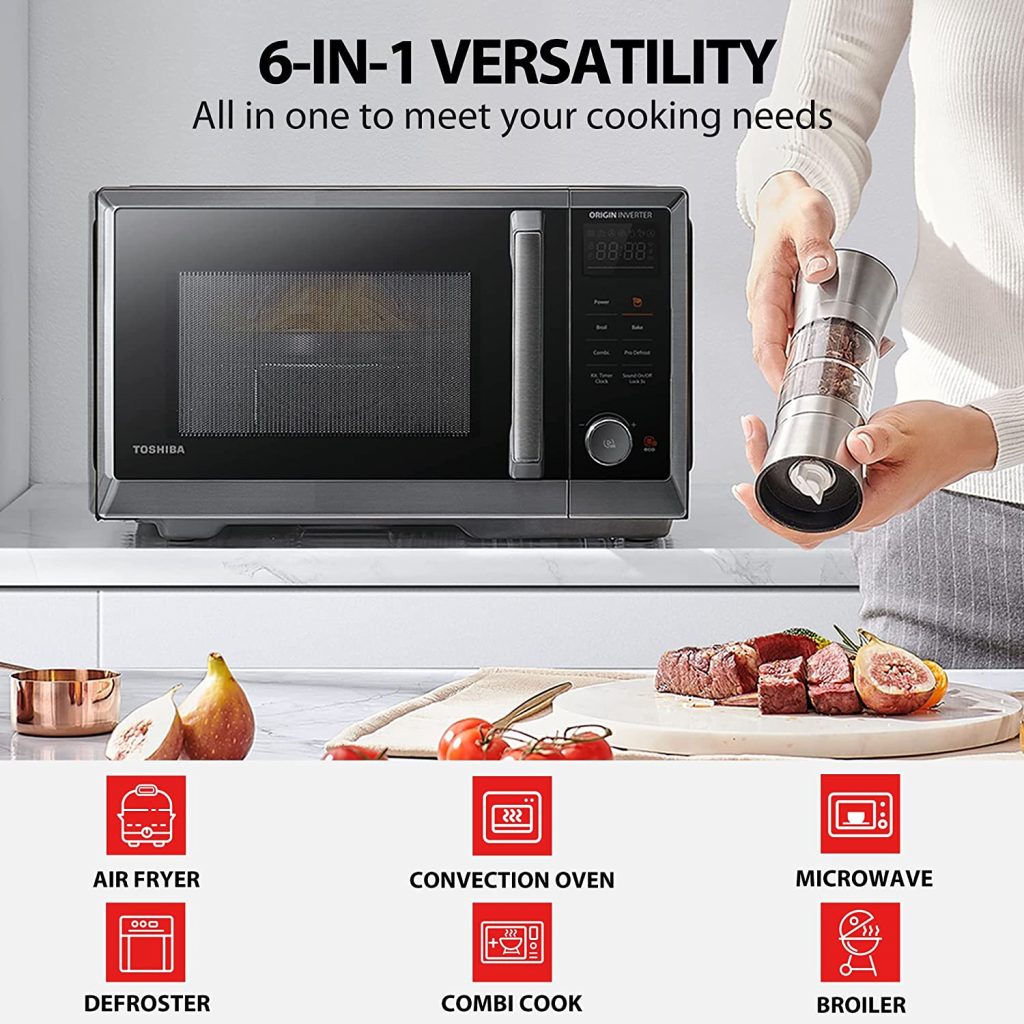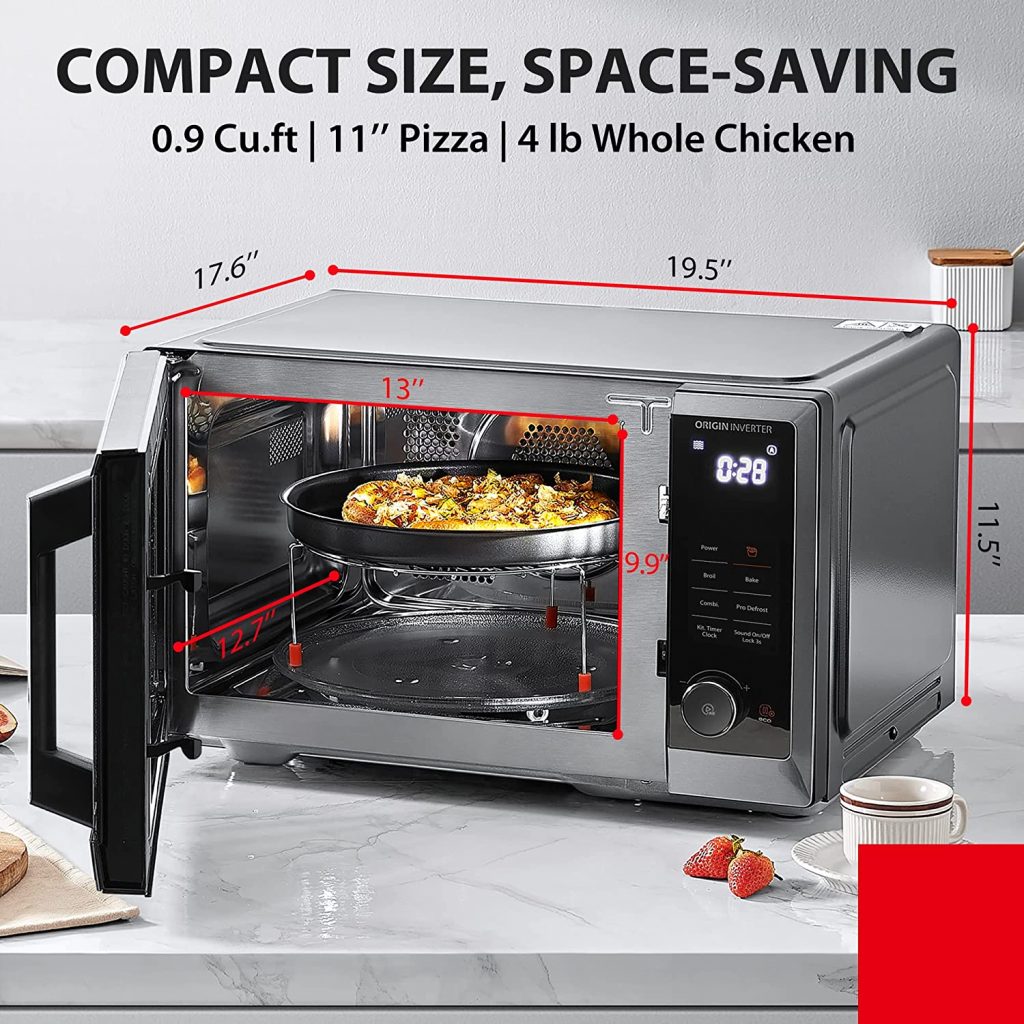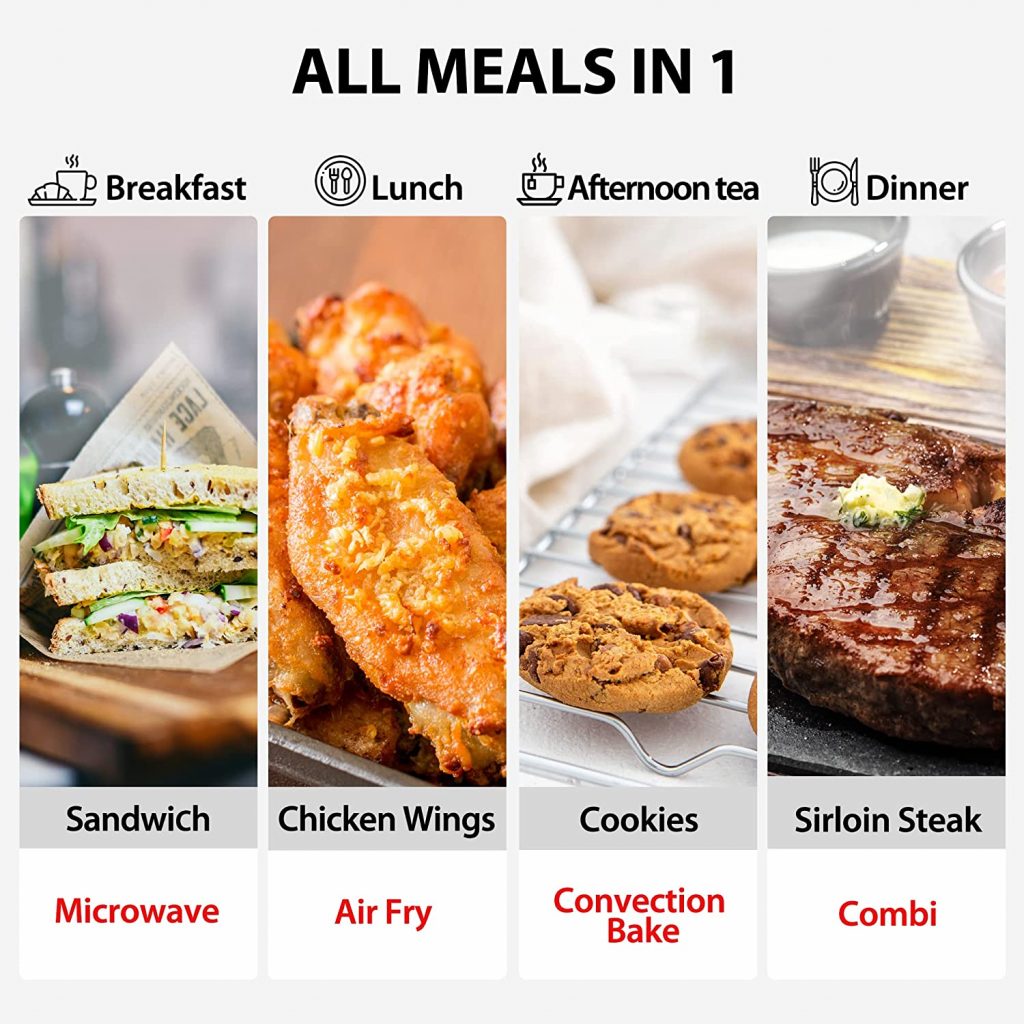 Versatile use; you can air fry, broil, grill, defrost, toast, and more.
Stainless steel finish
Easy operation
11 auto cook menus that enable novices to prepare Michelin-star delicacies.
Some users find the product difficult to clean
You won't want a loud microwave near you, especially when you've been working under a tight schedule the entire day and require some rest.
Thanks to the quiet operation of the Toshiba 09HKM5SVD Multi-Microwave, you to perform your cooking tasks silently and peacefully. Plus, the machine is convenient, allowing you to perform an array of cooking tasks.
That said, you can enjoy a wide range of super tasty goodies for your family to enjoy. Best of all, there is a 1-year warranty covering all material defects if you are not satisfied.