An immersion blender, also known as a hand blender, is a useful and versatile equipment to have in a modern kitchen. It's compact and makes multiple tasks easier, such as pureeing soup, whipping cream, chopping veggies, and much more.
For less than $100, you can acquire one of the best immersion blender GE. It's easy to clean, has a solid construction, and comes with numerous attachments to enhance your versatility in the kitchen.
Although it comes at about half the price of other similar models, its exterior design is built to last for a long time. If you need a hand blender, here are a few features that make GE Appliances Immersion 2-Speed Blender stand out.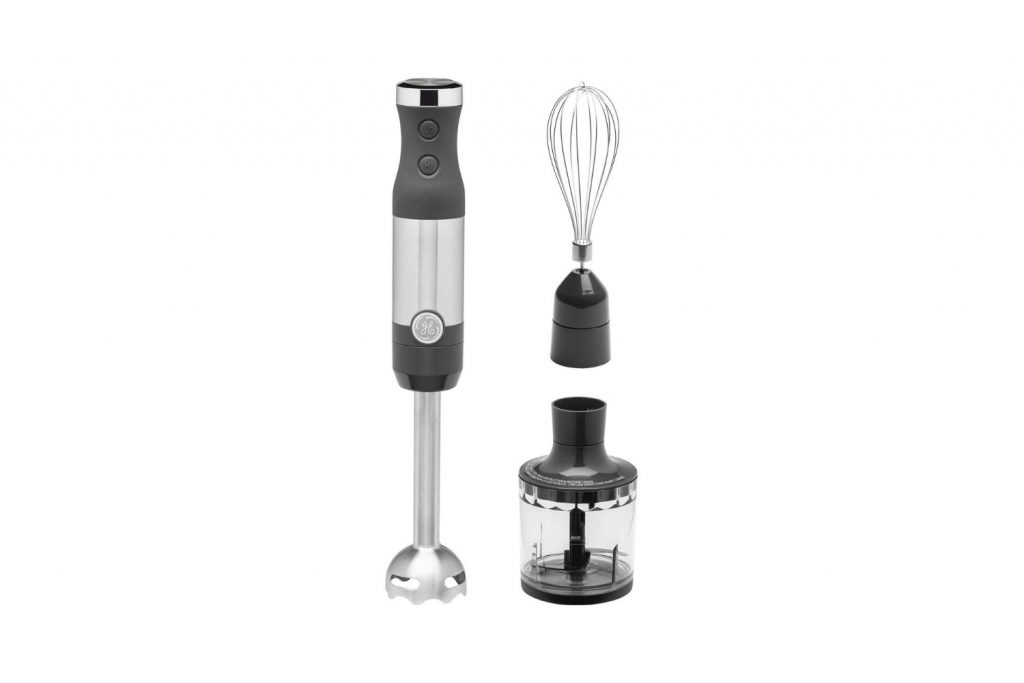 500-watt motor
The GE hand blender comes with a powerful 500w motor that can handle both soft and hard ingredients. With a handheld blender with plenty of power like this one, it's easy to make baby food purees, smooth soups, smoothies, and sauces.
If you are a smoothie lover, you'll appreciate how the blender pulverizes ice and frozen ice with ease. It's also the ideal immersion blender for soup or crushing ice.
Two speeds
Due to its small size, the GE features two speed options: high and low. Having these two options makes it possible to adjust the texture of your ingredients to suit your needs. Even though the machine is very easy to use, it's good to start slow and scale up the speed to avoid splattering food. Fortunately, the GE immersion blender allows you to switch between the speeds with just one hand.
Versatile operation
The GE Dual Speed hand blender offers three different attachments to make your work in the kitchen effortless. The blending shaft is ideal for smoothies, salad dressings, mayonnaise, and dips. It's also suitable for making soups from boiled meat and veggies.
The chopper is ideal for chopping onions or herbs with a small jar to hold small portions. You can also use the machine for whisking creams and egg whites.
The whisker is also great for mixing cakes and deserts. Most users love that the unit can be used for many tasks in the kitchen and works well.
Looks great
In addition to being reliable and durable, the machine should look great in your kitchen. It has a durable stainless steel finish that compliments the kitchen décor. It's attractive and all in all a great purchase.
Has a heavy-duty build
Offers lots of power
It's highly versatility
Looks great
The transmission base is made of plastic
The GE 2-speed hand blender is the best option if you intend to do more than just puree soup or blend a single-serving smoothie. It packs lots of power to pulverize through the thickest soup and batter in a matter of minutes.
Apart from its excellent performance, the GE dual-speed immersion blender comes at an affordable price for anyone on a tight budget.
It hits the perfect point between value and price.