Induction cooktops are a safe and efficient option for skilled chefs and casual cooks alike. Unlike electric cooktops and gas cooktops, these use electromagnetic fields to conduct heat. The advantage is that heat goes straight to the cookware and stops when you remove the pan or pot. An induction cooktop does not become hot to touch, which makes them safe and helps to prevent spills and messes.
After hours of testing the best induction cooktops for you, the Duxtop induction 8500ST stands above the rest – and for a good reason. It offers efficient heating, faster cooking, and numerous smart features. It's portable at 7.1 pounds, meaning you can use it both indoors and outdoors.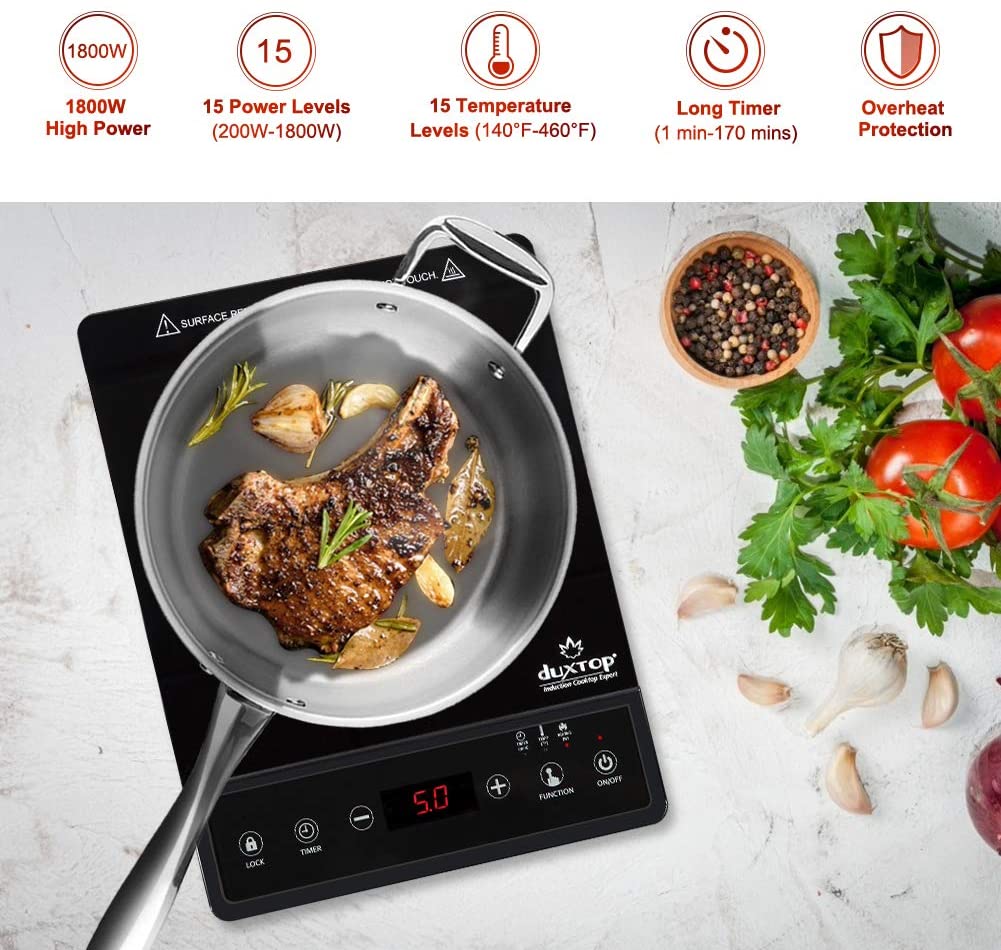 Read this Duxtop 8500ST Induction Cooktop review to discover more features.
Two-mode heating
The portable induction cooktop offers two heating system; the power mode and the temp mode. The power mode comes with 15 presets power levels ranging from 200W to 1800W. The temp setting ranges from 1400F to 4600F. This allows you to boil, fry, saute, steam, grill, etc.
Safe operation
The good thing with the induction cooktop is the glass surface that does not get as hot as the electric and gas appliances. This is because it transfers heat directly to the cookware without making the burner hot. However, you need to use induction ready cookware with a magnetic bottom and a minimum diameter of 5 inches.
Another great feature is the auto-shutoff function that turns off the unit in a minute if there's no pan over the unit. This is an excellent feature if you have kids around.
User-friendly controls
The LED display on the control panel is clear, with large control buttons that are easy to use. Unlike plastic buttons that would require lots of effort to operate, the Duxtop induction cooktop uses sensor buttons that responsive to make the operation a buttery affair. The panel is far from the heating zone, which minimizes accidents and ensures minimal spillage.
Easy to clean
As it comes with no heating element or open flame, the Duxtop induction 8500ST hardly allows any food to stick on the glass. This saves time for cleaning as you just use a towel to wipe out any spills and you are done.
Energy efficient
One thing we liked about this cooktop is how it responds to changes in heat. With 83 percent energy efficiency rating, the induction cooker is by far more efficient than traditional electric and gas stoves, yet ensures faster cooking times. The Duxtion Induction plate works on a 120-volt and 15-amp power, so the single burner cooktop can work in most home power outlets.
The cooktop is light which makes handling easier
The digital panel is easy to use
Has a wide range of temperature control
It's easy to clean
Very safe
The power levels might be too low for simmering
The Duxtop portable induction cooktop is a great piece of cookware that any cook would wish to have in the kitchen. It offers wide temperature adjustments, it's completely safe, easy to use, and has other convenient features. Besides, it can save your electricity bills significantly. In case of any questions, Duxtop provides reliable customer service.