KitchenAid is a giant brand for kitchen appliances and a hugely popular brand for many years. Their products are unique and can instantly be recognized for their modern take on retro designs and attractive colors. This KitchenAid cookware set is made with quality and stands out for being tri-ply. This means it can resist dings and dents that most cookware often show.
Reviews from users reveal an excellent value for the price, especially when comparing it to other brands that aren't as quality. Check the KitchenAid 3-ply Cookware Set review below to know its features and what makes it unique.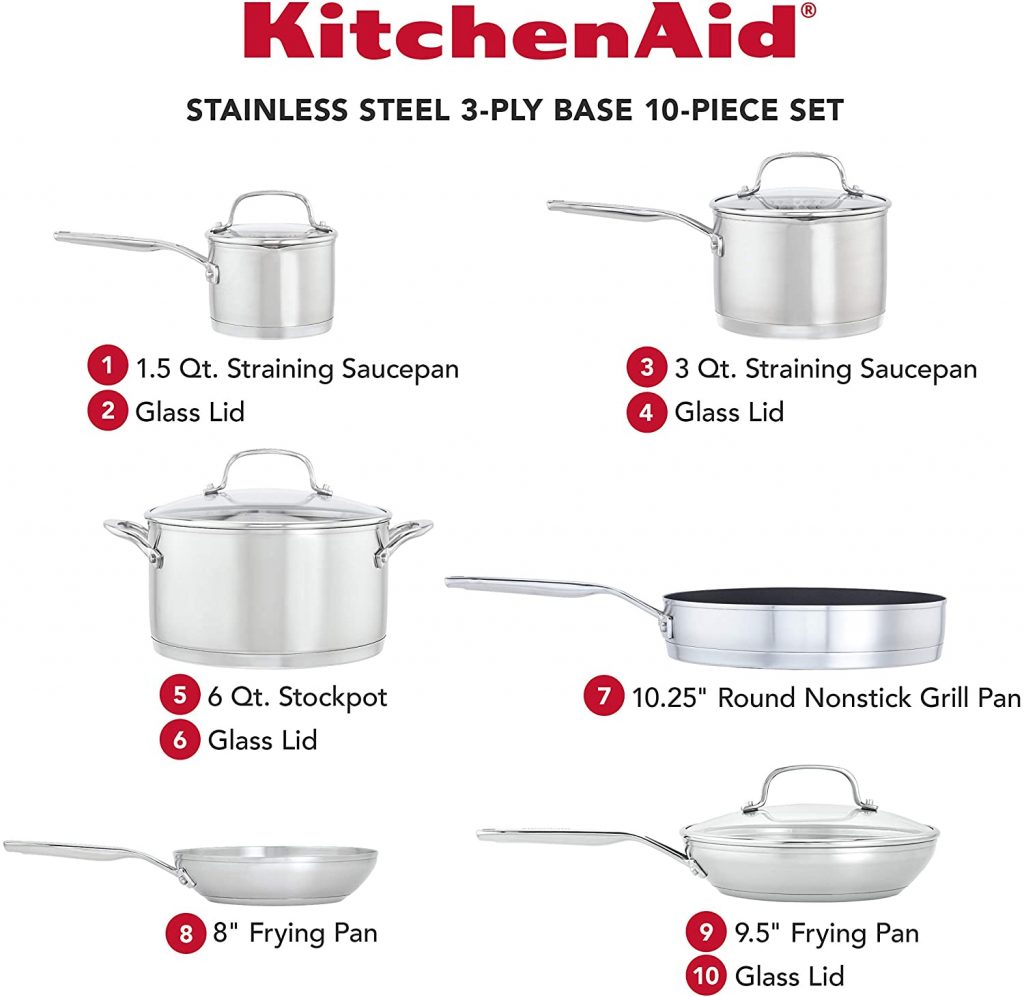 Complete set
Consider the KitchenAid cookware set for all your cooking needs as it has all the necessary pieces you need to prepare your daily meals. This set includes 1.5 – quart saucepan with lid, 6 –quart stockpot with lid, a 10.25 round grill pan, 8 –inch frying pan and 9.5 –inch frying pan with lid.
Durable build
As with most KitchenAid products, this cookware set is built to last, featuring high-grade stainless steel SAE 304 or 18/10 stainless steel. The material should resist corrosion well, maintaining the taste and flavor. Besides, the heavy-duty stainless steel should not warp even at high temperatures and is tough enough to stand everyday use.
Even heating
A heavy stainless steel bottom with an extra thick layer of aluminium ensures even heat distribution from edge to edge. Besides, combining the two layers allows cooks to enjoy the two metals' benefits while reducing the drawbacks that both metals have. Aluminium creates even heat conduction for ideal cooking conditions, whether using gas or electric burners. The magnetic stainless steel allows the pans and pots to be used on induction cooktops from stovetop to oven for up to 5000F.
Measuring made easy
Another feature that KitchenAid provided for convenience is etched measuring markings that make it easy to measure the food you add to the pot. This is convenient because you don't have to make measuring cups dirty to pour your items directly. It also comes in handy when a recipe calls for reduction, which can also be extra work. However, a few users noted that the markings wear off over time and become harder to read.
Dishwasher safe
If you are looking for a set that will be easy to clean so that you can spend more time cooking your favorite dishes, the KitchenAid 3-Ply cookware set is excellent for you. The pots, pans and glass lids are all dishwasher-safe, and the non-stick surface makes it easy to clean with a damp cloth effortlessly.
Features a sturdy construction for durability
The aluminium base provides even heating
Has ergonomic handles for easy handling
Easy to clean
The etched markings may wear off with use
If you are looking for a good quality cookware set, you can give this 10-piece cookware set from KitchenAid. One of its main advantages is the thick build that's highly resistant to warping. Besides, the non-stick set can withstand high temperature than can be used on most countertops, including induction.