The Zwilling power blender is a state-of-the-art countertop blending machine with a powerful 1400 watt motor paired with piranha teeth winglet blades. The result is ultimate control over your blending experience for the perfect smoothies and shakes.
This blender is German-engineered which guarantees that you are only getting the very best, and it comes with a long-term warranty cover. The blender has a sizeable capacity with a 64oz pitcher. Read on to discover some of the capabilities of the Zwilling power blender that make it a great blender.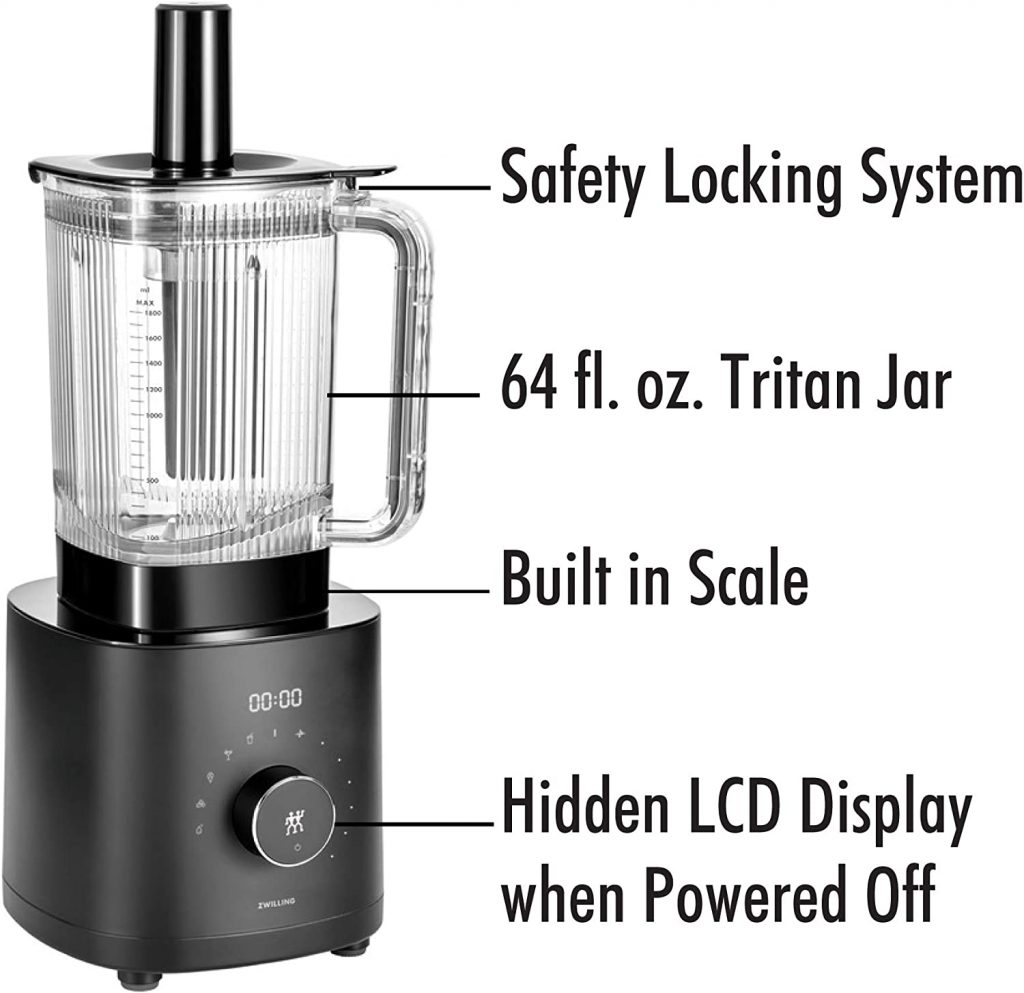 Programmable
This blender features pre-programmed settings that are optimized for the best results. These include pulse, cocktail, smoothie, ice crusher, and ice cream settings. An extra cleaning mode is also included when you need to quickly unclog sticky bits of food from the blades and the pitcher.  The blender has manual speed controls that you can use to either speed up or slow down the preset programs as per your needs.
Safety features
 Zwilling power blenders feature multiple safety features that automatically kick in to prevent any sort of injury while operating the equipment. An automatic locking system ensures that the blender only status when the lid is firmly attached. When the blender lid is opened while operating, it will automatically shut off as well. You can use this heavy-duty blender for long periods without having to worry about the exterior overheating, thanks to cool touch technology that keeps the exterior stainless steel cool to the touch.
Extra accessories
This blender ships with a high-quality tamper that will come in handy when you need to push food into the jar. The included blender lid doubles as a measuring cup, and it comes in handy when working with recipes that require precise amounts of ingredients.  The package aks includes a 64fl, oz, Tritan jar that is break-proof, easy to clean, and BPA-free.
Piranha teeth blades
The powerful motor in this blender operates a set of piranha teeth winglet blades that provide the ultimate blending experience. These blades will remain sharp over prolonged usage as they are made of stainless steel, and they will consistently chop even the tightest foods into finely chopped bits.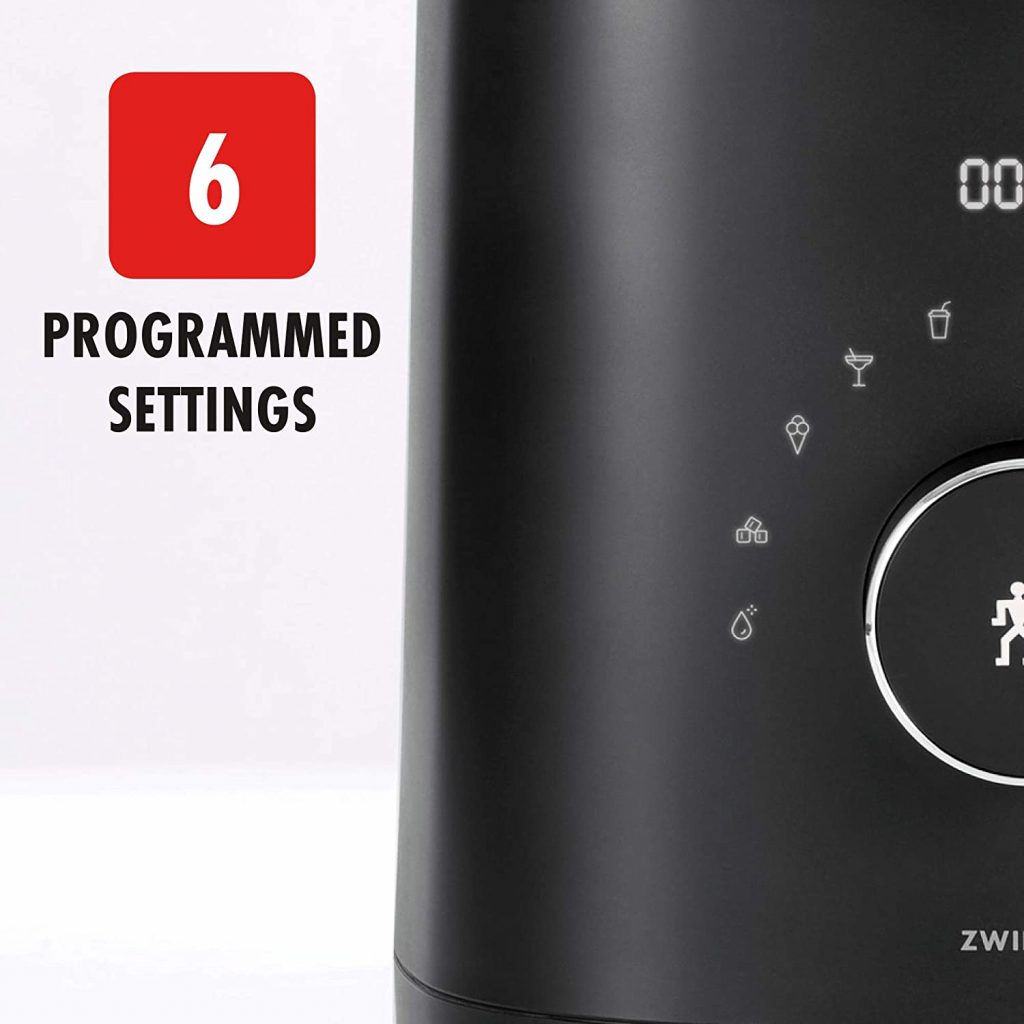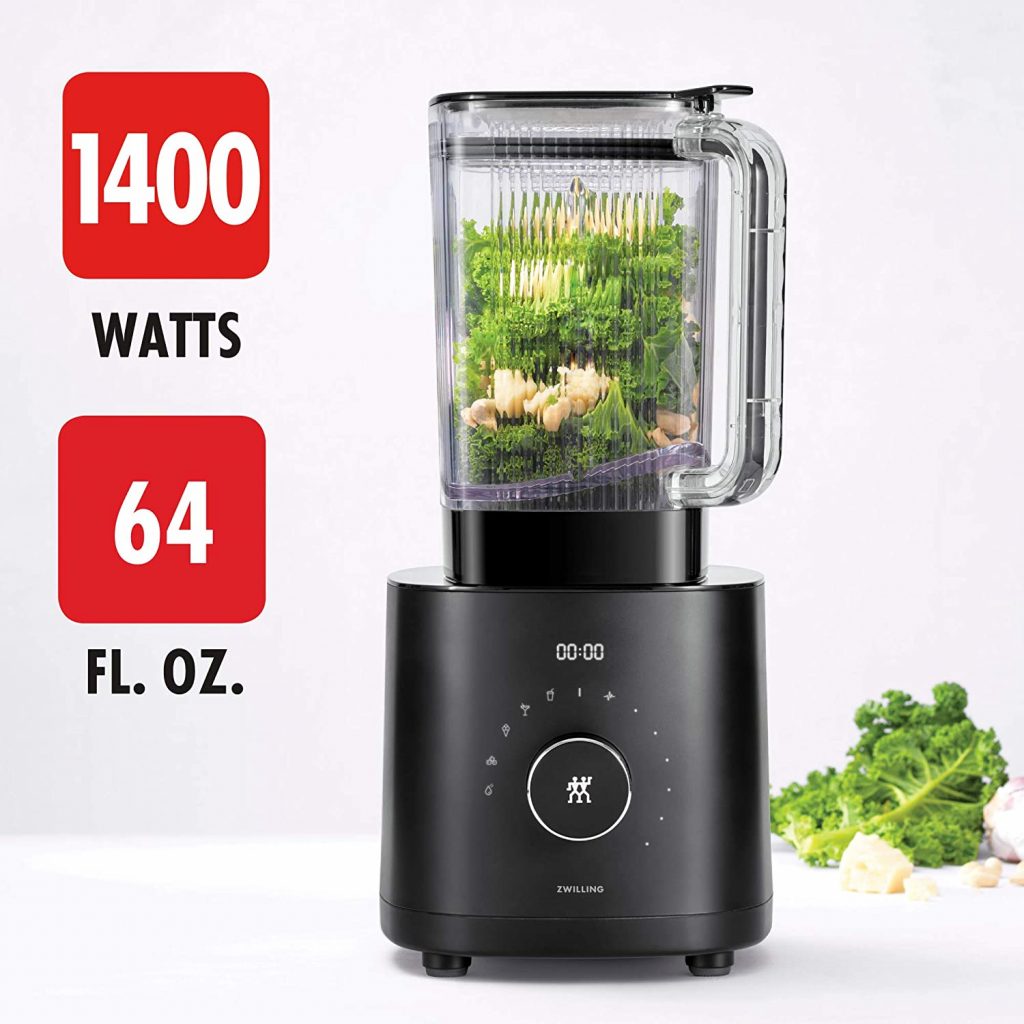 Cool-touch technology keeps the stainless steel exterior cool even after prolonged use
The display is hidden when powered off, which adds a clean and modern-looking design to your kitchen
Hygienic, seamless surfaces that are easy to clean up after use
The self-cleaning mode does not always manage to eliminate gunk from under the blades, making it difficult to clean the blender after use
The Zwilling power blender is an excellent addition to any kitchen countertop with its powerful blending and crushing capabilities. This blender offers the best collection of features and guaranteed quality at its price point. The blender also features a sleek black finish on its stainless steel exterior that perfectly fits modern kitchen designs. Go ahead and transform your smoothie and shakes game with this powerful blender.