Do you wish you could have more deep-fried dishes like chicken, fish and French fries? The key to achieving that golden brown is to use the right temperature. A modern deep fryer comes with an adjustable thermostat to allow you to control the heat to your needs.
The Hamilton Beach Professional Grade Electric is a great family-size Deep Fryer who has received many users' praise. The model has a 12-cup oil capacity which should be enough to cook for the entire family. It heats up oil fast, so your homemade fries should come out delicious and crispy. The operation is pretty straightforward, and the parts can be cleaned in a dishwasher.
It looks sleek on the kitchen counter, and the build is solid. Read this Hamilton Beach 35032 review to discover its features.
Large capacity
This deep fryer has an ample oil capacity that is enough to fry up to eight cups of food. You can cook up to two portions of food in one batch, but if you need more, don't worry because the appliance is quick because it can hold temperature for consistent cooking. It's good enough for most occasions.
1500 watts
With a 1500W heating element, the Hamilton Beach deep fryer offers plenty of power. The heating power ensures that oil heats up quickly so you can prepare food in minutes. Given the large capacity, the heating power is similar to other models of this range.
Detachable parts
This deep fryer is designed with easy-to-fit parts, including the oil tank, lid, and cooking basket. The heating element is also detachable, meaning you can pop everything into a dishwasher except the heating element. It's also easy to hand wash with a sponge and mild soapy water. The basket is designed with a hook for mess-free draining with a lid covering the hot oil during cooking for safety.
Magnetic cord
Like most Hamilton Beach deep fryers, this appliance comes with a break away magnetic plug-in cord for safety reasons. This ensures the deep fryer doesn't topple over if you accidentally yank the cord. This is a safety feature you need to consider.
Mess-free oil removal, thanks to a hook that offers easy draining after frying. You can use the lid to cover the hot oil and food to avoid splatter.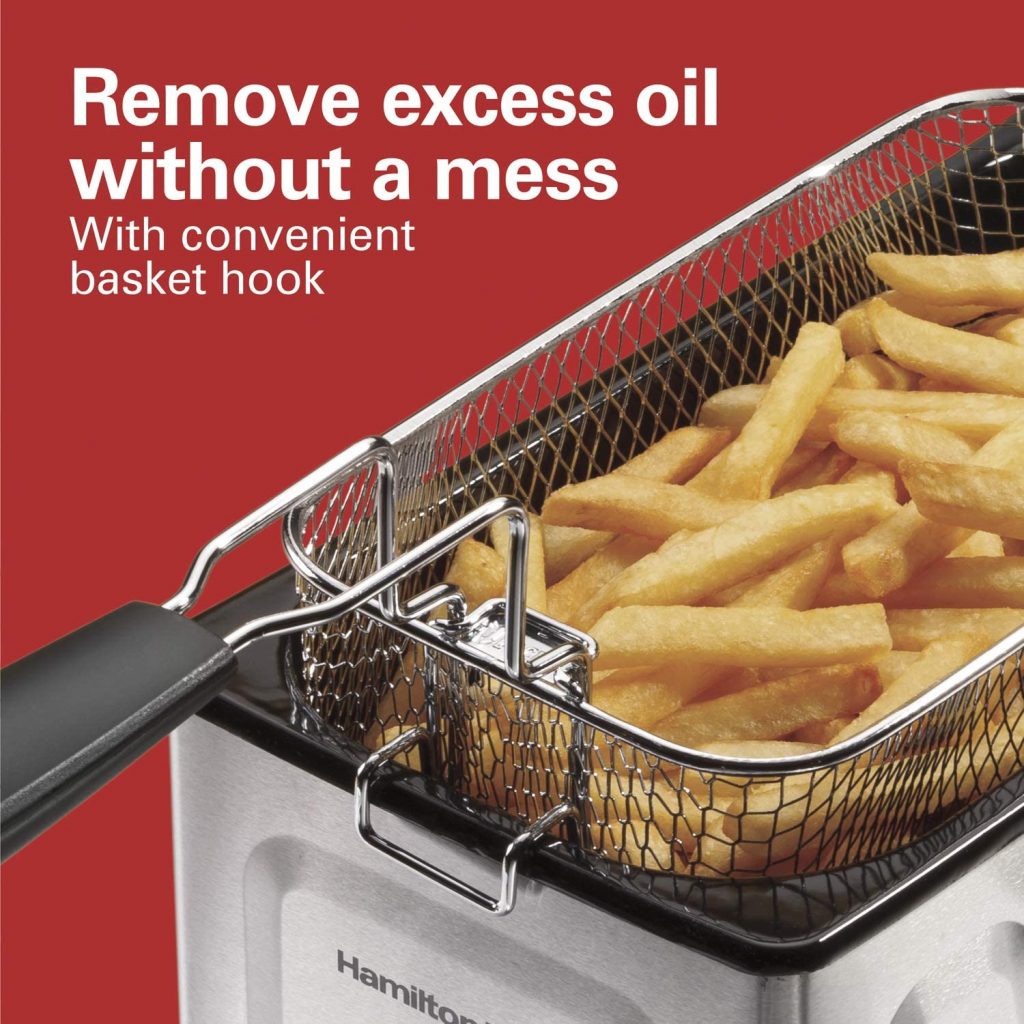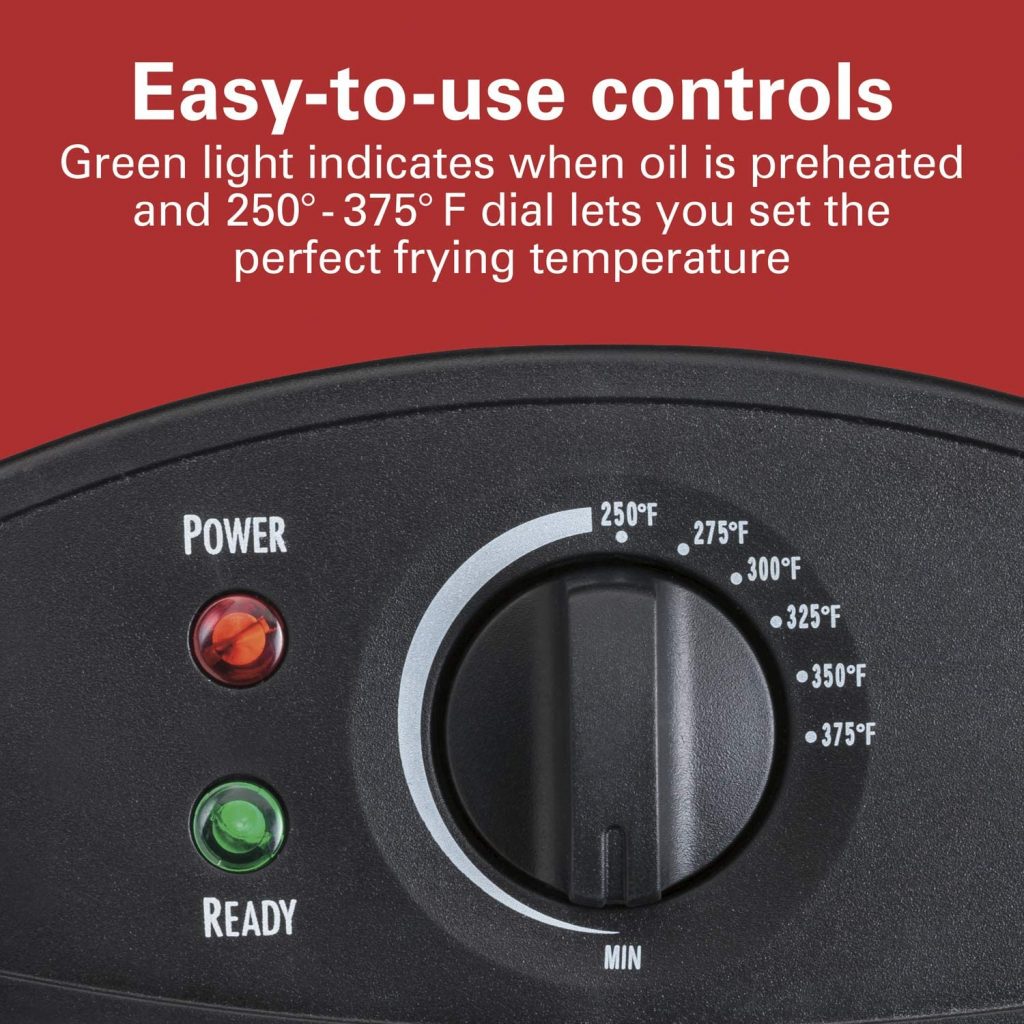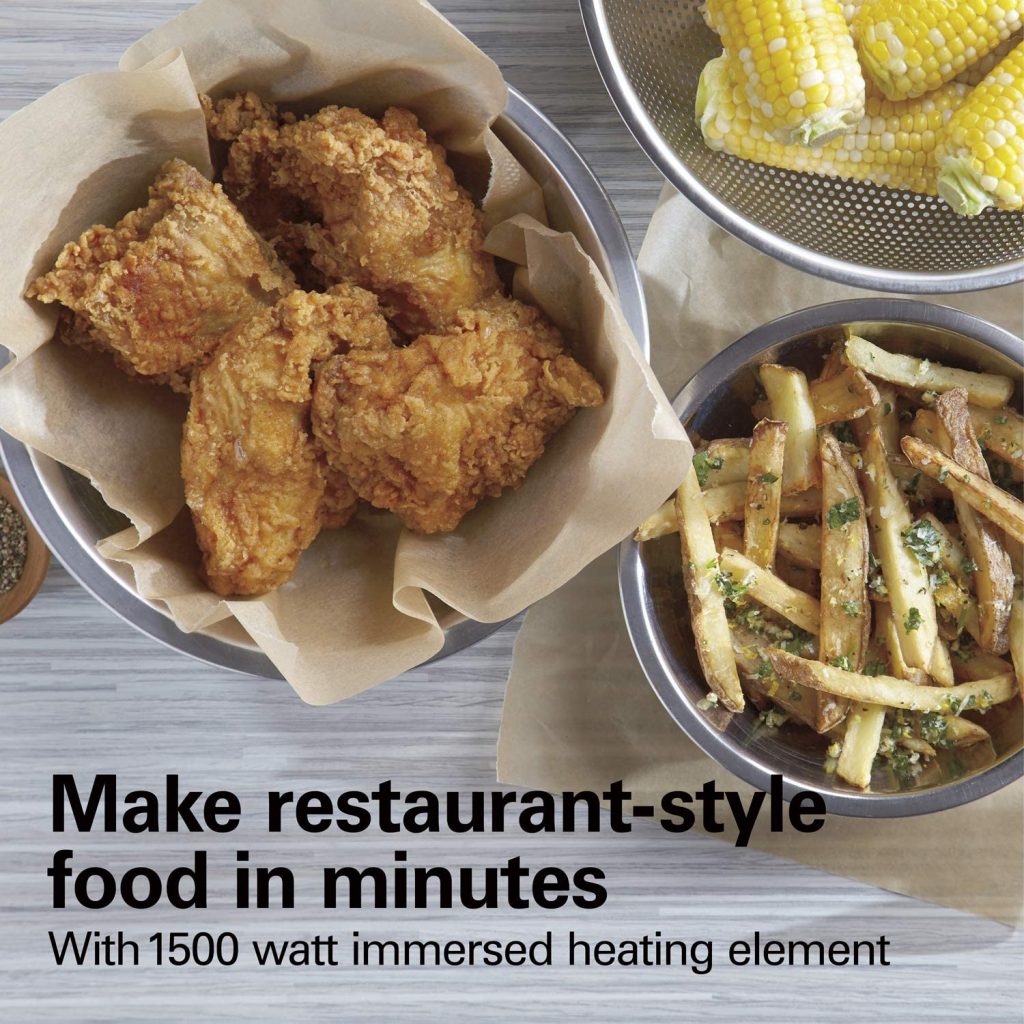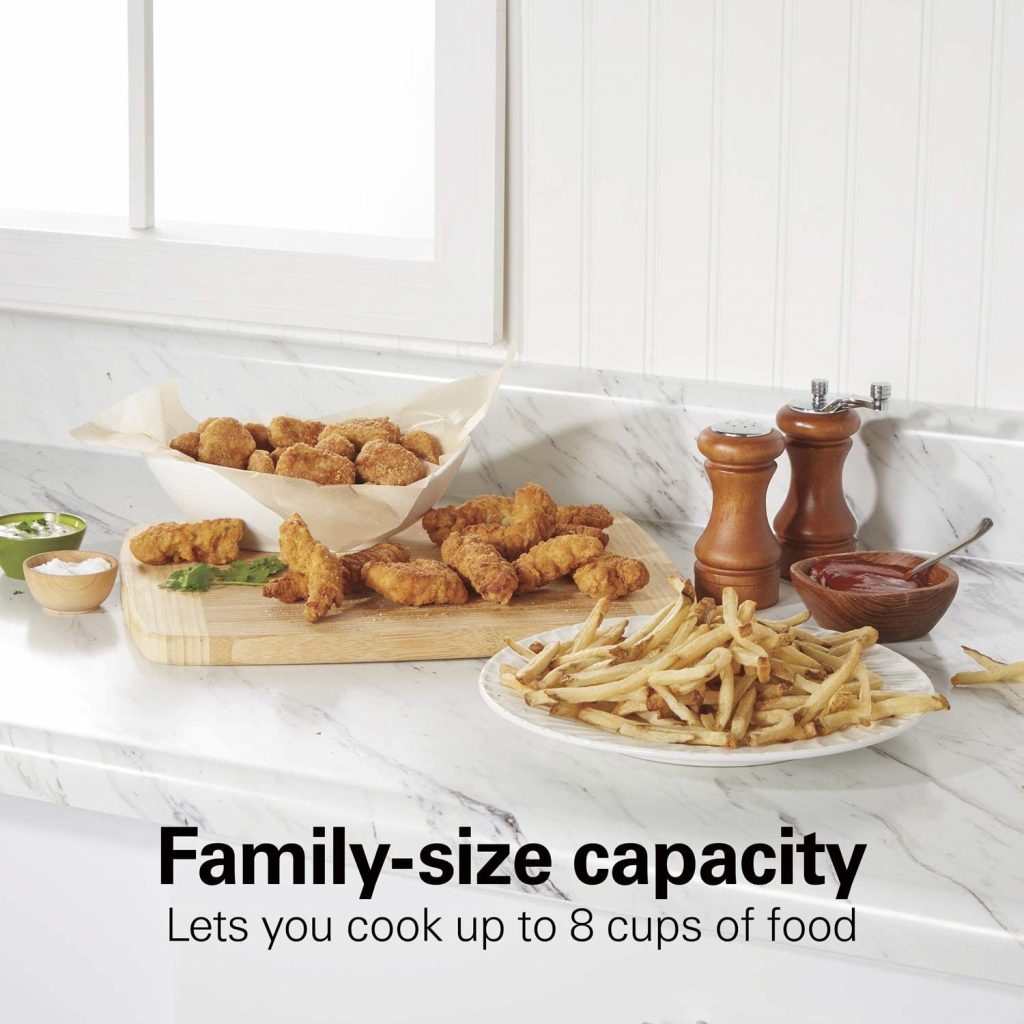 Easy to detach and assemble
Easy to clean
It has a powerful heating element
It offers a family-sized capacity
This deep fryer is great for families. The immersed heating elements heats oil quicker along with a timer that shuts off automatically. The power cord magnetically attaches to the fryer for safety when the fryer is cooking. Its design allows for easy access to the parts for easy cleaning. Using the machine is easy because you just need to set the right temperature depending on your cooking. Just be sure to have enough space for this appliance. We highly recommend it.