If versatility is your main consideration in kitchen appliances, the Toshiba AC25GZA (GR) air fryer toaster oven could be a suitable option to check out.
It's a six slice toaster oven that boasts 13 options, including defrost, bake, broils, rotisserie, toast, reheat, keep warm, pizza, bagel, slow cook, dehydrate, and cookies.
The machine has a non-stick interior that makes it easier to clean and maintain. The interior is much roomier than similar models, allowing you to prepare more food. The large family oven can hold up to 4 lbs. of chicken, six slices of bread, or a 12-inch pizza.
It's also compact and sleek with external dimensions of 16.7" W X 16" D X 13" H. Read on this Toshiba 13-in-1 air fryer toaster oven review to learn more features.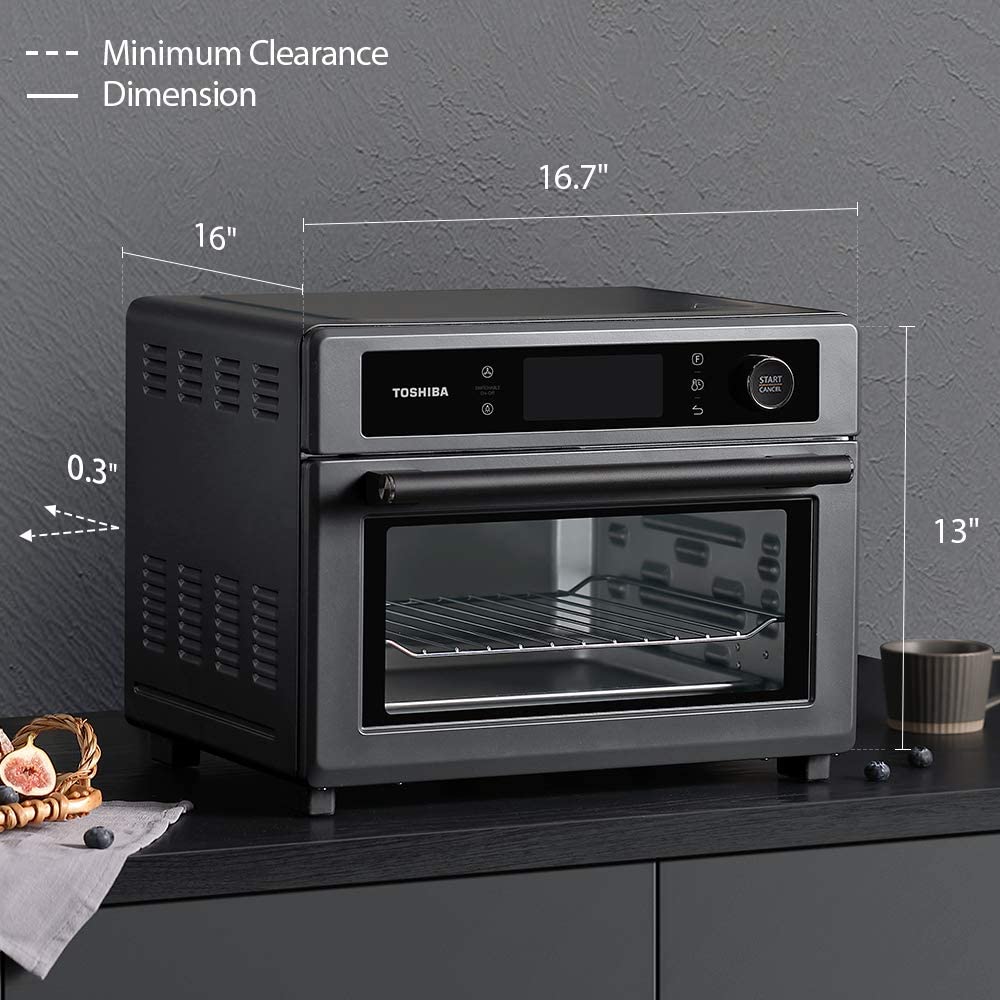 Numerous functions
This is the ideal option for trying endless recipes at home, thanks to the many preset options you get. As just mentioned, there are thirteen cooking presets, with 12 of them being programmed functions in addition to your standard oven.
The versatile machine allows you to use six functions, including an air fryer, toaster, grill, food dehydrator, food warmer, and fermentation.
There are three rack positions to offer you flexibility for different food with an indicator on the door. With such a larger space, this appliance won't limit you to cooking just one pot because you can fit two medium pots next to each other, each containing a different meal.
Faster cooking
Alongside numerous presets, the machine offers a powerful 1750 watts motor that should cook food fast. With its six heating elements on the upper and lower side, food will come out more evenly. The oven works through a convection fan that circulates hot air inside the cavity, speeding up cooking significantly.
Better yet, you need little to no oil to cook the crispy dishes like French fries and chicken nugget, thanks to a healthy air fryer.
Easy to use
Despite providing so many options for cooking enthusiasts, you should find Rachael Ray's set quite straightforward to operate. It offers a large screen with 13 touch programs and easy-to-turn knobs as well as in interior light. Moreover, the display is 4.5" large and clear so that you can peek to see the cooking progress.
Easy to clean
Cooking is one job, while cleaning is another. This oven is fairly easy to clean, with a removable crumb tray and a non-stick cooking basket. You can easily clean these with a damp cloth when debris piles. The exterior has an anti-fingerprint material that resists dirt, which also makes it easier to clean.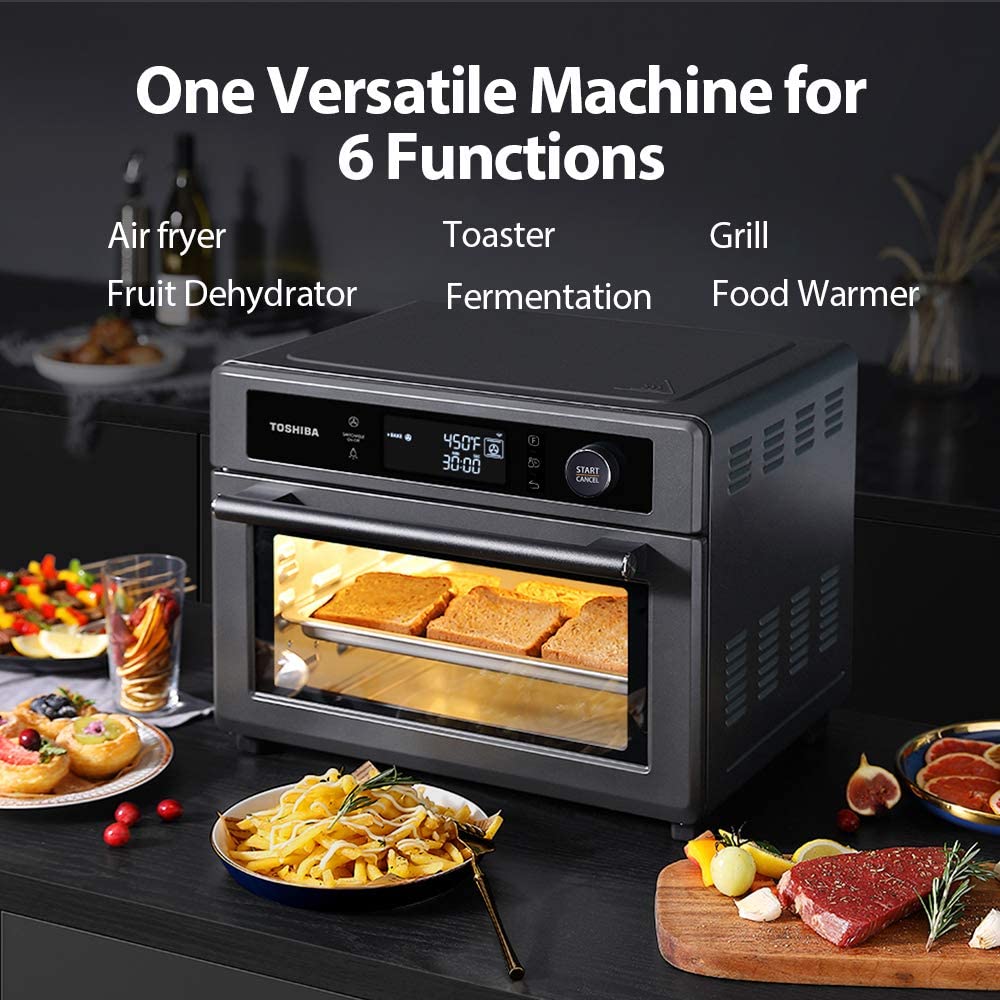 It's powerful with six heating elements
Has an extra-large interior
It's highly versatile
Easy to clean
The cool grey finish looks stylish
It may take some time to know how to operate because the manual is too short
Most users agree that the Toshiba Air Fryer Toaster Oven is reliable with an extra-large capacity for big families. It's also one of the most versatile appliances on the market today, and overall provides good value for money.
One more thing,
The stylish cool grey finish will elevate your kitchen appearance.