Sometimes you crave a crispy fried chicken, sometimes you want a tender pot roast. One day you want to spend time in the kitchen, the other day you wish to set your food and forget it. There are many appliances to help you do this, but who has all that kitchen space to accommodate all these needs? The new Ninja Foodi FD302 comes to the rescue.
The kitchen appliance has all the functions you could ever want from a multicooker, including two methods most home cooks love today: air frying and pressure cooking. And it does these two extraordinarily well. At almost $200, it's not cheap, but a space saver, especially for those who want to replace their instant pot.
It's a versatile, easy-to-use, and efficient appliance that's ideal for cooks who want to delicious results from air frying and pressure cooking in one machine. Read through this review of the Ninja Foodi FD302 to learn its main features, the pros and cons, and whether it's a worthy buy for you.
TenderCrisp Technology
One of the reasons for its efficiency is the TenderCrisp technology that allows you to get the best of pressure cooking as well as air frying for the perfect texture. The technology combines pressure cooking with a crisping setting to cook ingredients more quickly. The nonstick pot locks in all juices and aroma with swap lids for a crispy golden finish. This makes it ideal for making dessert, chicken, chips, and much more. Besides, Ninja used the Precision Cook Control technology to manage the bottom heating element to ensure precise and even cooking.
11 programmable functions
This model is gaining popularity because of its versatile functions that bring convenience. The good thing is you don't need to take long to familiarize yourself with the functions. In addition to having air frying and pressure cooking functionality, the Foodi can steam, saute, dehydrate, slow cook, bake, sous vide, make yogurt and keep food warm in the pot. There's also a stainless steel nesting broil that allows you to steam, broil and add an additional layer of capacity.
Easy to clean
Both the pot and cook & crisp plate are nonstick and dishwasher safe. This means less cleaning because debris won't stick, and you can just pop the accessories into a dishwasher when you need to clean. This is a low maintenance cookware for busy couples and singles.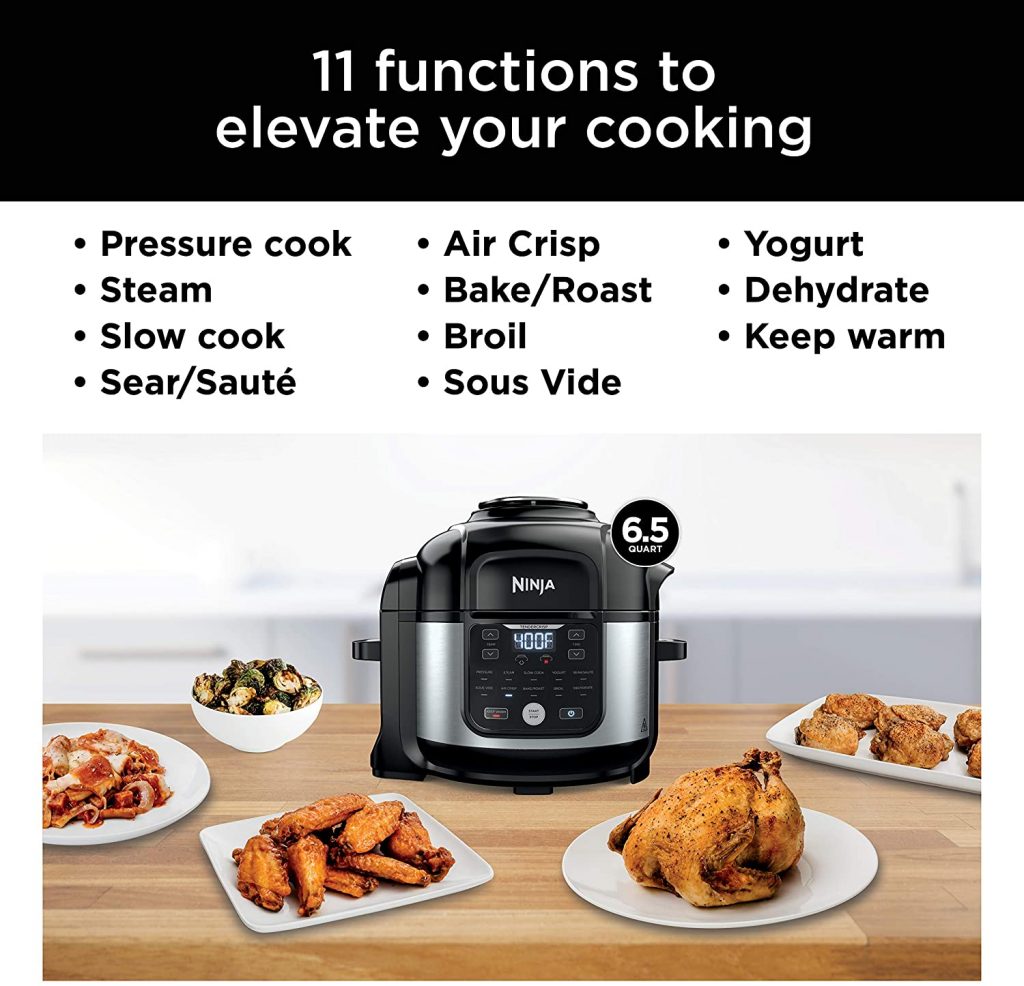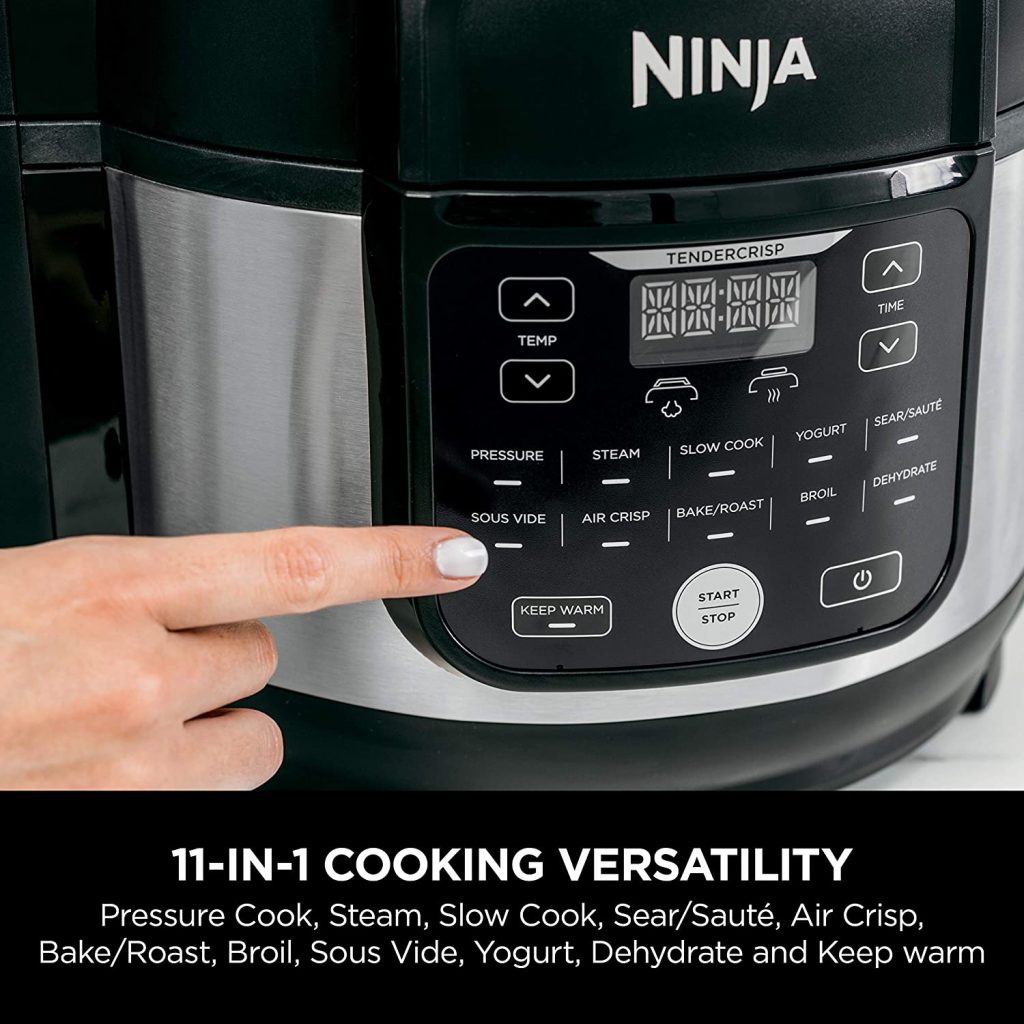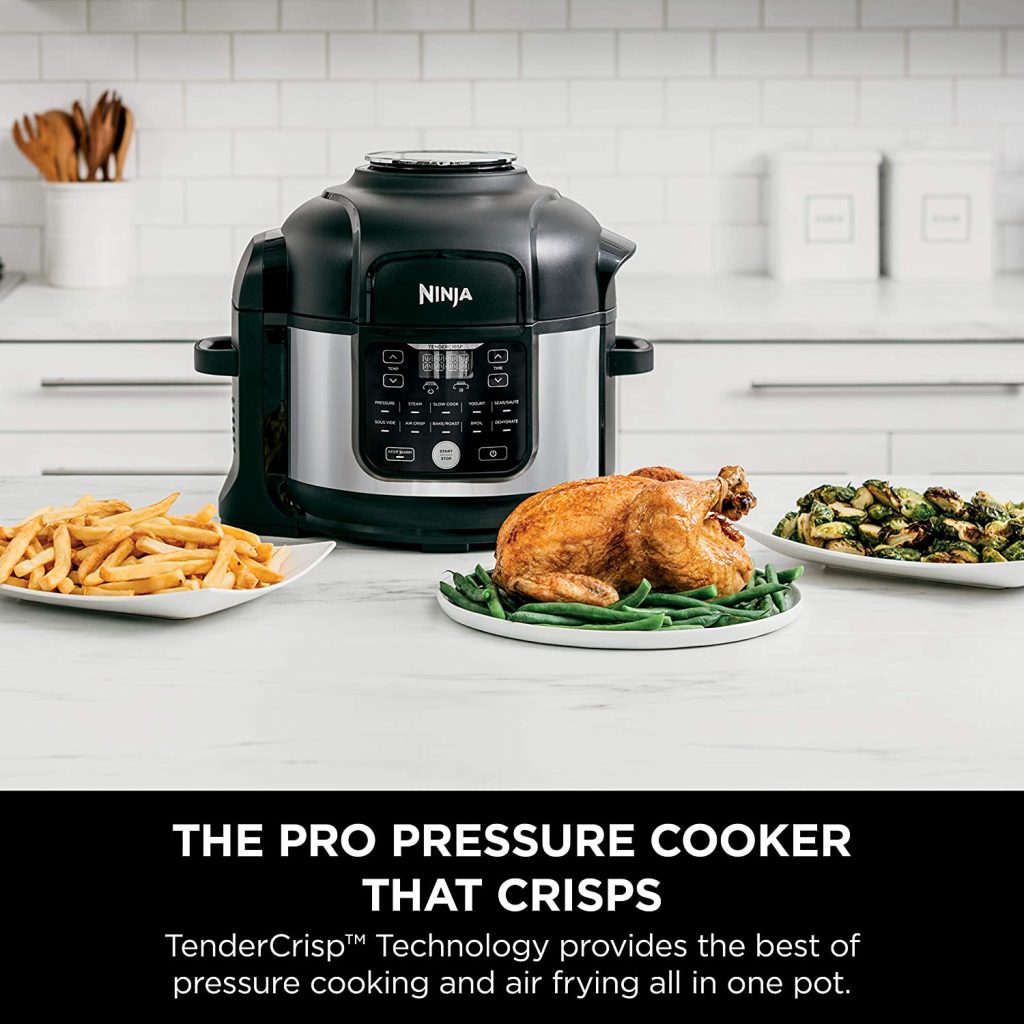 It's highly versatile and efficient
Cooks food with less oil/fat
It offers a large capacity
It saves on space
It might take more cooking time
If you've been making homemade dishes, the Ninja Foodi is definitely worth your time and money. Apart from being highly versatile with tons of features, it can dramatically reduce your cooking time and keep your food warm for hours. The appliance can hold up to 5 pounds of chicken or 6 pounds of roast, which is ideal for families and small house parties. It'd be great to have a single appliance that cooks anything and everything, right?