T-Fal has over 60 years of excellence in nonstick- cookware production, and their designs have revolutionized how meals are made while also making life easier. For their customers. Their nonstick cookware set features 13 pieces with removable handles that allow you to use the cooking utensils in the oven without melting any of the plastic bits.
You can stack up the entire set to save up space during storage. Every plan has a platinum nonstick coating that's long-lasting and makes it easy to clean up after cooking your meals. The entire set is also induction-compatible and dishwasher safe.
Let's take a look at some of the features of the T-Fal Ingenio nonstick cookware set:
Specialized Equipment
T-Fal Ingenio nonstick cookware set consists of 13 pieces that can serve all your cooking needs. The 8.5 and 11-inch fry pans have removable handles that work with the rest of the set. This includes 1.5- and 3-quarts saucepans, 3.5-quart sauté pan, and a 10.5-inch work frypan. The set also ships with three glass lids equipped with silicone rings and two silicone storage lids. These lids can perform multiple tasks, from cooking to chilling and reheating leftovers, airtight.
Patented Removable Handles
T-Fal has unique patents for their removable handles that feature three-point safety systems that can withstand over 22 lbs of weight in either of the pans. You can quickly unhook the handles from one pan and use them on another. Just remember to take them off while using the cookware in an oven. These handles are also well insulated to protect your arms while handling hot pans.
Platinum Non-Stick Coating
All the pans in this cookware set have a platinum non-stick coating that's long-lasting. The coating makes it much easier to clean up after meal prep without the need to scrub down the pans heavily.
Thermo Spot
These pans have thermo spots that indicate when the cookware is optimally preheated. With this knowledge, you can always expect to prepare perfectly cooked and delicious meals. The Thermo spot makes obtaining optimal flavor notes from your meals easier without ending up with burnt outcomes.
Induction Compatible
T-Fal Ingenio nonstick cookware is induction compatible and oven safe up to 500 degrees F. this is accomplished by having a thick stainless-steel base that heats up quickly and distributes the heat evenly across the pan's inner surface.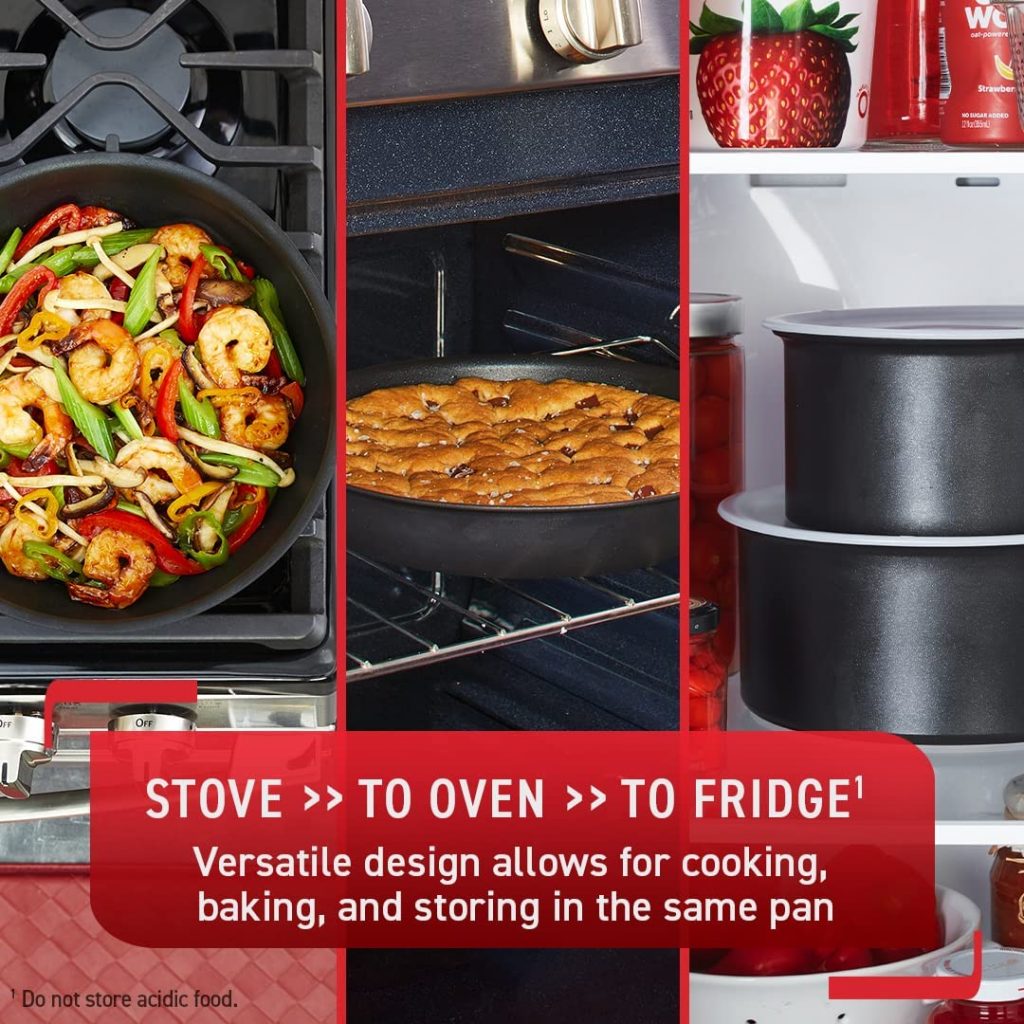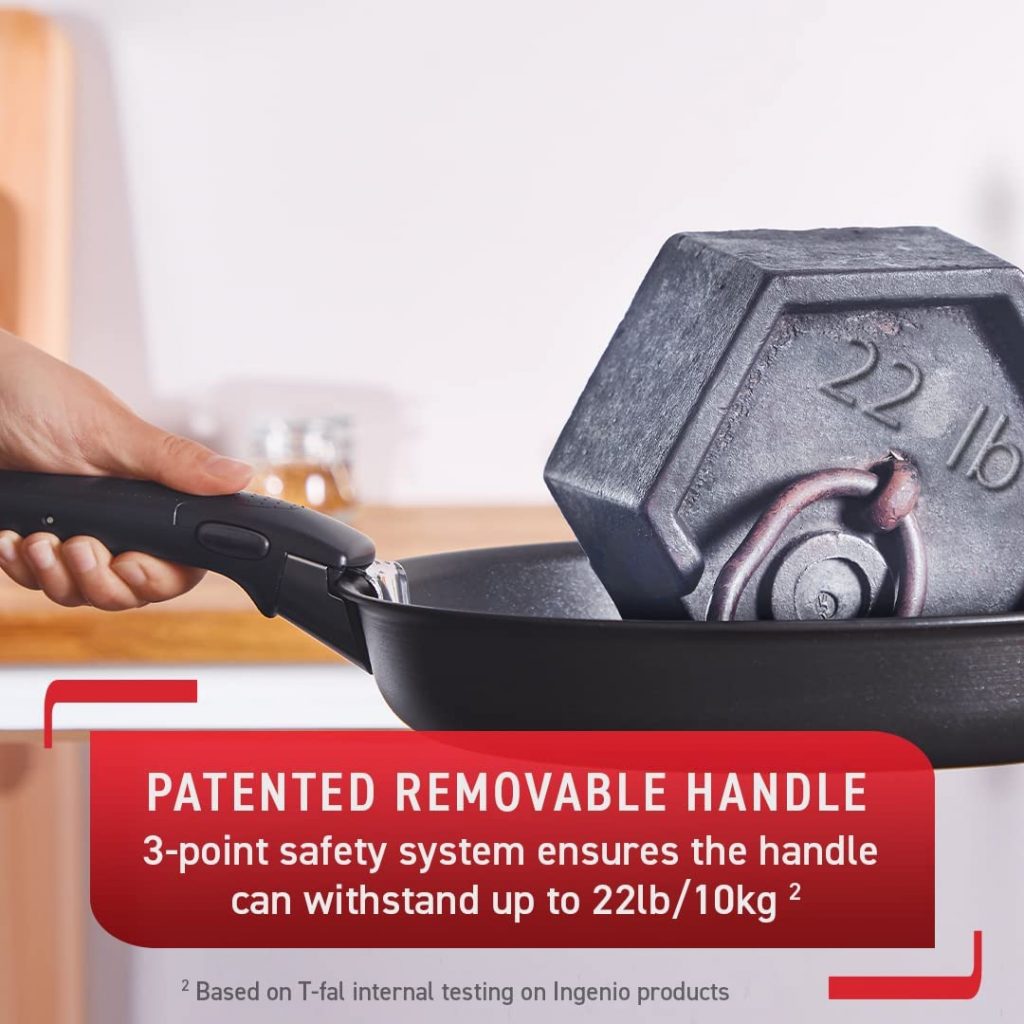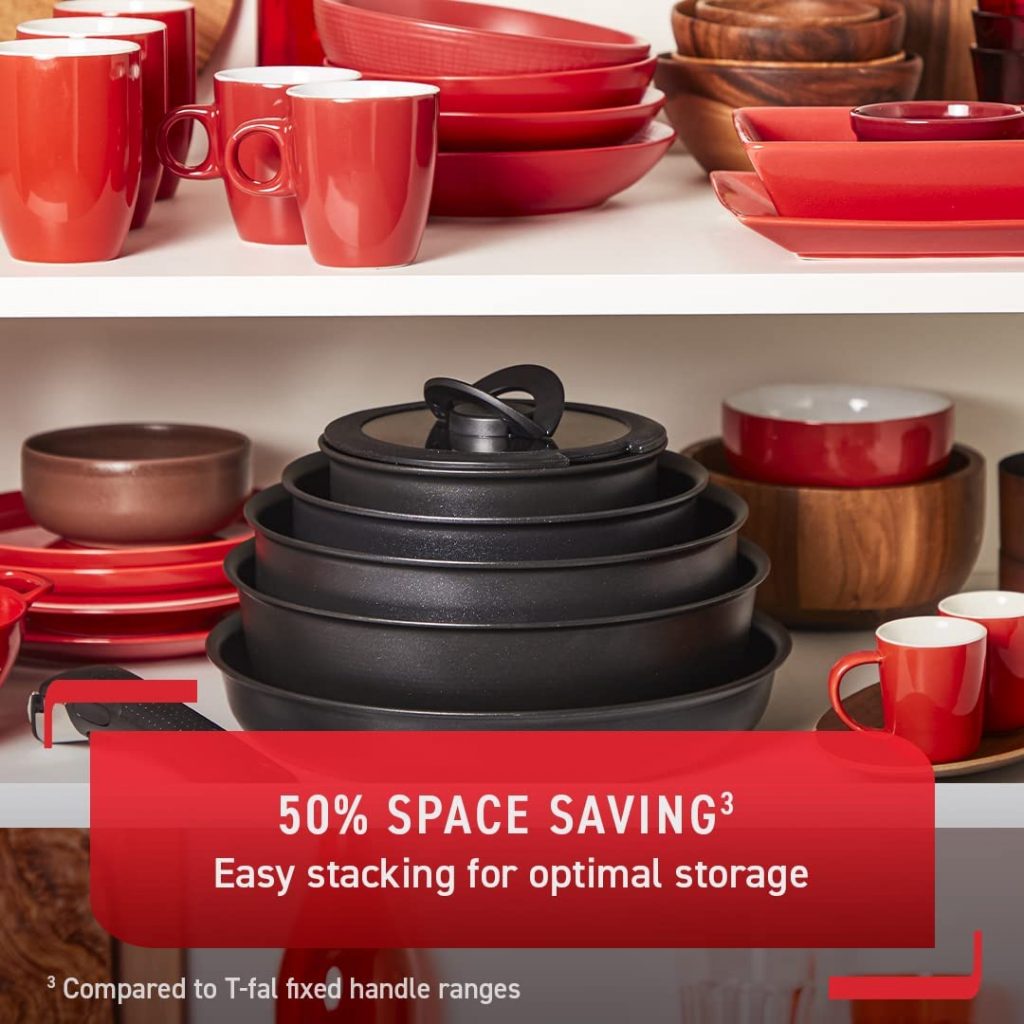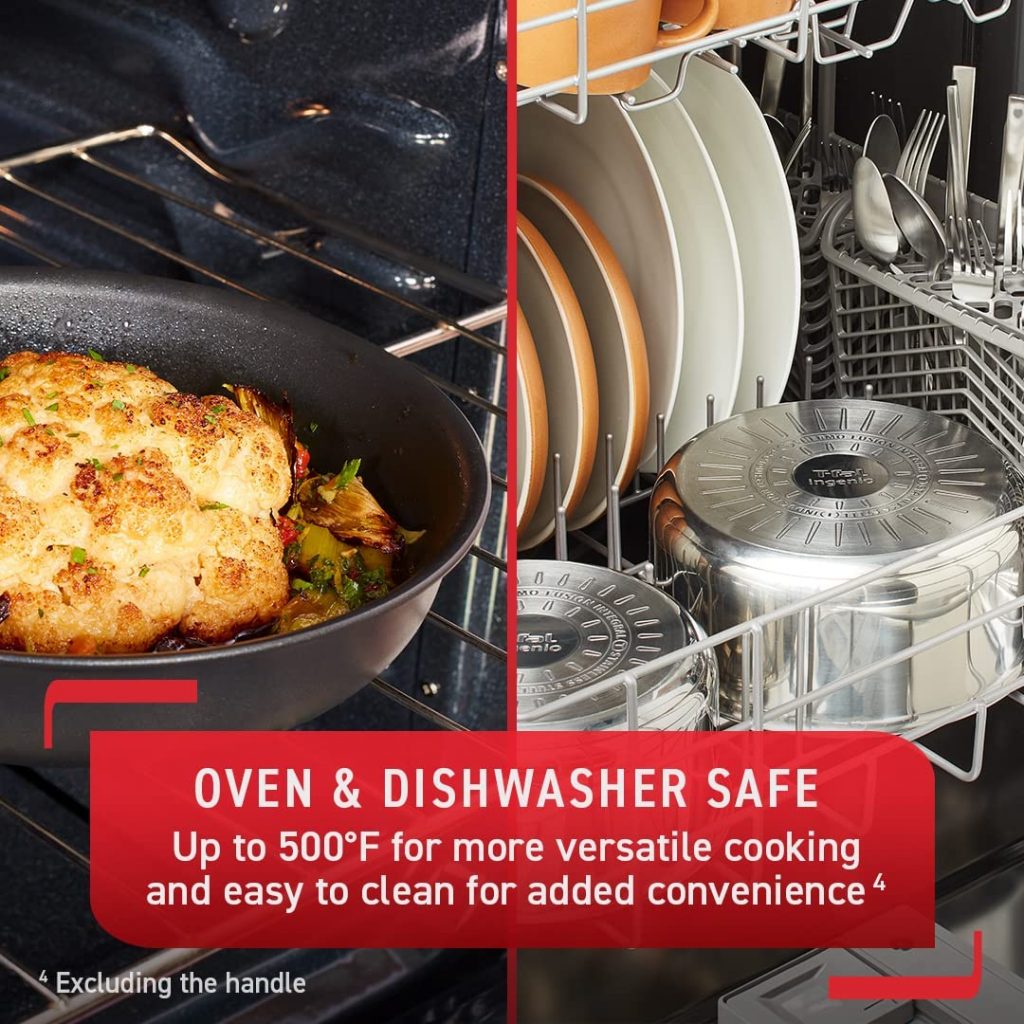 The pans come in varying sizes to give you the freedom of choice when preparing your meals.
It comes with five lids for cooking, chilling, and even reheating leftovers.
The cookware is dishwasher safe.
Some customers complained about the handles becoming slack over time.
T-Fal Ingenio nonstick cookware set is best recommended for anyone looking to give their kitchen a quick and comprehensive upgrade. The collection consists of frying pans and sauté pans in various sizes to fit your cooking needs, and they all have a nonstick coating. You can use these pans in the oven, and they are also easily stackable for long-term storage. Go ahead and transform your cooking game with the T-Fal Ingenio nonstick cookware set.