Would you like to be a perfect mom or dad in the kitchen? Do yourself a favor and buy the 4.4 Qrt T-fal Air & Grill Combo Digital that helps take your cooking experience to a whole new level. Featuring grill technology, this product enables you to grill Fresh Fries, Fish, Chicken, Vegetables, and Meat. The grill technology also comes in handy with an aluminum grid grill allowing you to sear veggies, and tender and juicy meat to perfection, enriching the taste. Let's find out more of what this product has to offer!
Features of 2-in-1 T-fal Air Fryer and Grill Combo Digital
Air Frying Technology
Cooking and grilling just got easier and healthier with T-fal Air Fryer & Grill Combo Digital. Thanks to the air frying and extra crisp technology, this machine stands out from traditional ovens and, air fryers & grills. You will enjoy golden results for crispier and juicy, delicious grilled foods guilt-free because you'll use little to no oil that keeps your health in check.
8 ml of oil is enough to prepare a whole chicken or 700g of fresh fries saving you 99% of added fat. You won't have to worry about gaining weight anymore. Besides, your meals have got a crispy texture to ensure your delicacy is mouth-watering.
Highly Versatile
When it comes to the myriad of selections and versatility of needs, this product ticks all the right boxes. With 8 preset programs, the 4.4 Quart T-fal Air Fryer & Grill Combo allows you to prepare Roasted Chicken, Fish, Meat, Pizza, Dessert, Vegetables, Nuggets, and Fries completely hassle-free, making it your perfect kitchen companion.
Fast Cooking
If you are in the market for a super cooking machine that completes meals in minutes, you will never go wrong with the T-fal Air Fryer & Grill Combo Digital. This product enables you to cook up to 49% faster than classical ovens. You will create healthy and easy homemade meals faster; 20 minutes for a 4lb chicken with veggies, 15 minutes for fingerling potatoes, 10 minutes for cauliflower and grilled chicken, and 6 minutes for salmon with asparagus, which helps save on time.
Adjustable Temperature
The 2-in-1 T fal Air Fryer & Grill Combo Digital features a high precision temperature control of up to 200 °C. You can adjust your cooking according to your temperatures from 80°C to 200°C bringing perfection to your cooking. You will definitely be a perfect dad or mom; no one can stand your way.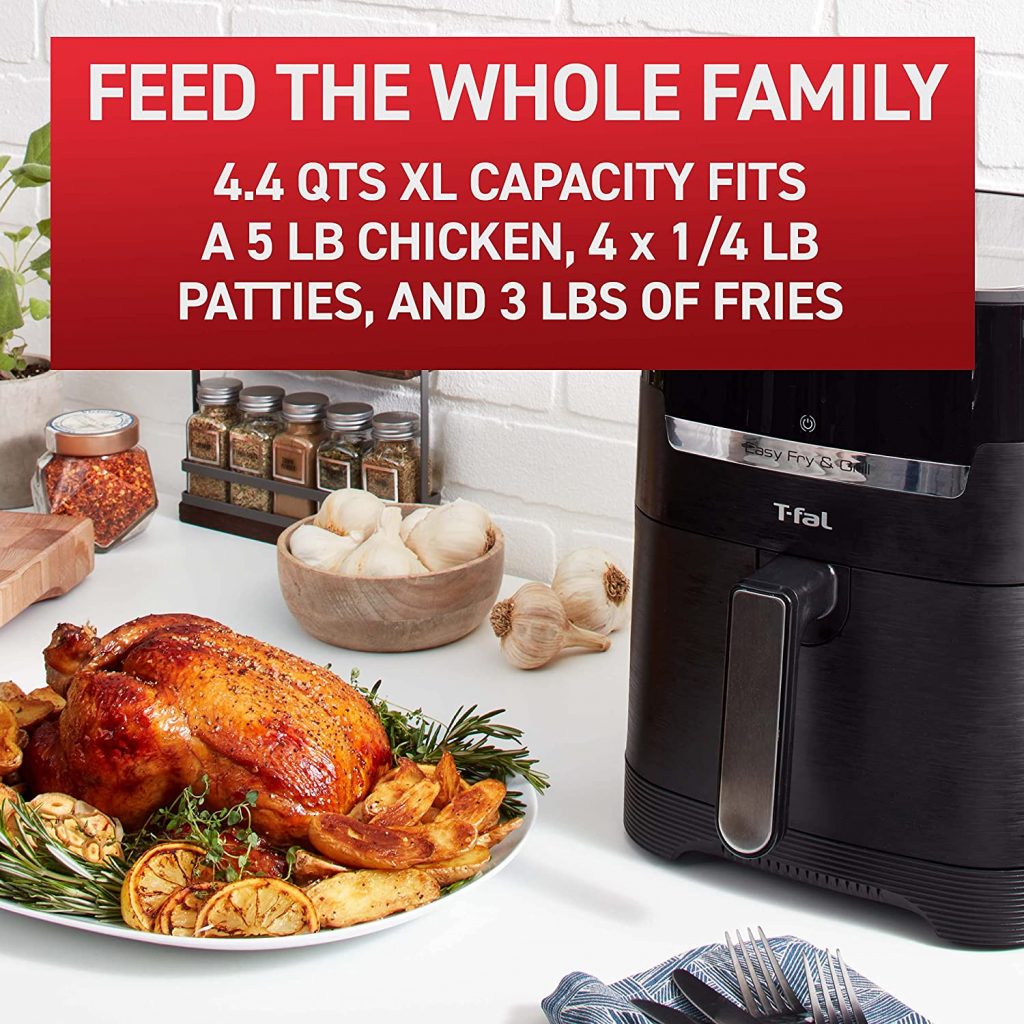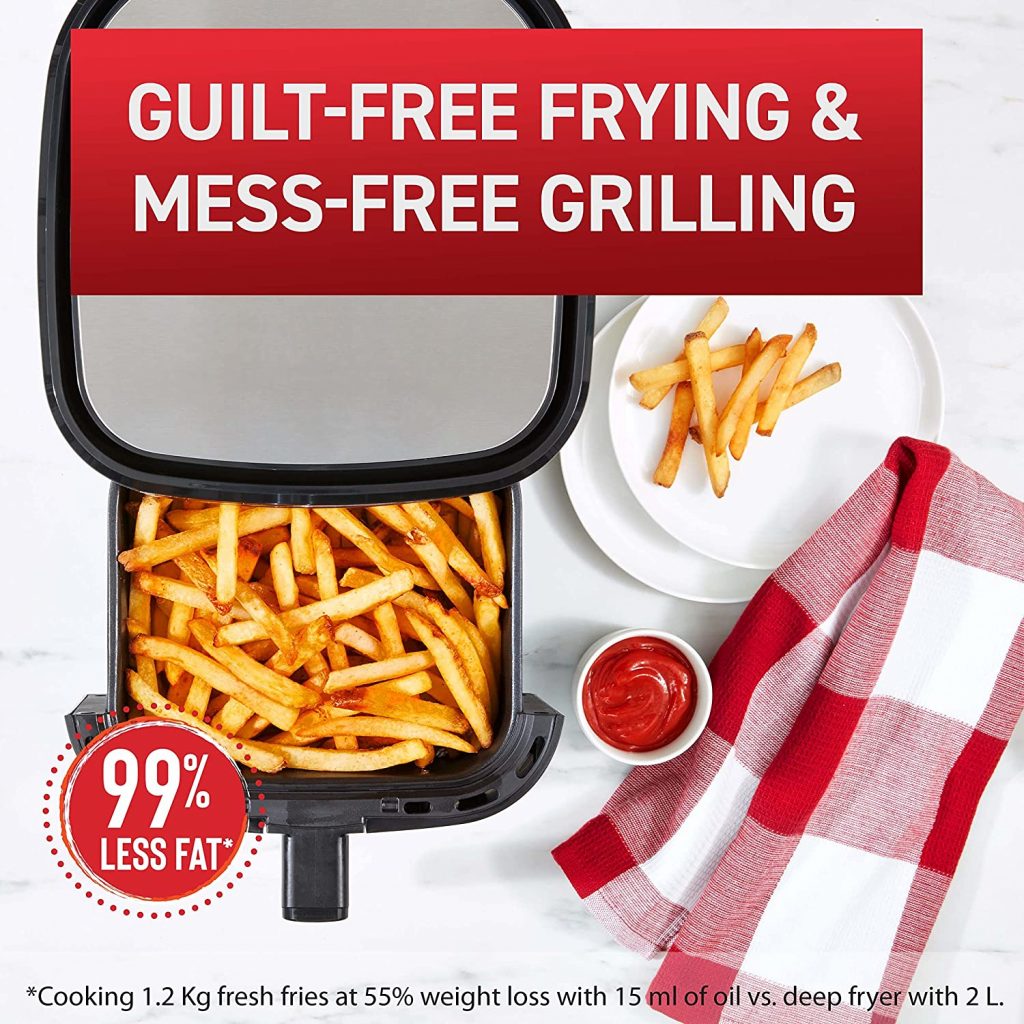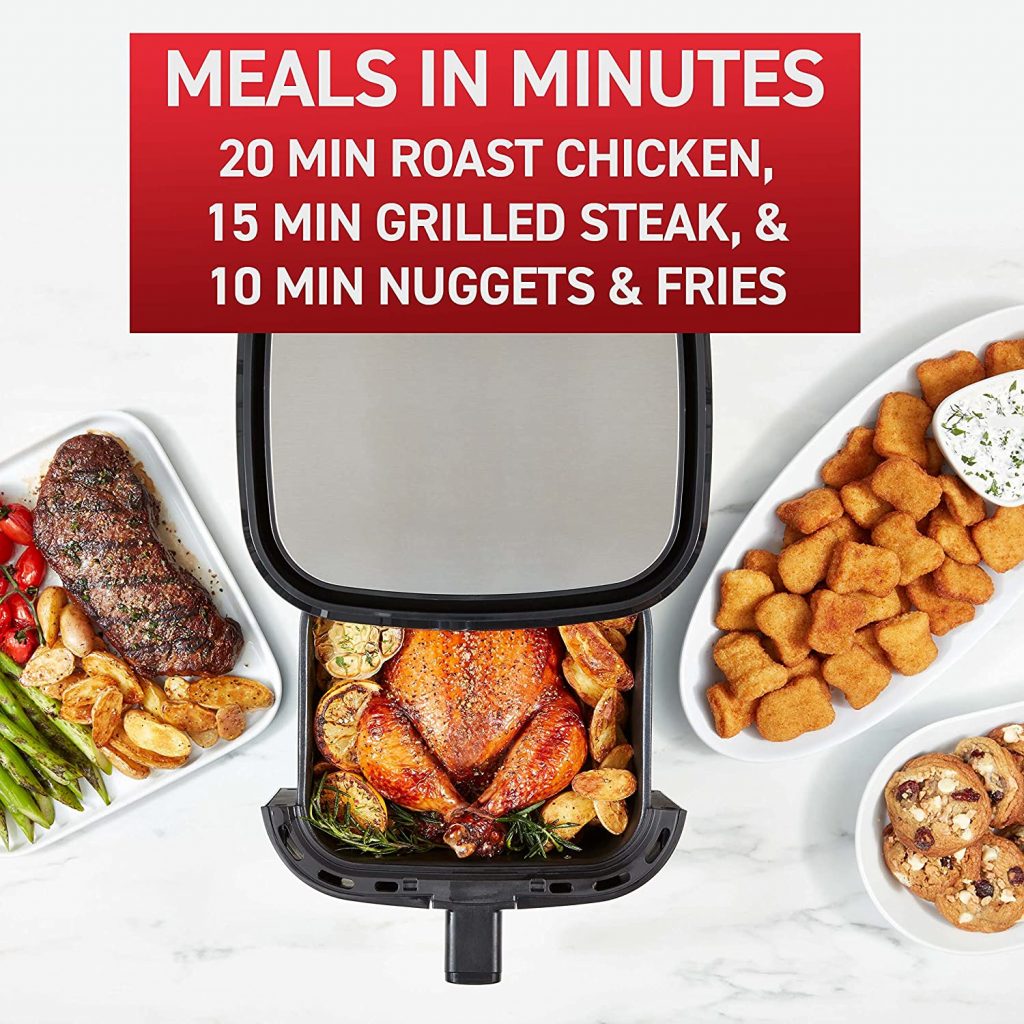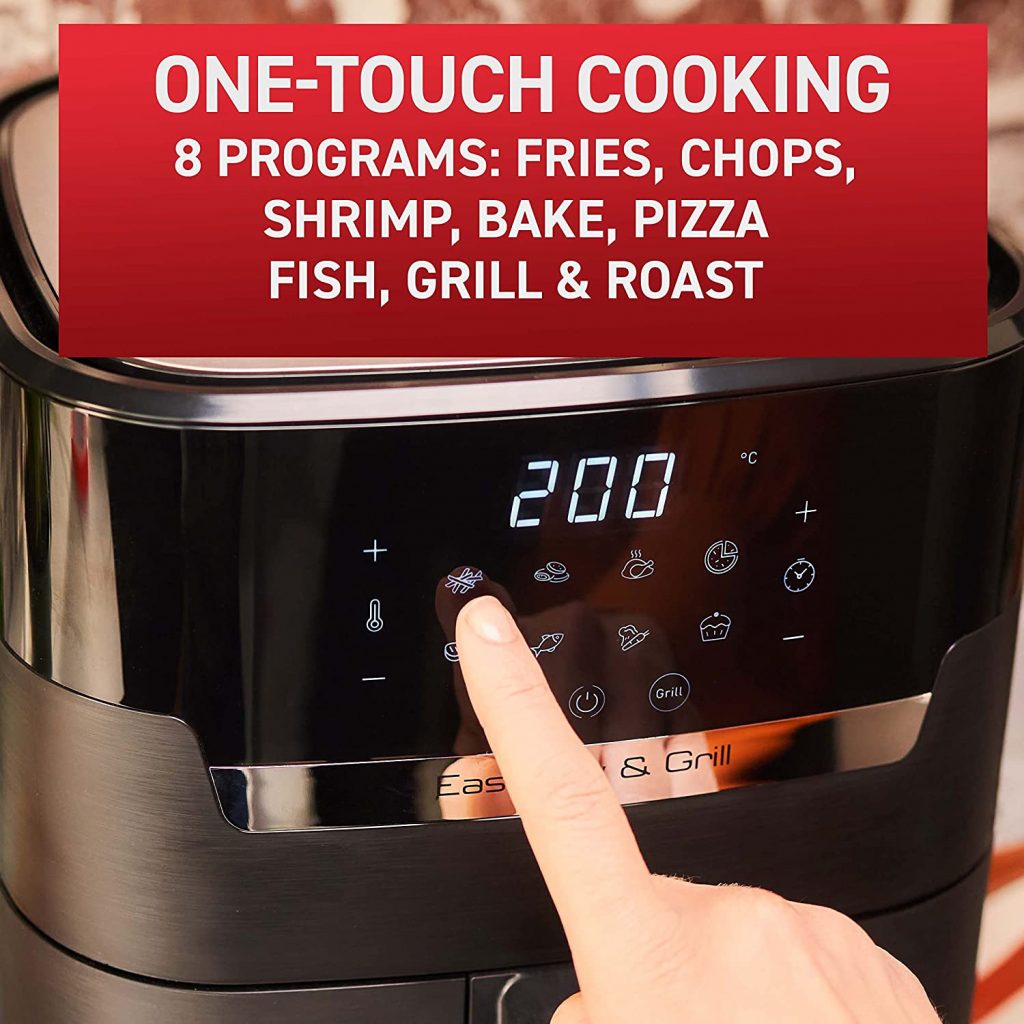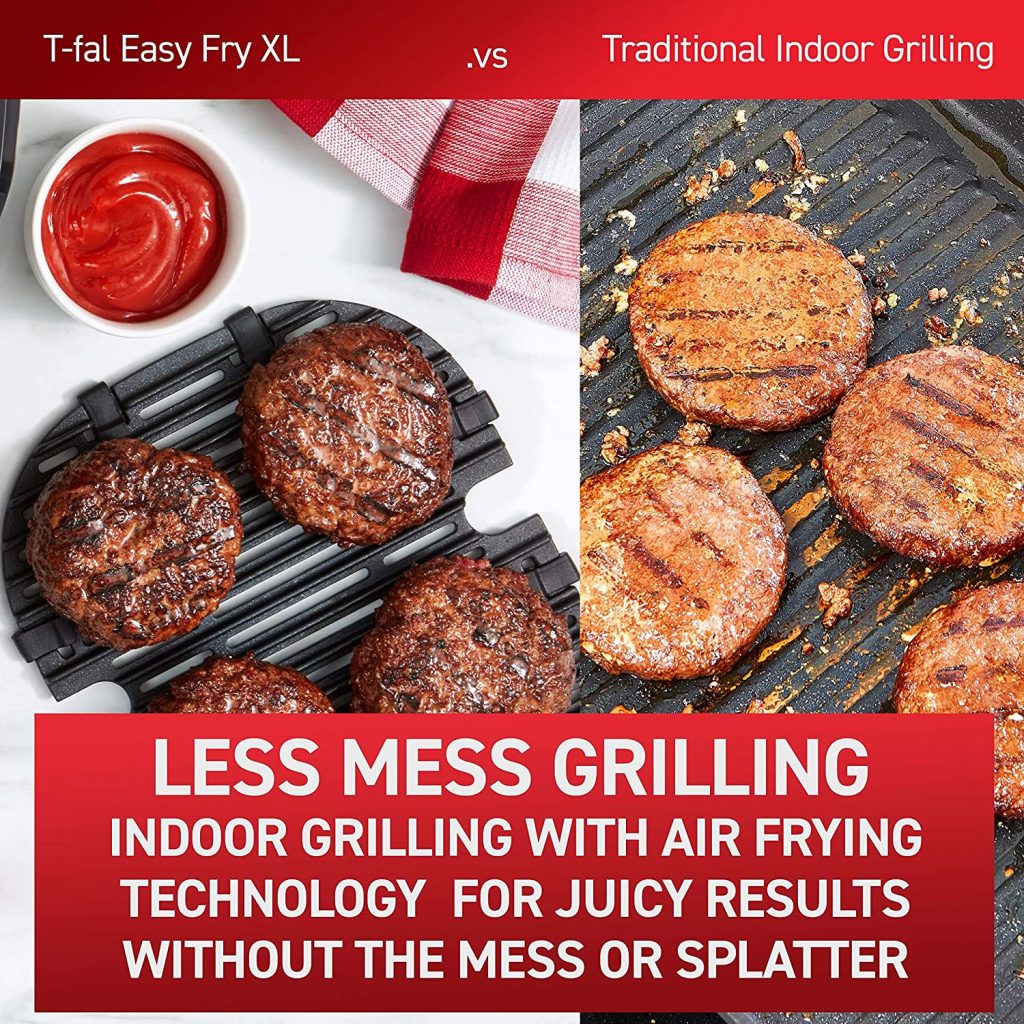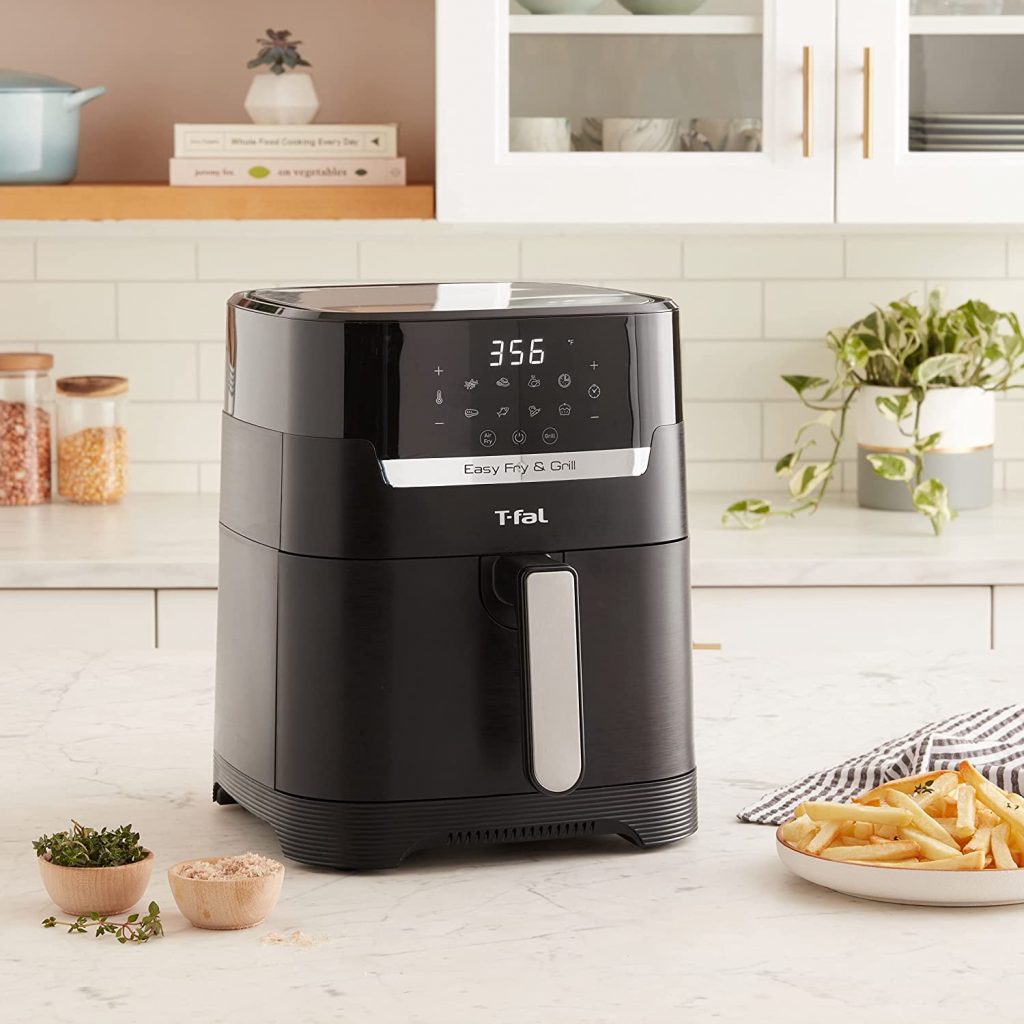 Faster cooking compared to traditional ovens
Air frying technology that uses little to no oil
Versatility of needs
Perfect cooking
Convenient
Easy to clean
Durable
The basket isn't removable
Are you fond of fries but health-conscious about consuming too much oil? Consider purchasing the 2-in-1 T fal Air Fryer & Grill Combo Digital. The grill & air frying combo that this product feature allows you to prepare grilled seared results without the grease splatter that comes with traditional grilling methods making it a must-have. Besides, the air frying technology uses 99% less added fat, saving you on oil costs.
Get yours and be a super mom or dad!