It's true that you can chop food with your Vitamix blender, but can it do it all? The answer is no. while the Vitamix can pulverize ingredients well, this food processor attachment offers more precision. You don't have to buy a separate food processor because it's costly and larger to store.
See this new food processor from Vitamix that has become a game-changer for all Vitamix owners. Just like a standard food processor, the Vitamix attachment can slice delicate tomato, knead the dough, emulsify the dressing, chop herbs, churn peanuts into peanut butter, make pate, and so on. Just attach it to the base and detach it to store in the cabinet when not in use to save on space.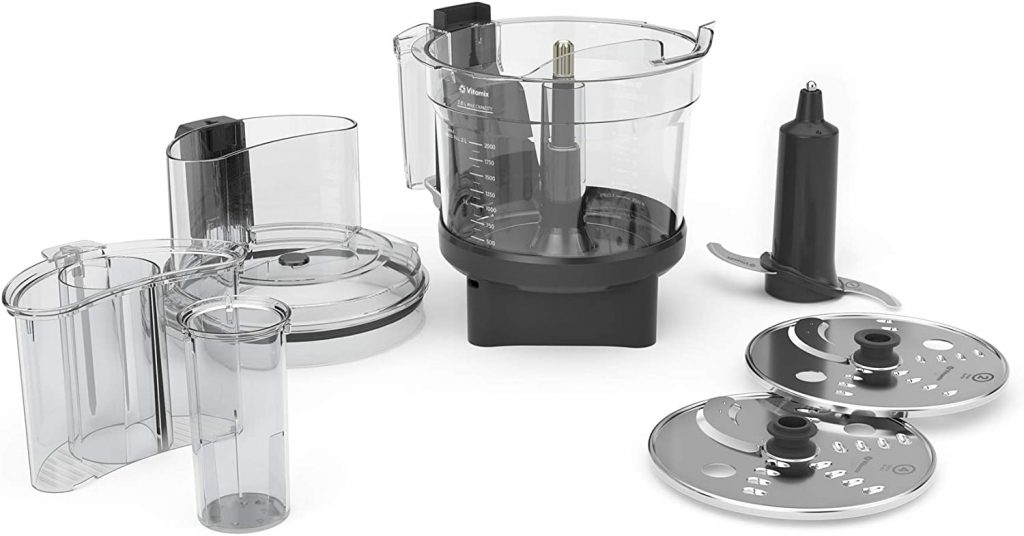 The Vitamix food processor attachment can only be used on Ascent or Venturist models such as A3500, A3300, A2500, and V1200. Putting it on non-Smart Vitamix will bypass the safety features. Read on to discover more Vitamix 12-cup food processor features.
Self-detect base
One of the outstanding features of the machine is the Vitamix Self-Detect technology that's perfect for households that are surrounded by kids. What if a toddler pulls the container off the machine as it's moving? The self-detect technology solves the safety challenge because it uses NFC tags that only activates the motor when the base parts interlock. With SELF DETECT, the machine stops instantly if one container is not there.
Gear Speed Control
To transform the blender base to become a food processor base, this reputable brand had to solve the blade speed because food processors whirl slower than blenders. To solve this, Vitamix made a gearing system at the bottom of the processor attachment to reduce the speed by seven-fold. Because of the gearing system, the food processor only features a one-speed setting.
Work Bowl Release
Do you want to processes different ingredients at once? The work bowl release is an excellent feature that allows for bowl removal without detaching the base. This is an advantage when you want to wash the bowl before processing different ingredients. Additionally, it's easier to clean the container without the base.
12-Cup Work Bowl
This is the ideal food processor for a large family, thanks to the large bowl. What's more, it comes with measurement marks on the side to guide you on quantity. Most users also appreciate that it can attach to the base effortlessly.
Multi-use blade
The Vitamix attachment also comes with a stainless steel multi-use blade that's sturdy. Prepare everything from energy balls and apple galette to pie crust and avocado pasta sauce. Just be cautious when cleaning it because it's very sharp.
It's compact for easy storage
Offers more functionality
The container is dishwasher-safe
It comes with a 3-year warranty
The lid is too tight to remove and attach
A major perk of owning a food processor is speeding up preparation tasks like shredding, chopping, and slicing. The Vitamix food processor attachment is what you need for more textural foods like falafel, cauliflower rice, energy balls, and salsa. It's a no-brainer to purchase the food processor if you already have a Vitamix base. Plus, the warranty service is the best because they pay for shipping both ways in case you need repairs.