Speaking of making life easier in the kitchen, having multi-use kitchen appliances is a game-changer. The Ninja Foodi Pro 5-in-1 indoor grill is one such, allowing you to grill, air fry, bake, roast and dehydrate. Most users like its quality craftsmanship and its outstanding performance when making food. The package contains all the accessories you need, including a grill grate, cooking pot, crisper basket, and a durable cleaning brush.
If you are looking for a reliable appliance to add to that open spot on your kitchen countertop, the Ninja Foodi Pro AG400 might be ideal for you. It will give your food those amazing grill marks, retain the flavor, and leave the perfect browning. Here's what to expect from the Ninja Foodi.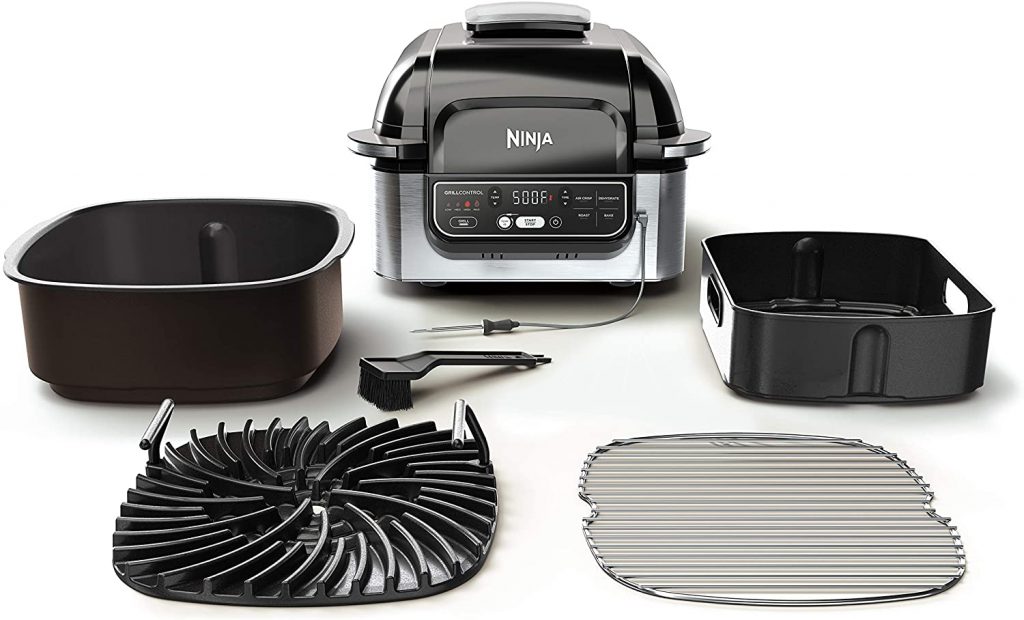 Smokeless
The Foodi is smokeless even when grilling meats and veggies. For this reason, it could be perfect for an apartment that can't work with a gas or a charcoal grill or for busy people who don't have time to set up and grill outdoors. It's also an excellent substitute for outdoor grilling, especially when the weather is unfavorable.
Grills to perfection
Even though this is a multi-use appliance, the reason for the AG400 is grilling. Users reported that their steaks made with this machine were perfect and delectable. One of the greatest advantages of the grill is that heat is delivered from the top-down, thanks to the cyclonic air circulation that ensures food is evenly cooked on both sides. The grill plate can heat up to 500 degrees although you have temperature ranges to choose from depending on the food.
The low level heats up to 4000F, which is perfect from sausages, meats, bacon, thick sauces, and more. The medium is suitable for grilling chicken, steak tips, and meats ad it can heat to 4500F. High is ideal for burgers, hot dogs, and chicken as it heats up to 5000F. The maximum speed is 5000F, which is useful for fruits, frozen foods, yogurt, pizza, veggies, and much more.
Baking, Roasting, and Dehydrating
Apart from grilling, the Ninja Foodi also excels as a vegetable roaster for zucchini, Brussel sprouts, tomatoes, and much more. It comes with a cooking pot that is useful for baking, but you can also use it to cook food and catch the drips when grilling.
The grill also works well for dehydrating tasks such as dehydrating fruits. Just toss the extra fruits you got at a bargain from the farmer's market and save them for the winter. The crisper basket is useful for such tasks and works great for air frying.
Dishwasher-safe
In addition to ensuring your indoor air is smokeless and clean, it's also effortless to clean the Ninja Foodi electric grill. All the components are dishwasher-safe, which should be very appealing if you love cleaning but hate cleaning. Cleaning the components by hand is also easy because the components have non-stick surfaces.
Produces minimal smoke
Has a lot of power – 1760 watts
Components are dishwasher safe
The lid could've been clear to see the food cooking inside
How cool is the Ninja Foodi? High-quality build, lots of power, versatile, and easy to clean. The fact that it uses cyclonic grilling technology means air circulates in the food evenly to ensure even heating. If customer reviews are anything to go by, you will definitely love the Ninja Foodi Indoor Grill.