The Ninja Air Fryer XL is the culmination of years of development and an undying need to transform how healthy meals are prepared. This air fryer uses less than 75% fat compared to traditional frying methods when preparing meals.
The Ninja air fryer XL features max crisp technology that can deliver up to 450 degrees of superheated air to crisp your favorite meals without any oil and much faster cooking. You can also preset cooking programs while experimenting with your recipes or scheduling meal cooking.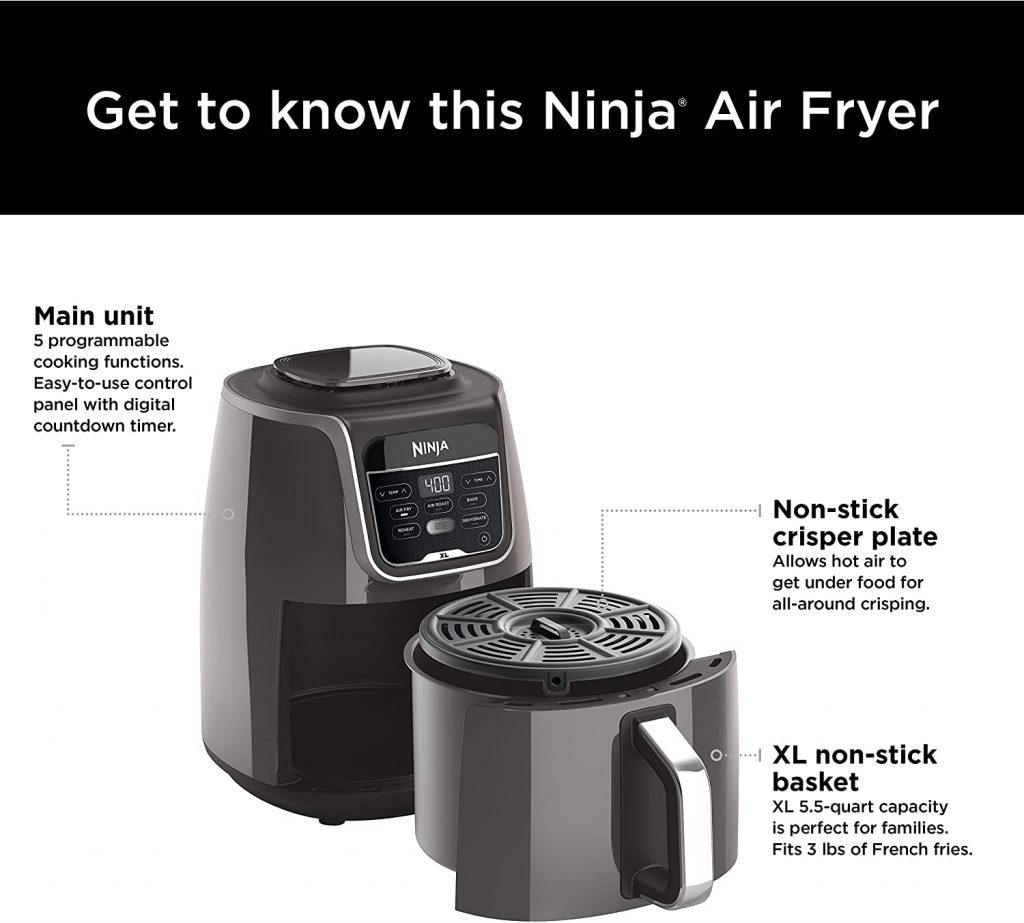 Read on to discover some of the fantastic capabilities that make the Ninja air fryer XL a must-have.
75% less oil
The Ninja air fryer XL relies on the latest max crisp technology to rapidly heat up food with hot air to cook any meal or snack thoroughly and with less than 75% fat compared to traditional methods. With this air fryer, you can prepare healthy and delicious meals without the guilt of eating too much fat as you will not need any while working on most recipes.
Numerous cooking modes
This air fryer is designed to handle multiple cooking modes raining from air frying, air roasting, baking, reheating, and dehydrating meals before storage.  These cooking modes can be adjusted to fit your recipe needs, and the air fryer will automatically save custom presets for future meals.  You can also set the air fryer to keep meals warm after they are done cooking.
Nonstick Ceramic Coating
 The cooking basket and crisper plate are ceramic coated, making it much easier to clean up after cooking. The ceramic coating is also nonstick, so you don't have to worry about stubborn stains. Having a nonstick coating improves the browning effect while also making the meals crispier. The ceramic coated basket and crisper plate are also dishwasher safe, saving you the hustle of manually cleaning them up after each meal.
Extra Accessories
The air fryer ships with a 5.5-quart nonstick cooking basket, crisper plate, and a book containing  20 chef-inspired recipes that you can try out with the air fryer. The air fryer is also equipped with heavy duty power cord to supply its 1750 watts capacity needed to quickly heat up food for faster meals preps.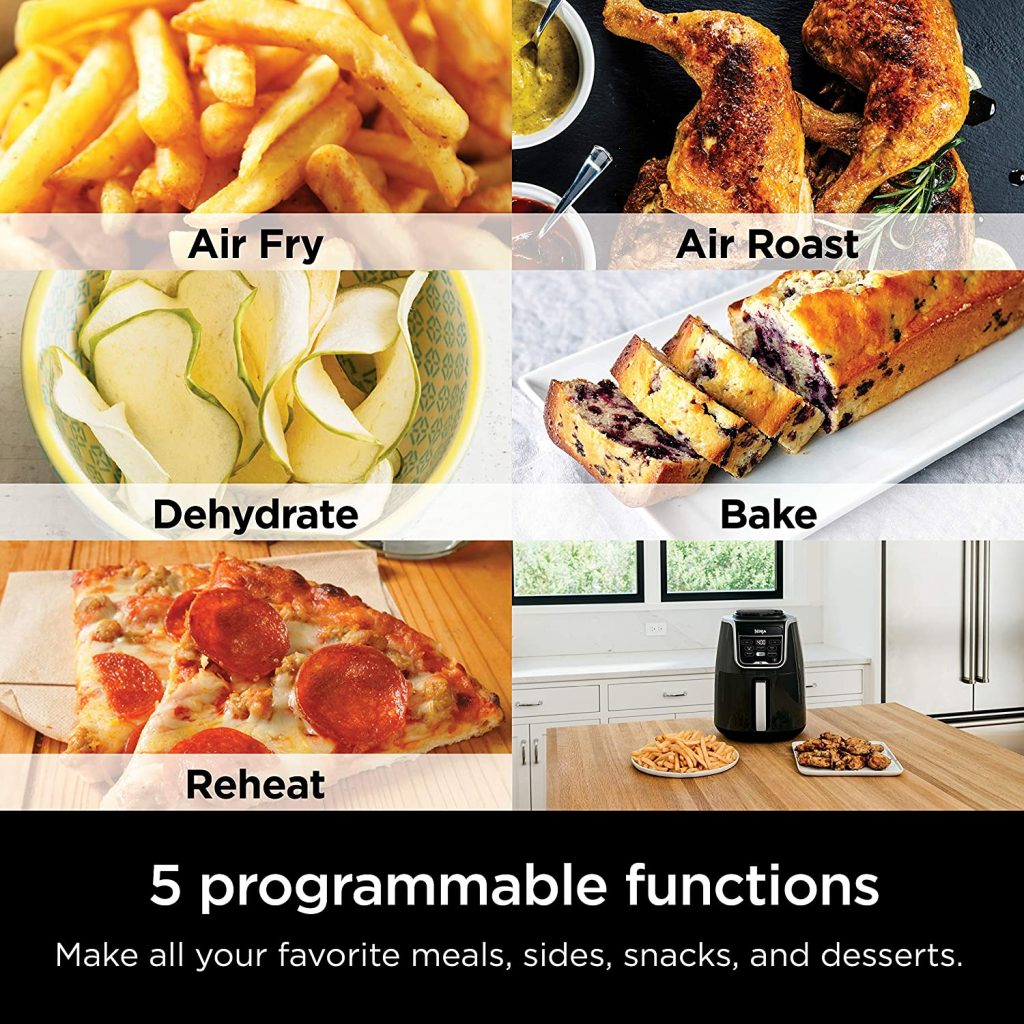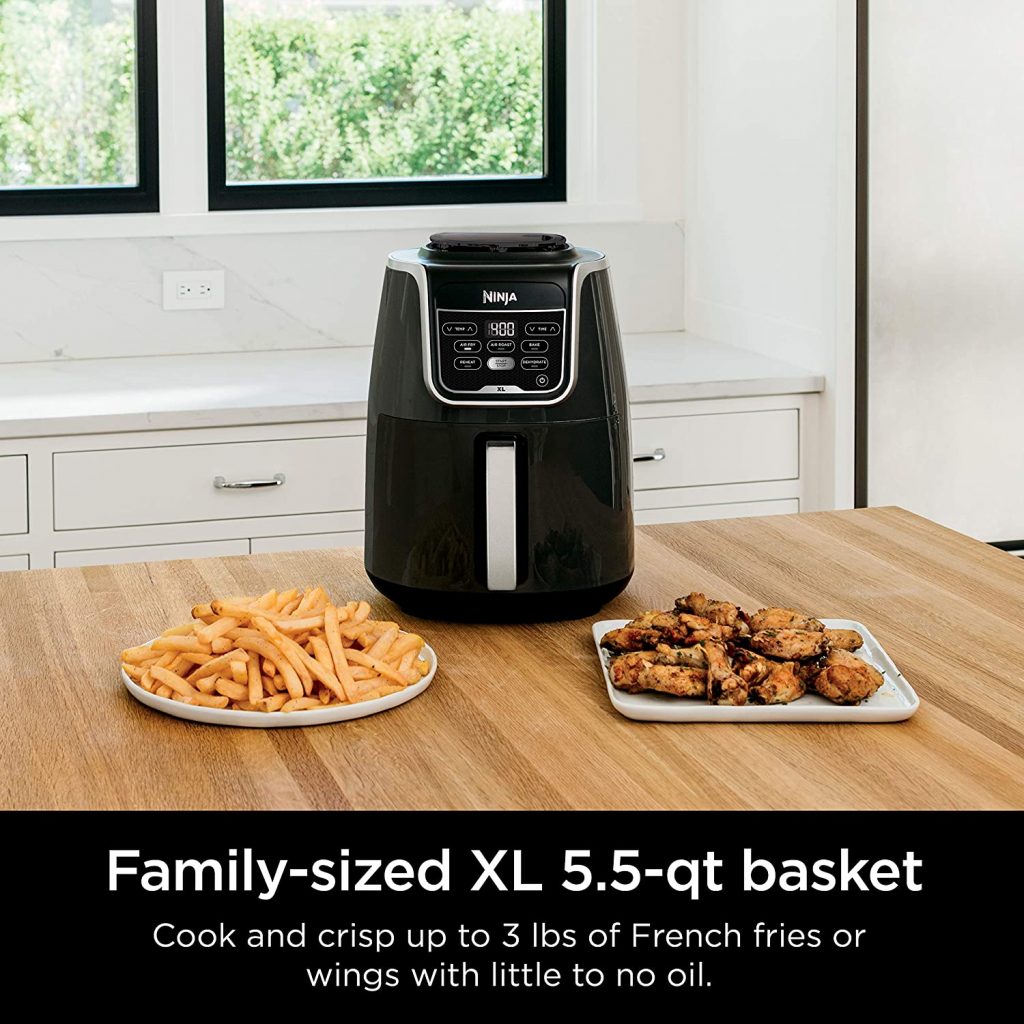 The removable parts are dishwasher safe and have a nonstick coating for easy cleaning
Features max crisp technology that can deliver up to 450 degrees f superheated air for 305 faster cooking
Guaranteed crispy meals with little to no oil needed to fry the food
You have to manually turn the food to ensure that its cooked thoroughly
The Ninja air fryer XL is an excellent machine if you love crispy meals but hate the heavy amounts of oil that comes with it. These healthier meals are also guaranteed to taste much better thanks to the max crisp technology. This air fryer has a sleek black finish that fits in with any kitchen decor and it offers the best combination of practicality and affordability.