If you're an avid cook, chances are you have heard about the Le Creuset brand or have one of its cookware in your kitchen. The French company has been in the industry since 1925, producing elegant and functional cookware that have continued to win the taste buds of food lovers. When you look at the Le Creuset Pro Pan, you can tell it's a classic and a well-thought piece of an appliance.
The pan delivers all the ease of nonstick cooking with a durable surface that's free from harmful compounds. The sticky and delicate food particles slide right off, minimizing the need for oils and fats and making cleanup easy. Read this Le Creuset Pro Pan review to know its features and why many customers love this product.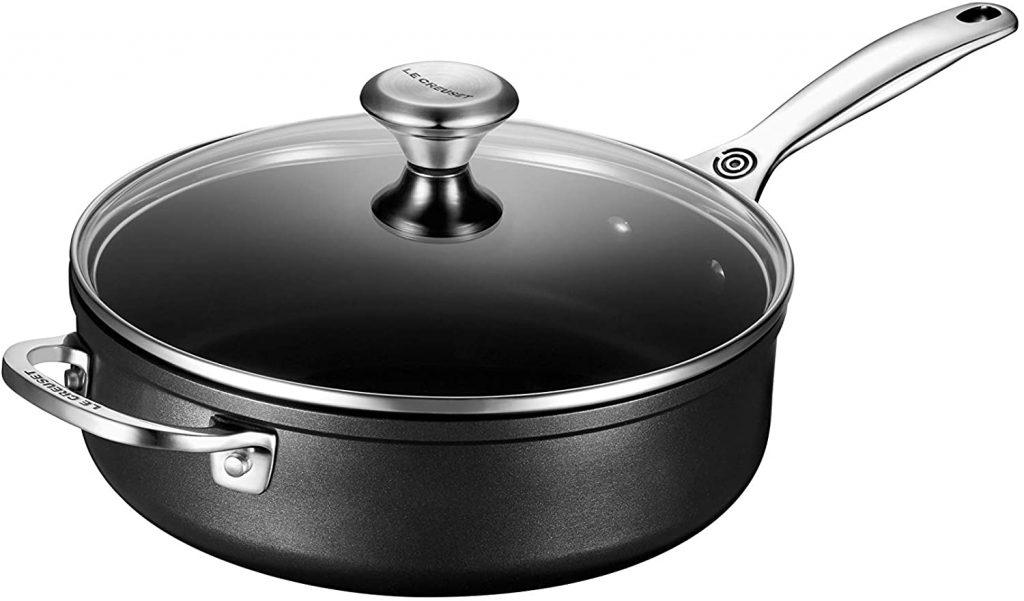 3X reinforced surface
What makes the pan outstanding is a triple-reinforced nonstick coating that makes the cookware sturdier than standard pans. Besides, the coating is nonstick, which makes it easy to clean with water and soap. Le Creuset cookware coating undergoes strict FDA monitoring to ensure it's PFOA-free while ensuring it's four times stronger than other nonstick coats.
Textured interior
This cookware features a stainless steel base that efficiently distributes heat to the aluminum core to ensure even heating without hot spots. The anodized aluminum core also conducts heat quicker to ensure faster cooking results. The textured coating offers exceptional searing ability no matter how much oil you use and provides the perfect browning in food.
Stay-cool handles
Le Creuset is famous for its stay-cool handles that are sturdy enough to withstand prolonged use. The handles are designed to fit in the adult hand and provide a tight grip for easy movements. The handles also have a hollow interior that prevents heat conduction, keeping them cool even when you're using them on stovetops. Besides, the handles are plastic-free, making the pan dishwasher safe.
Compatible with all cooktops
Another feature of this pan is it's compatible with all cooktops and oven safe up to 5000F. Additionally, the base is magnetic to help keep the pan from slight bumps and movements over the stove.
Easy to clean
Cleaning the Le Creuset Pro Pan is a breeze thanks to the nonstick surface that does not hold any food. This means you don't clean regularly, and when you do, it's easy. Besides, it's dishwasher-safe, so you can just pop it into the dishwasher when you don't want to do it manually.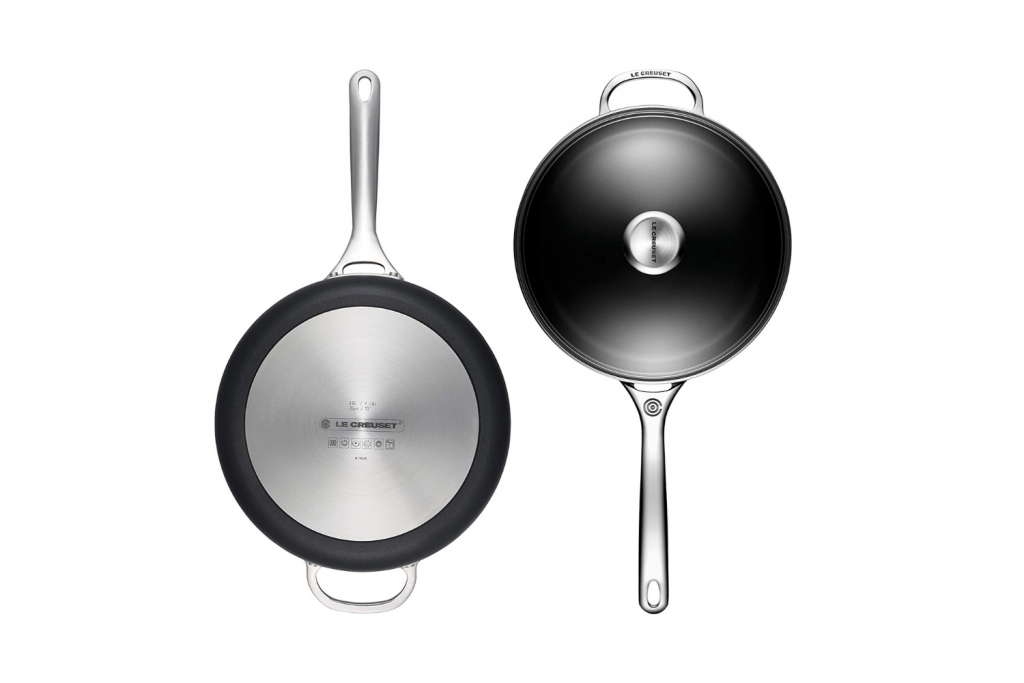 The pan is durable with a triple-reinforced coating
It has ergonomic handles that stay cool even when cooking on stovetops
Easy to clean and dishwasher-safe
It's compatible with all cooktops
The tempered glass lid is oven safe up to 4250F
As a premium versatile pan, Le Creuset competes with the best. From its reinforced nonstick surface, you can tell the company put in the special effort. The frying pan can be used on all cooktops, meaning you won't have to worry about damaging it. The price might be higher, but it's all worth it.