Le Creuset has many fans around the world, and for a good reason. To start with, it's a trusted brand that produces some of the highest quality cookware on the market, and its Dutch ovens are among the best. While Le Creuset's Signature Dutch oven doesn't come cheap, anyone who owns it seems to agree that it's well worth the price.
They last for decades with advanced heat distribution that makes them easy to cook meals quickly every time. The company uses tight-fitting lids that allow for consistent steam circulation to retain the moisture in food.
If you're looking for the right Dutch oven for your family, then this 7.25-quart option will suffice. From preparing everyday spices and soups at home to baking crusty browned cakes for holidays, this can do it all. Keep reading to learn more about Le Creuset 7.25-Quart Round Dutch Oven and whether it's worth the money.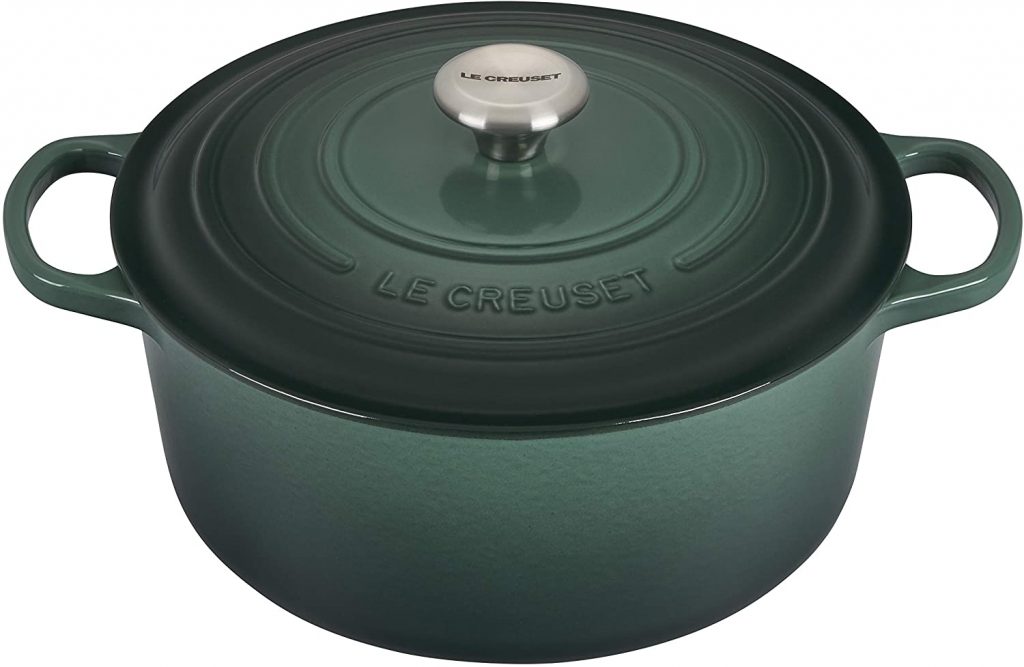 Durable Cast Iron
Enameled cast iron is robust and performs well with modern requirements for food cooking. The material retains heat well, which gives you a nice, even browning without any hot spots. It also means the Le Creuset can retain heat for hours on end, so your thickening stew or braising meat keeps cooking in there. Besides, the enamel finish doesn't require any maintenance like regular cast iron and is relatively easy to clean with warm water and soap.
Ergonomic handles
Le Creuset Dutch oven is designed for easy lifting with handles that offer unmatched grip along with its durable design. The oven features 45% larger handles for easy oven mitt gripping. Le Creuset used a large, easy-to-grasp knob that can withstand high temperatures of up to 500 degrees Fahrenheit.
Easy to clean
Enamel is extremely easy to clean using soap and water due to its non-stick interior, making it ideal for a longer cooking time. The coating is also chip-resistant, which makes it long-lasting. To ensure easier cleaning, you can soak the enamel in water before hand-washing. A brush can be useful for removing small deposits and for cleaning the ribs. A nylon or soft abrasive pads can be used on stubborn stains.
Compatible with all cooktops
The good thing with cast iron is it can be used reliably on any heat source, including induction, electric solid plate, vitro-ceramic glass, ovens, and grill. When using it on any glass stove, always lift it when moving to avoid damaging the stovetop.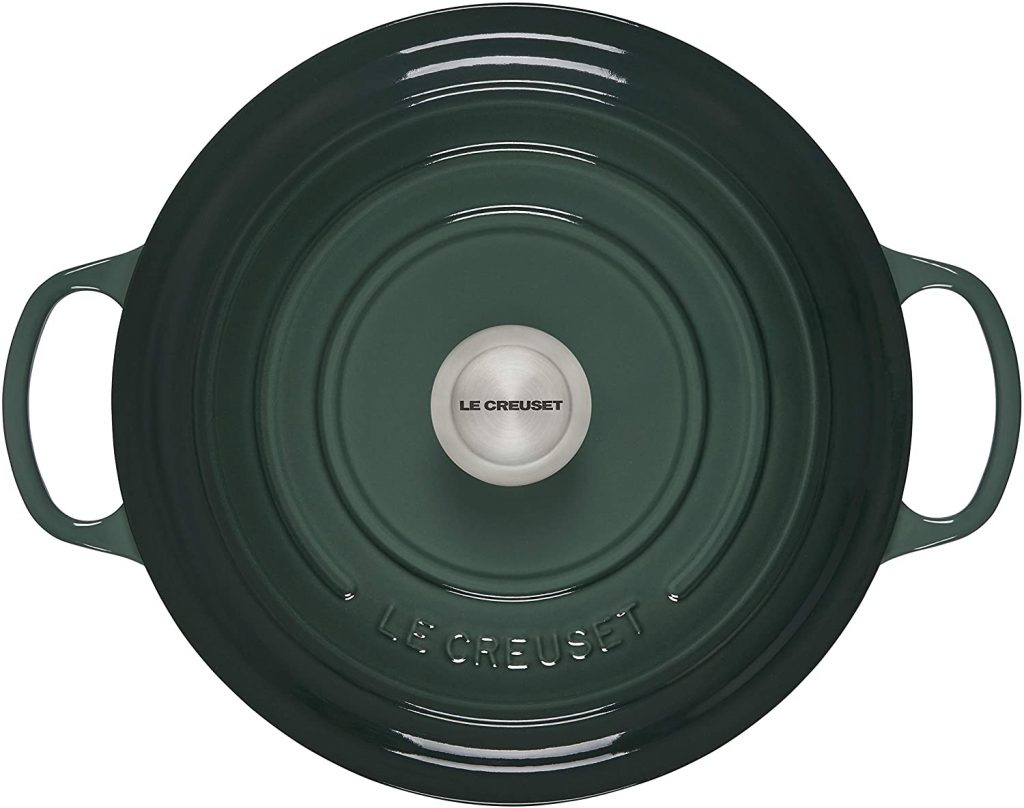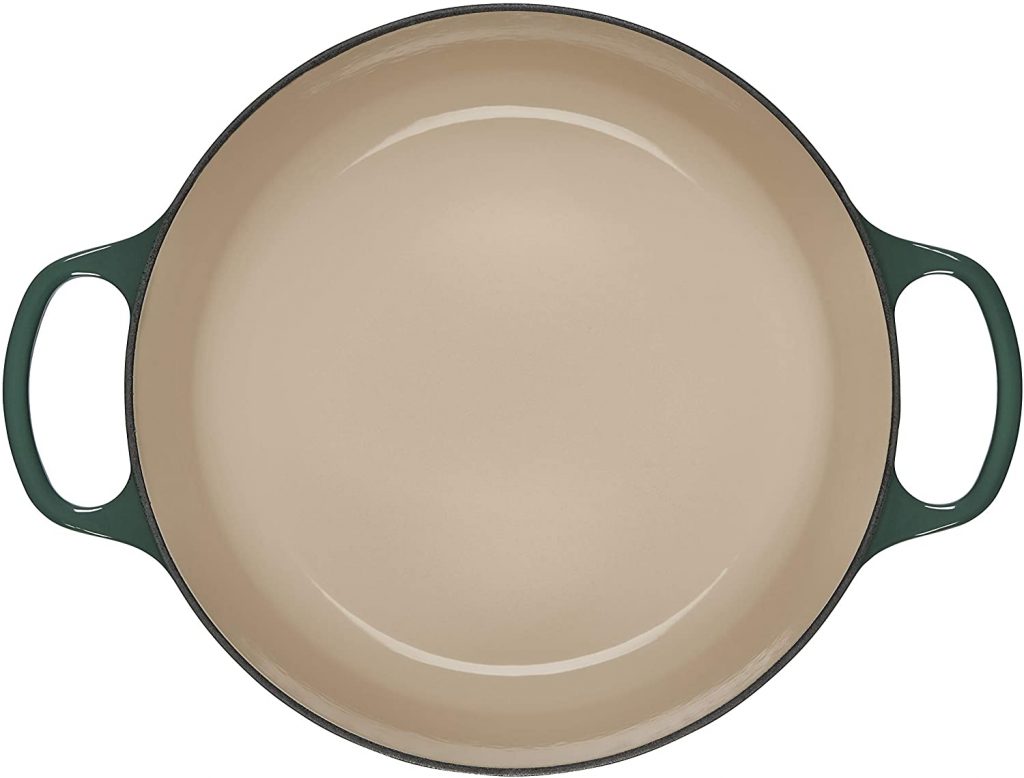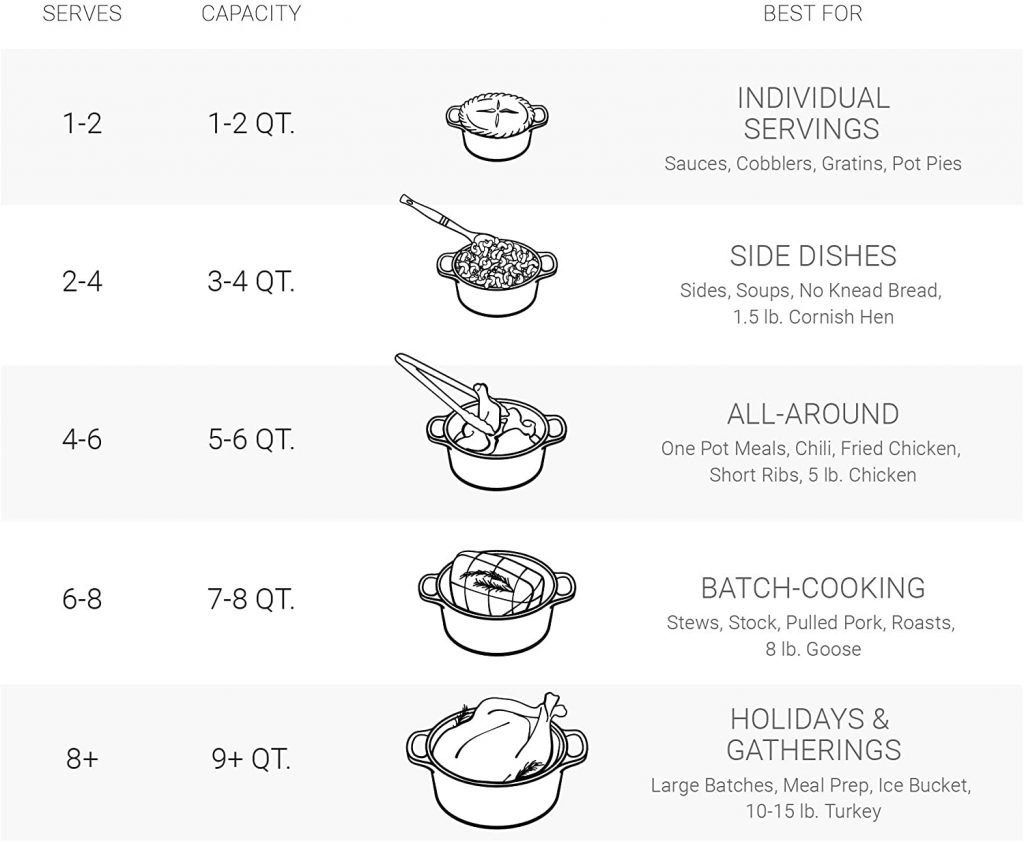 Enameled cast iron provides superior heat distribution
Easy to clean
Ergonomic knobs and handles are great for easy lifting
Compatible with all cooktops
It comes with a lifetime warranty
If you're yet to get a quality Dutch oven and want to give it a try, you can buy the Le Creuset Signature Round Dutch oven. It's made by an industry leader and has been recognized by customers for its strength and durability. Besides, the Dutch oven needs no seasonings and can be used on any cooktop. It's an excellent buy for cooks looking to invest in a piece of cookware that's elegant, functional, and durable.