Cuisinart is an American grown culinary business that majors in food processors such as the Cuisinart CBJ-450 compact blender and juice extractor. In line with the firm's mission to savor the good life, this blender features an innovative and functional design that can withstand years of use with consistent results every time.
This compact blender includes a 16 oz. blending cup that has a travel lid. You can use the juice extractor to prudence from 8 to 16 ounces of freshly pressed juice.
Read on to discover more features and capabilities of the Cuisinart CBJ-450 compact blender and juice extractor:
Illuminated LED controls
Cuisinart CBJ-450 compact blender and juicer extractor feature an illuminated LED control panel that's easy to use and bright enough. You can use the rotary dial with a pulse, low, and low selection, which comes in handy when you want varying consistency. The LED control panel and rotary dial are centrally located on the front side of the blender, where it's easier to reach and switch the unit off.
Blending and extractor combo
The combo design in this unit makes it dual purpose, which is great for environmentally-conscious consumers; after all, why buy two units while the Cuisinart can handle both tasks. You can blend delicious smoothies into the 16 oz travel cup, which features an attachable lid. The juice extractor will deliver nutrient-rich juice from all types of fruits, such as apples, carrots, and even bananas.
Non-slip rubberized feet
Cuisinart designs these blenders with non-slip rubberized feet that keep the unit steady while blending or extracting juice. These are securely attached to the base of the juice extractor to prevent accidental falls when blending chunky fruits.
Pulp container
When extracting the nutrient-rich juices from fruits, you will have to deal with the pulp that gets continually pushed out. Cuisinart includes a pulp container with each of these blenders, which makes it much easier to clean up after extracting juice. The extractor also has a buckle safety lock that keeps the lid closed while in use. After use, you can clean the pulp container in the dishwasher.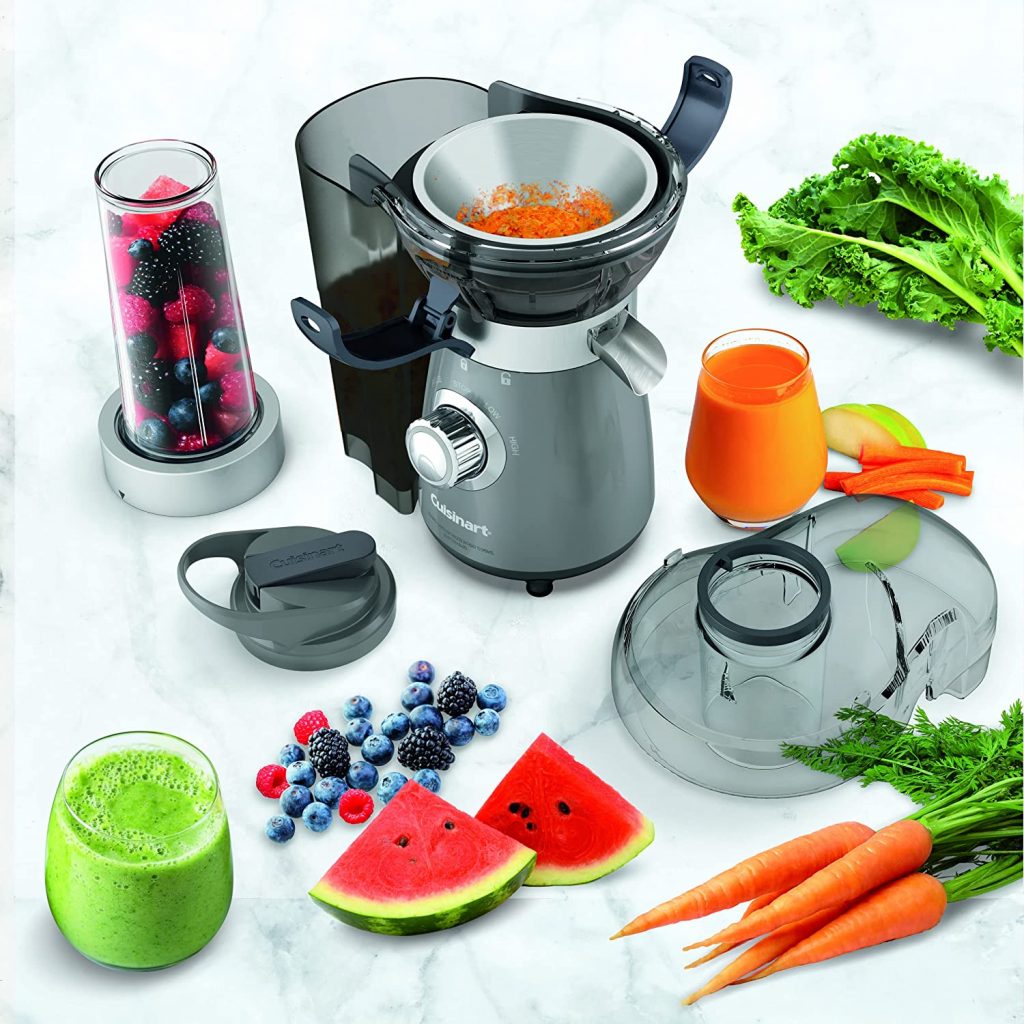 Features a 450-watt motor
The juice extractor can produce up to 16 ounces of fresh juice
It has metallic gray chrome accents
It comes with a blending cup with a traveling lid
The 450 watts rated motor can get quite loud when working under full load
If you are looking for a compact blender juice extractor combo, the Cuisinart CBJ-450 is your go-to choice. It includes a sizable blending cup with a flip travel lid, and the extractor has a lid buckle to keep it closed while extracting juice safely.
You also don't have to worry about cleaning up as the unit features a pulp container that's also dishwasher safe. Each of these blender combos comes with a 3-year warranty. The blender will perfectly fit any interior decor thanks to its metallic gray with chrome accents design.